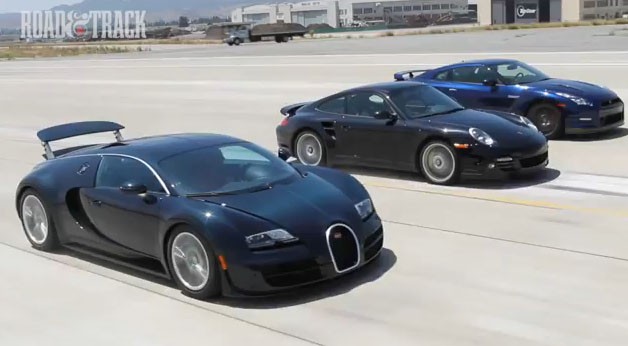 Road & Track magazine shoots the ultimate battle: Nissan GTR vs Porsche 911 Turbo S vs Bugatti Veyron
Top Gear tested the 2012 Nissan GTR which completely destroyed the Jaguar XKR proving that Supercar can come in for very cheap and it was a blow in the face of the expensive cars like the 911 Turbo S or even the Veyron.
However, we all wanted to see how the GTR would put up against the giants of the Supercar genre, there are many ways to measure a car's performance, and no shortage of benchmarks against which to judge them. The 200 mile-per-hour mark, for example, holds its share of bragging rights. And back in the day, Road & Track would hold shootouts to determine which cars made the cut and which did not. But now the magazine is back with a new benchmark, one that's a lot tougher to beat: the two-second sprint to sixty.
So there are only few cars in the world which can sprint from 0 to 60 MPH in less than 3 seconds hence the Two Second Club.
Here's the video of the shootout you all wanted to see.