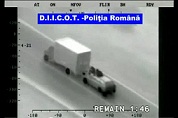 Romanian thieves attempt 'Fast And The Furious' style highway robbery
When we first saw the Fast And The Furious, we all nodded our heads in agreement that the action scenes are done way over the top and nothing like this, can come close to happening in reality but people find inspiration from the most unbelievable places.
These Romanian thieves tried to rob a truck in exactly how the heroes in F&F robbed trucks. These thieves sneaked up closely behind the truck and tailgating very close to the rear of the truck so the trucker would not notice them.
Two men can then be seen emerging from the sunroof. As one edges out on to the bonnet the other grabs his legs and holds him steady while he pulls out a special tool and cut open the doors and looks inside the truck, but isn't impressed with the cargo and decides to abandon the robbery and leaves.
The video almost looks CG, but it was apparently shot from afar by the country's Department for Organised Crime and Terrorism (DIICOT) using specialized camera equipment.
The country's DIICOT division had been tailing them as this wasn't their first attempted robbery on a highway and you may wonder why the police did not try to foil the robbery is that because they were building a case against the perpetrators.
A spokesman for the police said the gang had already used the technique to carry out many successful robberies from moving vehicles between March and May of this year.

The gangsters who stole televisions, cigarettes and coffee, to be sold in the Obor market in Bucharest, were caught following an operation involving 20 house searches in the Romanian counties of Ilov, Alba and Hunedora as well as in the capital city, Bucharest.