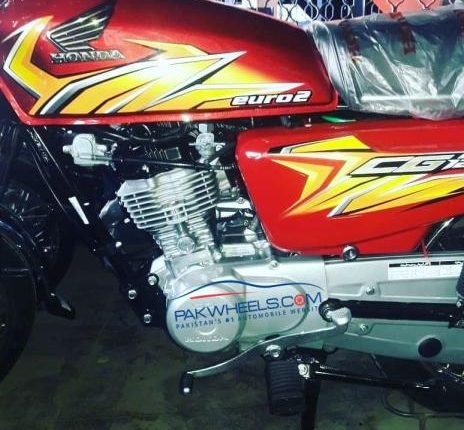 Same Old Honda CG125 With New Stickers is Here!
Atlas Honda has released the new stickers on Honda CG125. Not surprisingly, the model is the same old one. The newly revealed sticker has yellow as the dominant color, with white and black as borderlines.
However, The sticker on new Euro 2 CG125 looks relatively the same as the old one.
Honda CD70 New Sticker: 
Earlier in September, Atlas Honda also launched a new sticker of Honda CD70, but with the same old body. The new sticker was a mix of yellow and blue colors, with a hint of black on the red variant. Meanwhile, the black variant's sticker was a mix of red, blue, and green with a white border.
Honda CG125, CD70 Popularity in Pakistan: 
Honda CG125 is among the most famous bikes in Pakistan, especially among the youth. The ride is famous due to its pick, seat comfort, and silencer sound. Furthermore, the bike's spare parts are readily available, while its maintenance is also very easy. 
Meanwhile, Honda CG70 is famous for its low fuel consumption, low maintenance cost, and easy parts availability. Another primary reason of this bike's popularity is the absence of competition in the local market.
Price Hike 
Atlas Honda had increased the prices of its motorbikes up to Rs5,000. According to the notification, the company applied new rates from August 1, 2020.
The notification stated that Honda's new price is Rs77,900 after getting an Rs1,000 increase from the old price of Rs76,900. Meanwhile, CG-125 now costs Rs129,900, comparing to the initial rate of Rs128,900. The CG-125S and CG-125SE had seen a jump of Rs2,000 and will now cost Rs154,900 and Rs156,900, respectively.
Furthermore, CF150F saw the biggest hike of Rs5,000, and its new price is Rs244,500 from the old rate of Rs239,500.
The company had kept the price of Honda CD-70 Dream the same at Rs82,500.