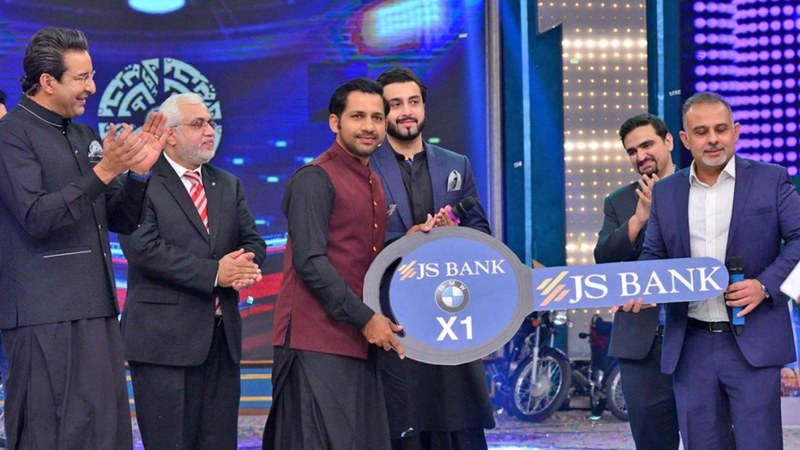 Pakistan winning ICC Champions Trophy 2017 was followed by thousands of cricket fans, including dignitaries, rushing to country's four major airports to give the Pakistani Cricket Team a hero's welcome after defeating arch rivals in a one-sided game of cricket. The jubilation and celebrations which haven't dwindled in their intensity, have taken a new turn following the plethora of gifts and favors on National Cricket Heroes.
Sarfraz gets a BMW SUV in recognition of his services
From thousands of fans turning up at his residence to millions watching, Sarfraz is being credited as the mastermind of Pakistan's (first) Champion's trophy win. Thus the joint gift of a BMW X1 from JS Bank and Dewan Motors along with a 250 square yard plot of land from Bahria Town should not come off as a massive surprise. Both gifts were handed over to Sarfraz Ahmad on Geo TV's 'Geo Khelo Pakistan.'
"I'm really thankful to Allah for providing us with so much honour and giving us the opportunity to enhance our reputation. In addition, it is our parents' and fans' prayers that got us to this place,"  said Sarfraz.
https://youtu.be/pZHZnqxBHt4
Hasan Ali gets surprised with a Honda Civic
Young and talented Hassan Ali received the Golden Ball for being the best bowler and wicket-taker of the Champions Trophy. He dedicated his success to his mentor cum coach 'Ata-Ur-Rehman' who in return surprised him with a brand new Honda Civic X on his return from the tournament. When asked about his new Civic in a media talk, Hassan was all smiles and said that he desired to buy this car since its launch back in 2016. Lucky for him his mentor got him covered and bought him one.
https://www.youtube.com/watch?v=hjSC5nn61R8