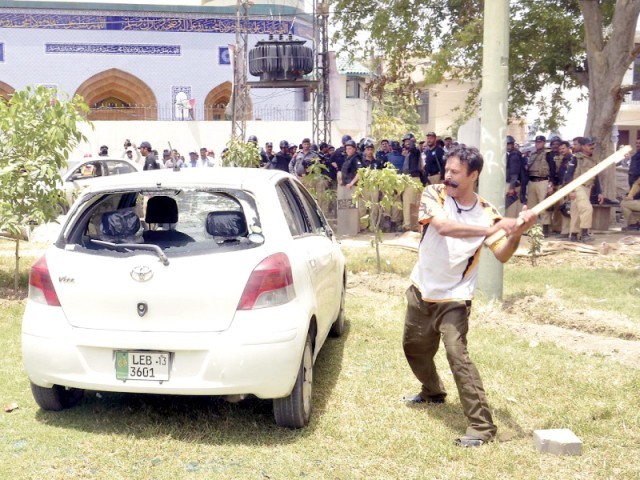 Serial car smasher – Gullu Butt released on bail by LHC
No one takes the law seriously in Pakistan, we published our survey results and 25 percent people around the country doesn't even have a driving license or are underage. We seriously lack conviction, and our law fails to convict as well. After Gullu Butt had gone on a raging spree of 'Hulk Smashing' all cars during the stand-off between Police and PAT's workers, many media outlets caught him, red-handed, on tape beating cars, and was reprimanded by the law for being a vandal.
Gullu Butt then spawned off a career into the online world with games, apps, websites, memes, etc, while he was behind bars and his legal team was working to create a case in his favor; using mental instability, and later on, since prosecution is always weak in Pakistan, he is let out on bail.
Media outlets report that Gullu Butt is allegedly a worker of PML-N as well as a Police tout as was seen in the footage made available during the clashes.
Lahore High Court had requested investigation record from police when Gullu's lawyers filed for bail, in their application to LHC, his legal team submitted that he was mentally unfit and that he was wrongfully implicated in the case despite being caught on camera, vandalizing vehicles belonging to citizens.
His lawyer had said in the application that he vandalized the vehicles in anger when he was attacked by some people, further saying that he was innocent and should be given bail.
It's bizarre to see that such an argument was made in his defense for venting off his anger on innocent people's cars.