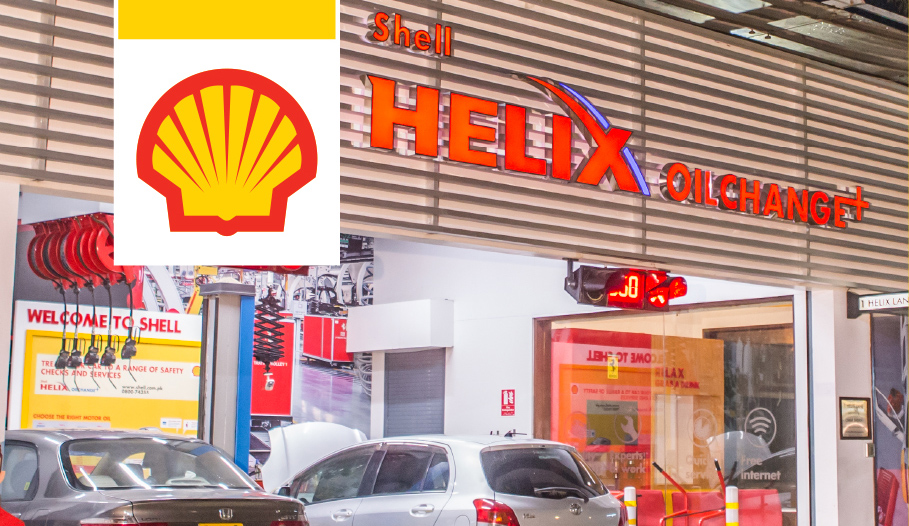 Shell Oil Company is a global leader in energy and petrochemicals. The company has been engaged in bringing its customers the best possible automotive solutions since its beginning. Globally, the company has a network of more than 100,000 employees. Currently, Shell is operating in more than 70 countries. In Pakistan alone, Shell Pakistan has more than 750 stations across the country. More than 1,000,000 customers get top-class service through Shell outlets across Pakistan each day.
Shell Pakistan has revolutionized the way you get your vehicles filled with fuel each day. The company has brought light to the importance of better customer experience at the fuel stations generally, challenging other companies to pick up the pace too. And hence, improving an overall retail experience of a common Pakistani consumer throughout the country.
And in this regard, Shell Pakistan has yet again brought an innovative idea in the form of one of a kind oil change experience at one of their petrol stations. Shell is calling it the Shell 1 Helix Lane. It is Pakistan's first world class oil change facility. Shell 1 Helix Lane is going to be an all new experience for Pakistani customers. Shell's trained staff will help and assist you with all the lubrication needs of your vehicle.
Shell Askari Service Station in Karachi is the first one to bring this innovative experience to the motorists of Karachi. The facility is equipped with two oil change bays. Bays are equipped with latest OSM (Oil Suction Machine), and it takes the machine only 90 to 180 seconds to drain the engine oil (depending on the quantity of the oil). Bear in mind it is not just an oil change. Your vehicle will receive a range of safety checks concerning various parts of your vehicle, including wiper blades, seatbelts, tyre pressure, and much more. You will receive end to end service within 12 to 15 minutes.
All the while you enjoy a cup of tea and connect to the internet with free WiFi while Shell's trained staff does all the necessary checks one by one. On your first trip to this state of the art oil change facility, you will be given a Helix Club loyalty card. It will allow you to have access to exclusive Ferrari and Shell Co-Branded merchandise through collected points. 1 Helix Lane opens each day from 8 in the morning to 12 in the night.
Moreover, PakWheels.com users can win exclusive Ferrari Merchandise by filling in this voucher and carrying it along to 1 Helix Lane for their next oil change.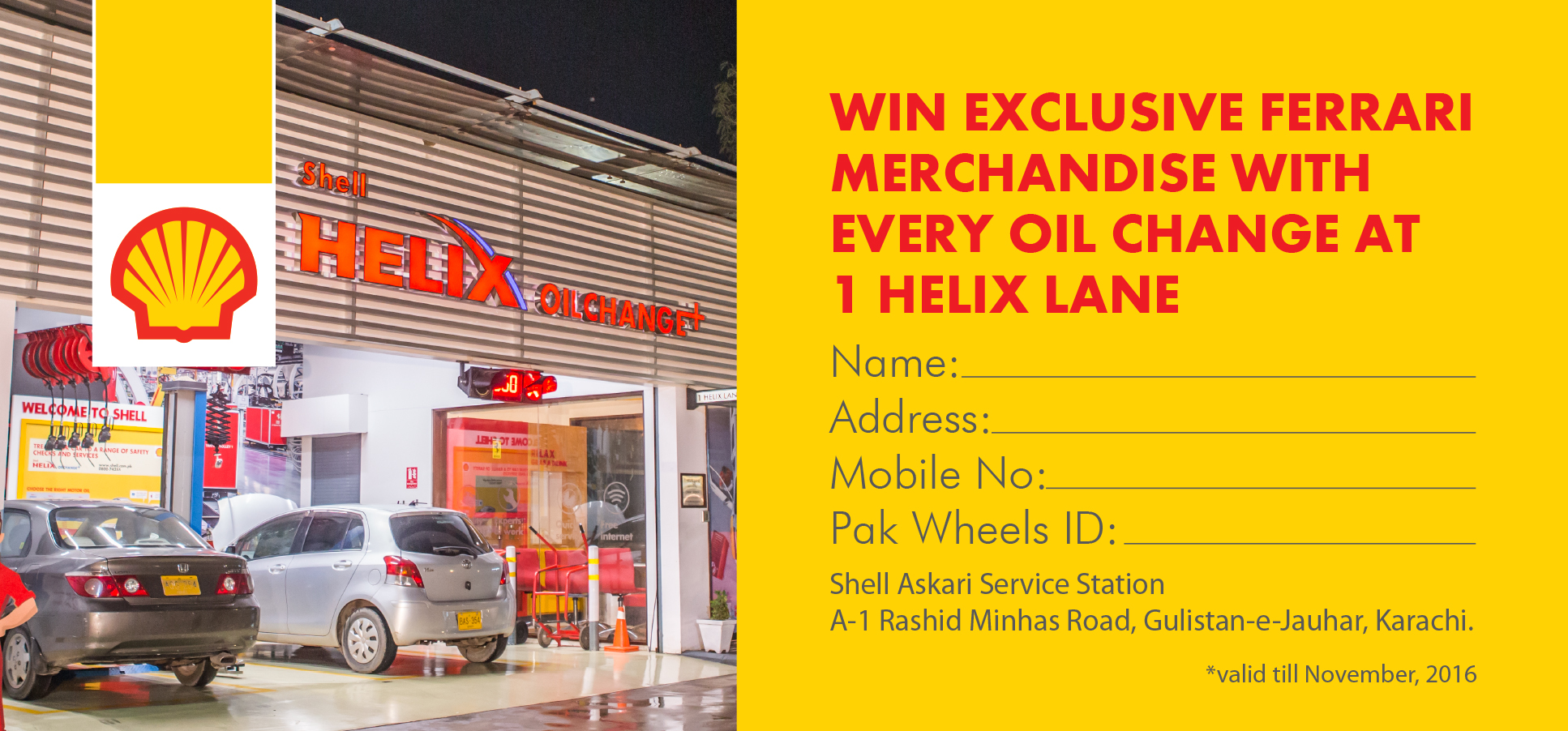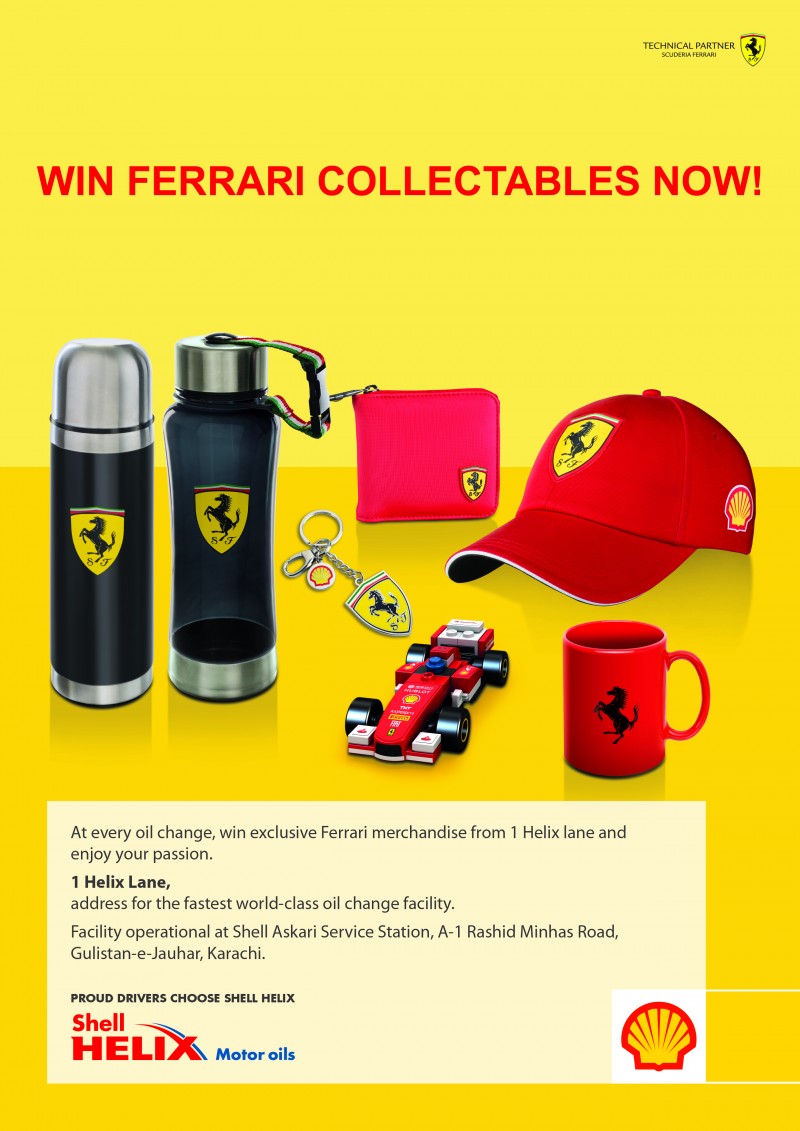 Shell Pakistan is committed to bringing the same experience to the motorists of other cities in Pakistan. We hope to see such excellent services spread across the country in near future.