I was driving through DHA, Lahore when I first noticed these signs all over the place and shows just how authorities are trying to curb the menace of one-wheeling which has claimed many, many lives through these years.
Simply defined, one-wheeling is lifting the front wheel of your bike while it is moving while maintaining balance and control by just riding the bike on the rear wheel. It also includes other stunts such as standing on top of the bike, lying down horizontally and so on. This phenomenon has gained popularity all over Pakistan especially amongst the teenagers, accelerated with the advent of Sport Bike.
It is common to see this being practiced on all major roads of Lahore, especially on Canal Road. Any public holiday such as Independence Day, etc is celebrated by these people with one wheeling on the streets in the midst of traffic endangering their own lives, and the lives of others.
Personally, I see no point for one wheeling. I do understand it is a thrill sports but why endanger your life and the lives of others just for the sake of some adrenaline rush? Do you really think doing stunts like these will impress the girls and make them like you? Almost everyone hates and despises these acts. You are not seen as a hero of DHOOM-3, rather you are perceived as a cheapster. The risks to your life and the life of others on the road far outweigh the benefits or the joy achieved while one-wheeling. However, if without one wheeling you cannot digest your day's meal, then please wear a helmet, proper clothes and do it in a secluded place, far away from home or traffic where no one but your own life is at risk.
In this regard, the steps taken by the DHA are commendable and these signs should be placed and enforced elsewhere as well even though I doubt that these signs are helpful in stopping those fueled by thrills and adrenaline. Traffic police should also formulate a strategy to counter this issue and heavy fines and/or imprisonment should be given to the offenders as a deterrence.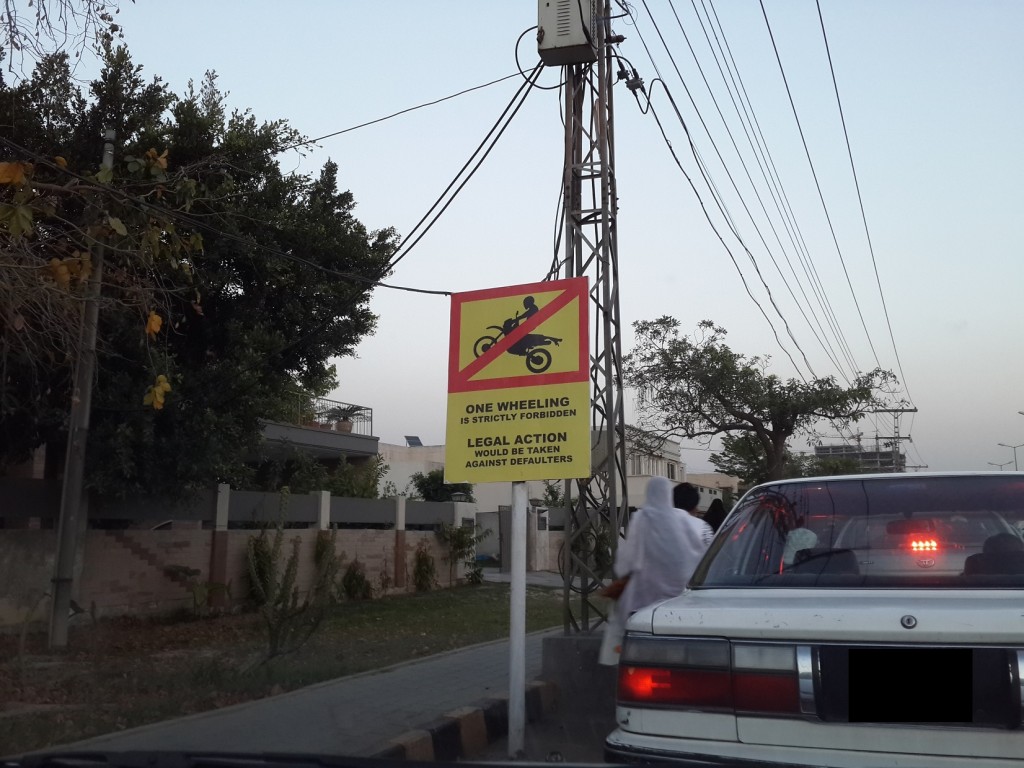 When I talk about secluded place for riders to play some of our own Moto X-Games, as in the developed world where this a big sport governed by authorities for safety and well-being of the riders and spectators, this sport has a lot of marketing potential due to the amount of people interested in it.
The government could also provide dedicated tracks to the motorists. There they can perform any stunt they desire, away from traffic and in a safe manner. The public and private sector can also team together for sponsorships of these events and this could generate revenues as well which could be beneficial for all. Pakistan can also become a host to such games and can be a leader in the region as we do not have any deficiency of talent but, it is unfortunately being wasted due to lack of regulation. Formula One was once a bloodsport as well, claimed lives and egos as big as Ayrton Senna. But people work towards making it secure and an enjoyable sport, and since Senna's death in 1994 at Imola, Italy, not a single life has been lost since then in Formula One.
Banning and forbidding people to do something they like will create more rebels, Just the right place and the right training would do the trick for us. However, one-wheeling and motorbike stunts should be heavily discouraged for those who are not trained in the discipline and are doing it for the thrill. Safety should be the first priority for all, and due regard must be paid to the safety of innocent bystanders who become avoidable victims of accidents resulting from these stunts.
The media can play a vital role in curbing the attitude of these youngsters who think it is "hip" to risk their necks while carrying out such acts and the government should focus upon providing other productive activities for youngsters to divert their attention from getting a thrill by one-wheeling. All types of sports began on the streets, then people brought within the walls and made billions of dollars worth of empires.