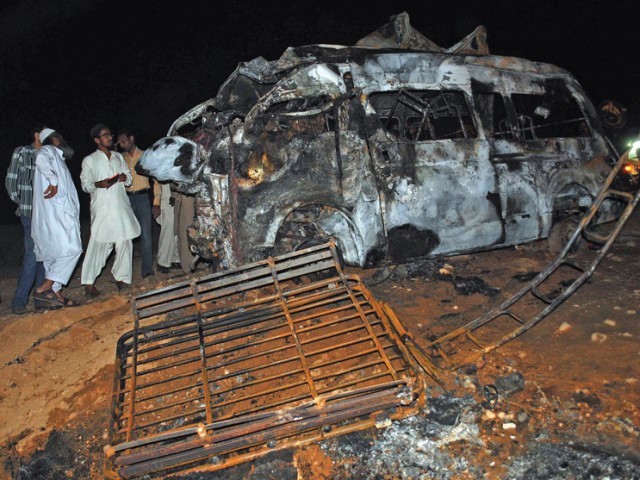 Since the beginning of this year, the Sindh Highway has proved to be fatal for 72 unlucky souls. Earlier this Monday, a local van with 19 people on board was on its way from Hyderabad to Karachi and near Nooriabad, while doing approximately 100Km/h, the front tire burst open and the vehicle flipped over because the driver lost control. The vehicle caught fire immediately after crashing and claimed the lives of 10 passengers including a woman and two children. Nine other passengers were injured in the accident, according to an Edhi Foundation spokesperson. Jamshoro's SSP Naeem Shaikh confirmed that the 10 passengers, who were pulled out of the van, were dead.
The highway had no trauma center nearby and the delay in the arrival of the fire fighting services minimized the chances of survival of the injured trapped inside the van. All the injured people helped themselves out of the van by breaking the windows, as said by the Edhi volunteers and a witness. Shockingly, the injured people had to travel themselves for longer than an hour to be transported to the nearest government hospitals.
It took more than two hours to extinguish the fire and pull out the burnt bodies, said Palari, another eyewitness of this horrible incident.
The van was registered under the name of Firdous Khan but the actual owner was a Karachi-based transporter, Shafi Muhammad Pathan.
According to the investigations, the van was fitted with four CNG cylinders but they were under warranty and a certificate of fitness was also issued to the van a month back. The CNG cylinders were found intact after the crash, however their nozzles broke upon impact and it is reckoned that they had fueled the fire that erupted.
---
 Also for reading: Khairpur Accident And The Transport Mafia Of Our Beloved Country
---
The route permit and fitness certificate was found valid by the authorities and it is believed that the accident was not the drivers mistake or any kind of dishonesty was found on the part of real owner. The real cause was the poor condition of the highway with bumps and patches on the road that could cause severe damage to any vehicle traveling at high speeds.
No first-aid personnel who could stabilize the injured until trained emergency personnel arrived, bad road infrastructure, dis-regard for traffic laws and over-loading, this all means that when the going goes wrong, it goes very wrong for many people unfortunately.