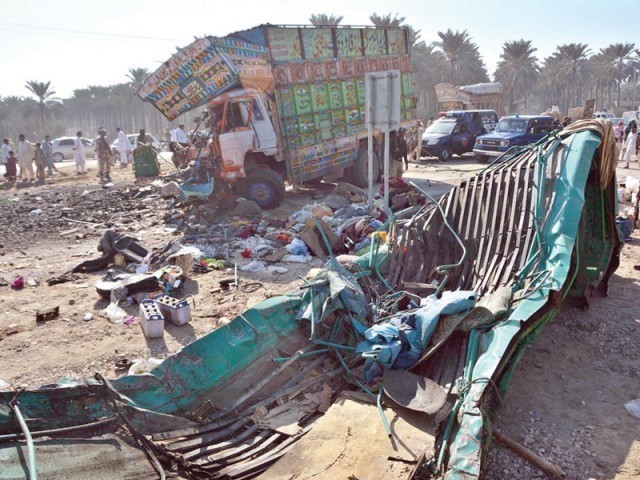 Khairpur Accident: Police filed a case agaisnt NHA, blaming the road conditions a cause of the accident
KHAIRPUR: Police registered a case against National Highway Authority (NHA) on Wednesday as the number of deaths crossed 60 in the unfortunate Khairpur accident. 
The accident happened on Tuesday when a passenger bus which was on its way to Karachi from Swat collided with a truck on Theri Bypass on National Highway near Khairpur. Sources mentioned that the cause of the accident was the negligence of the bus driver who fell asleep while on the steering wheel of the bus.
Despite that, the police lodged an FIR against National Highway Authority (NHA) blaming the poor road conditions of the highway a major cause of this accident, as the section at which this accident happened has been under construction for the last five years. Source:
This shows the level of corruption and influence of transport mafia in Pakistan. Notice how easily the mafia manipulated the facts and transferred the blame on the NHA instead of the transporter who employs irresponsible and untrained drivers and make them drive the ill-maintained buses for more than 24 hours to save money.
Highway accidents like this have become very common in Pakistan and it is high time that the authorities should take punitive action against the transport mafia, which is a cause of thousands of deaths every year in the country.
Source: The Express Tribune