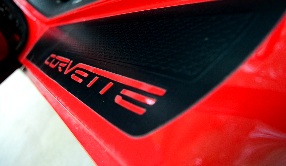 Sleepers do it better in Pakistan!
They may not be your childhood dream car but in a country like ours, sleepers are the way to go. Keeping a low-profile like a ninja is the way to go about when it comes to cars because anything beyond will highlight you infront of all the wrong people in the society or as they rather say it "Nazro mein ajaogay" (you'll come in their sight").
So, Corvette, even if you can afford it – ye can't just go ahead and buy it. The iconic American sports car comes with alot of attention guaranteed. I do know the wonders its torque produced by the great LS2 V8 but you won't be able to find such great stretch of roads to unleash it properly, especially if you're the resident of Karachi.
Than comes the problem of functionality as a car. You spend so much money and you can't use it as a daily driver. Its too big, its too low and its too heavy and people look at it as if I am bimbo in bikini jogging the streets of Pakistan.
It will gain you unwanted attention and to some, they don't like it – like myself. So therefore I have chosen to have a sleeper.
Incase you don't know what a sleeper is than, allow me to add to your knowledge that a sleeper is a car which nobody notices but when provoked, it break havoc on the tarmac and has all the abilities to give nightmares to king of the roads like the Chevrolet Corvette.
And, thanks to a PW member, we have the chance to shoot a small feature on one such iconic sleeper which have couple of trims and one of those trims have the heart of a Supra.
It is a Japanese classic, it is a truly functional car capable to accommodate 5 persons in great comfort, it can destroy any car on the roads of Pakistan off the signal without the other driver knowing whats revving beside him, it isn't an RX 8, it is better and it is a car meant to pick groceries, kids, sisters, mothers, dads, girlfriends, from one place to another, and you can burn some rubber as a way to pass to time in the parking lot while they are busy shopping.
Watch the teaser: