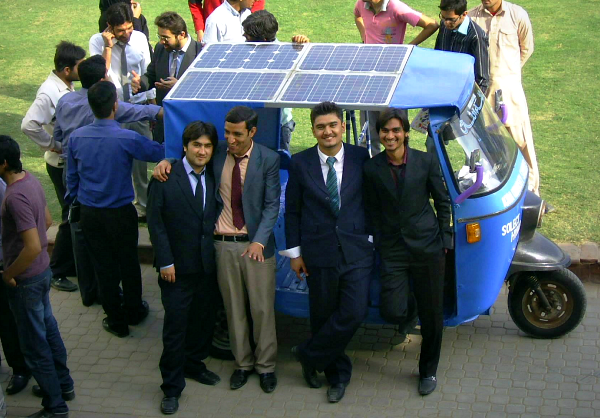 In our daily routine life, a lot of people are attached to the vehicle transportation business. Rickshaw drivers are one of those who work for daily wages. Unfortunately, the high prices of petrol and non-availability of CNG makes their daily wage conditions worsen as well.
I don't know when Govt, will take steps to enhance the system and control on prices but nation's brilliant students are playing their role to solve these minor but live affecting problems. Now if you are in the business of Rickshaws or a driver of Rickshaw that is your main source of income, no need to be worried about the high prices of petrol and CNG closure. Why should you even waste your time in long tiring queues of CNG at fuel stations? Let your three wheelers run naturally.
This time students belonging to Iqra University from Karachi has taken the ground by manufacturing Solar powered Rickshaw. The university student engineers built this Rickshaw with installments of the solar system which charge the batteries. And through which, cost of charge is estimated to be only one Rupees per km.
Basically, the design of the this Rickshaw named "Solect" has no difference with CNG Rickshaw although; it is installed with solar power system rather than CNG or other fueling. This environment friendly Rickshaw can resolve the severe problems of people.
This solar powered rickshaw is fully automatic; a 1000KW gives 40 km/h speed to it. Whereas the maximum speed of this three wheeler vehicle is 60km/h while the hybrid system of solar and electric power's the rickshaw while also maintaining cheap  manufacturing cost of 15,0000 rupees.
If government gives proper attention to this local invention of solar powered Rickshaw, which will be put on display at the upcoming Engineering Projects exhibition in Islamabad since Solect is also approved by Pakistan Engineering Council, then no doubt, many problems regarding transportation, fuel charge adjustments, or closure of CNG can be resolved.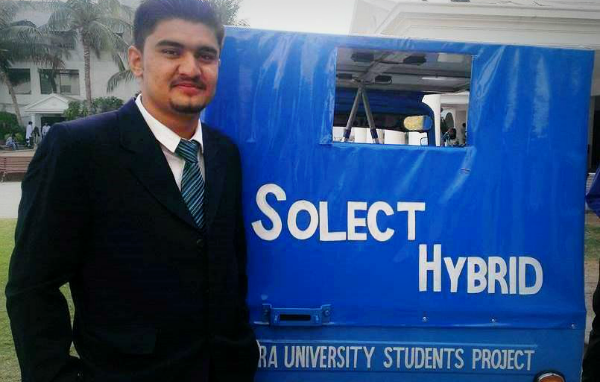 Rashid Alam of Iqra University, Karachi poses with his Solar Hybrid Rikshaw creation.