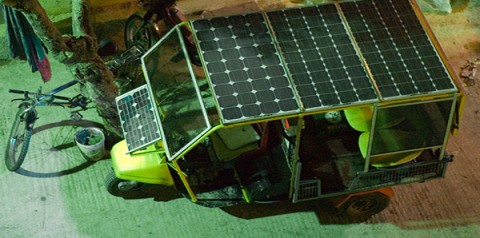 Solar powered auto rickshaws under consideration
First were the noisy rickshaws, which through government efforts and tremendous lobbying to curb noise and air pollution were rid off in favor of quiet, environment friendly, CNG powered rickshaws which provincials governments introduced under various schemes for unemployed people.
Now though, United Services International Group (USIG) of Lahore and Pakistan Institute of Technology for Minerals and Advance Engineering Materials Lahore had developed the technology through collaborative research to power rickshaws through sun light.
Since government has decided to rid off the entire CNG sector, a viable alternative must be found now. Instead of being found before implementing the policy to wipe out CNG sector.
The Minister for Science and Technology Mir Changez Khan Jamali told the Senate and the House that solar technology has been made completely indigenously overwhelm the acute shortage of energy and rising costs of fuel.
The minister said that the rickshaw was now ready for operations and would use solar energy instead of petrol or Compressed Natural Gas (CNG). Adding that the cost of one solar auto rickshaw was about Rs 2, 30,000 which could be easily covered in one year.
The solar rickshaw operated on five solar panels along with five batteries and was driven by one Direct Current (DC) Motor which produced a normal speed of  50 to 70 kilometers per hour.
The problem which is not under consideration is that although most of the public transport runs on CNG however, fares are charged on the prices of diesel instead. Regulatory bodies are seen helpless against transportation mafia to control the fares, when prices of diesel rises, fares rises promptly while no such effect is seen when the prices of fuel decreases. We wonder then, sun light is free but fares would be charged, but against which fuel?