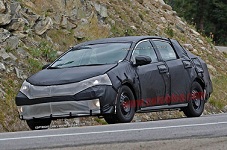 Spy pictures: 2014 Toyota Corolla caught testing
Automotive spy photographers just caught Toyota's engineers testing the next Corolla and by how things look, it seems the next Corolla will be completely revamped instead of minor design changes as Toyota has done in past. Although Toyota Corolla is the second best selling car in the world, the changes in design and styling is rather minor but now, it seems that Toyota is keen on making Corolla's styling, competitive.
The boxy lines of the current Corolla looks to be replaced with a sportier look that includes a sloping hood and a shorter decklid which features design cues from new cars like the 2013 Toyota Avalon and 2012 Toyota Camry.
Furthermore, from what we can assumbe from the front end, the headlights have a round shape similar to the new Avalon while the taillights match the L-shaped design of the Camry.
The test-mule caught here seems to be a higher end Corolla, with what appear to be HID headlights, fog lights and possibly even LED taillights. Like the outside, the interior of this test mule is heavily cloaked with camouflage, but we can make out the new three-gauge instrument cluster that replaces the current car's two-gauge layout, and this upscale model includes chrome trim around the edges.
As far as the engine and power goes, a new version of the 1.8 liter four cylinder engine will be added which gives out more power and better fuel economy and it is expected that a six-speed automatic is likely to replace the aging four-speed automatic transmission.
The new Corolla is expected to go into production by late 2013 and will be available in 2014 to customers.