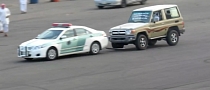 Video: Saudi police car chased away by hoons
In most parts of the world, police vehicles are at the other end of hoons unlike in Saudi Arabia, when answering to a fearless display of public menace activities, a cop had to quickly get into his Toyota Camry and run away as the hoons begin to loose their temper.
Tafheet or Hagwalah as Saudi drifting has come to be known around the world, is a popular street sport where Saudi youth mostly drift their cars in straight lines on speeds as high as 200 km/h, a lot of lives have been claimed by this bloody sport because of lack of safety in cars and disregard of fellow motorists.
Usually, these Saudi shababs (Hoons) use rental cars (Camry, Accord, Sonata and other cheap cars) to drift around.
They don't like to get disturbed either when they're practicing their sport out and away from the city on wide roads. As you can see, where normally, upon seeing a cop car, such hoons would've vanished but here they stood their ground and pushed the cop away.