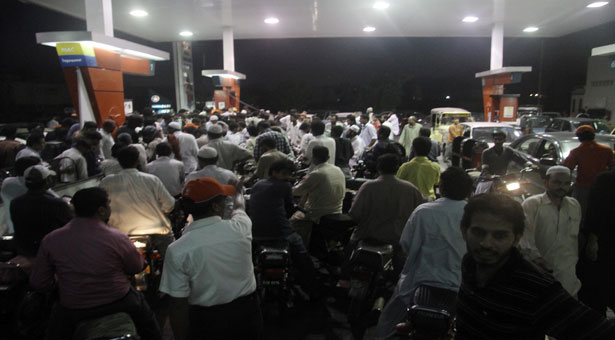 Our media is like a bunch of stubborn bullying kids left alone in the classroom when the teachers wouldn't just come. They just mess around and more than often, create panic and as our burger friends from the other side of bridge put it last night, " Anarchy on the streets bro, can't come to Ghaffar".
There was no shortage of petrol in Karachi, but what happened was that the person who wasn't even supposed to buy petrol, filled their entire full tank just because he wasn't sure what will happen next. And the person who'd usually get just 500 rs worth of fuel got himself a full tank in many, many months. And thus, the pumps that hold up to 25,000-30,000 litres for atleast a couple of days, sold 15,000 liters in just a matter of hours and thus, few pumps had to shut down until the fuel supply would come in the designated hours of the morning.
Meanwhile, Oil companies tried to calm down Karachites that there is sufficient stock of fuel available to cater the city. Ilyas Fazil, CEO of the Oil Companies Advisory Council (OCAC) reminded consumers that "there is a sufficient stock of fuel available in the city."
And then there was another rumor that CNG would be closed down today i.e., Tuesday so cars began piling up at the CNG stations to get their fuel tanks filled, while CNG is available all throughout the city and there was just no reason to waste time at the pump last night.
My younger brother just stopped at a CNG station, got out and asked the pump people about the scene for next day, and they said CNG is open on Tuesday and so he left.
We have seen imaged of people carrying jerry cans on their shoulders, probably just to sale them in black after all the pumps shut down exhausting their current inventory and then the black-market can benefit from the shut down which won't last long.
The affected province is only Punjab, where All Pakistan Oil Tankers Owners Association (APOTOA) said only four oil tankers carrying 160,000 litres arrived in the province on Monday but the fuel will not be enough to meet the demands however, more tankers were en route.
The government though has dedicated 11 petrol pumps to sale fuel to government run ambulances, so those saying that ambulances are stuck dry, try the Rescue 1122 if in case there's an emergency.
Fuel situation is far better in Khyber-Pukhtunkhwa where the pumps remain open and the fuel available. The government has also rationed Rs200 worth of fuel per car and Rs100 per motorcycle, a step taken by pump stations petrol station owners, not by the industry association or the oil marketing companies.
And PSO has supplied the province with enough fuel to overcome the crisis on Monday, while additional oil tankers were stuck at Kotal area in Darra Adam Khel due to a road blockade however, the crisis would be over by Tuesday in KPK said, Khalid Khan, the general secretary of Sarhad Petroleum Cartage and Dealers Association.
And it still staggers us how the hell did the analysts with their fancy forecasting tools were not able to see such a shortage.