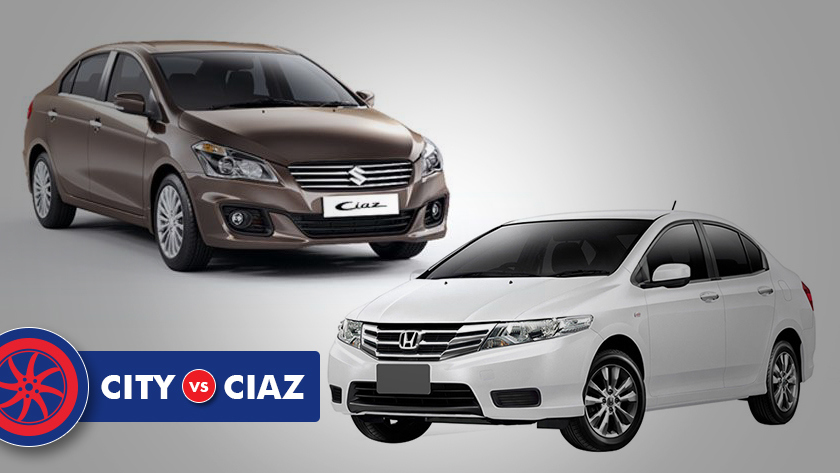 Suzuki Ciaz vs Honda City: A Battle of Urban Sedans
Pak Suzuki has finally launched a sedan after years of absence in the sedan segment in Pakistan. Although there was Suzuki Kizashi immediately before, and Suzuki Liana before that, but both had their sets of problems that held them back and they did not become as popular as Suzuki had hoped for. Suzuki Kizashi was way too expensive for a car with a Suzuki badge on it. No matter how good it was, the Suzuki name itself made people to think twice before spending 5 million rupees on it. Similarly, Liana had its own sets of problems. Initially Pak Suzuki was able to sell a few thousand units of Liana but it was nowhere near as popular as the Suzuki Baleno was.
Also Read: Honda City Aspire 1.5 2018 Detailed Review: Price, Specs & Features
Suzuki Baleno was the last undisputed hit in sedan segment by Pak Suzuki. And before Baleno, there was Suzuki Margalla. Now with the new Ciaz, Pak Suzuki is trying to bring back the glory days or Margalla and Baleno. But things are not the same like it was decades ago when Suzuki was selling those cars. Pakistani auto market has changed quite a bit since then. Not only there are foreign threats, Suzuki has now homegrown competitors as well. Previously, Pak Suzuki didn't have a certifiable direct competitor. But now, the story is a little different. This small sedan segment has a new ruler. And it is none other than the Honda. Honda Pakistan has seen some great success with its Honda City.
This blog is dedicated to a brief comparison of Honda City, the current leader in this particular segment, and Suzuki Ciaz, the newcomer. Before we start, I must mention the prices of both vehicles. The cheapest City available is for PKR 1,523,000 whereas the most expensive fully-loaded City goes for PKR 1,815,000. Honda City is available in total 6 variants, two engine options (1.3- and 1.5-liter engines) and both manual and auto transmission options are available. On the other hand, the Ciaz is available in just two variants. Manual 2017 Suzuki Ciaz has been priced at PKR 1,699,000 whereas the automatic Ciaz 2017 is priced at PKR 1,839,000 right now.
(This blog was originally published on Feb 10, 2017)
Exterior: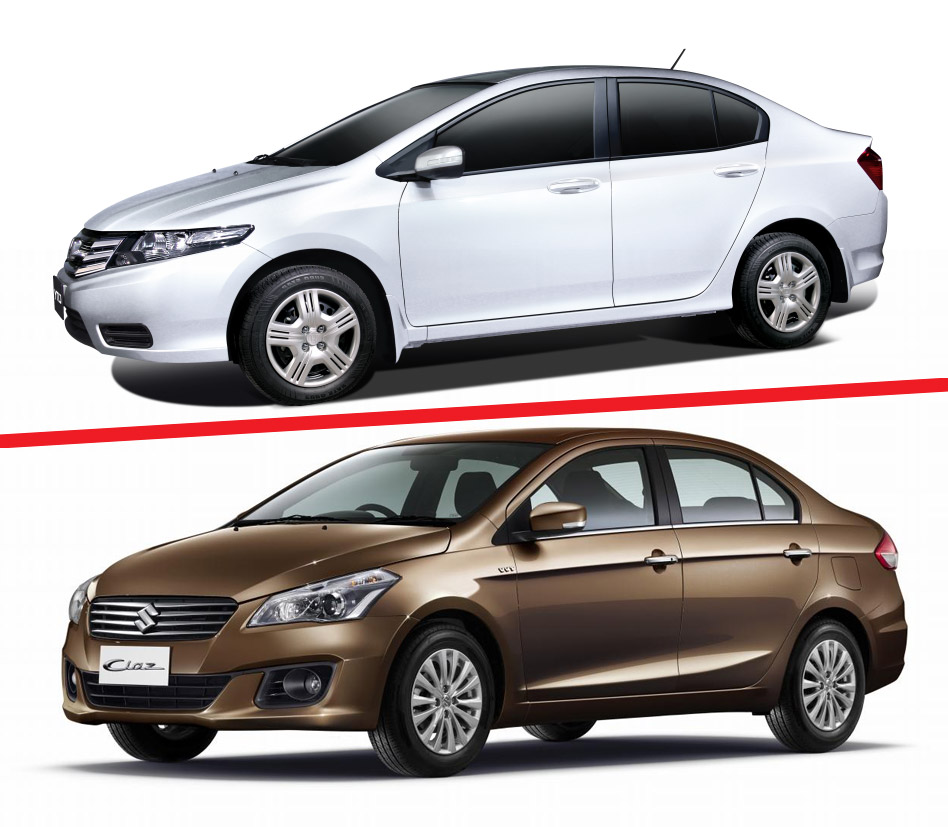 There is not point talking about which car looks better since it's all subjective. No point wasting time arguing with car is more beautiful or which is ugly. But one apparent observation that can easily be made is how sleek the Honda looks compared to the Ciaz. On the other hand, Suzuki Ciaz has a beefy look to its exterior. The City has much sharper lines and you find sharp edges and corners all around the car. From front headlights and front grill to side mirrors and to the boot lid at the back, all have straight and sharp cuts and lines. But the Ciaz has slightly round-ish outer appearance compared the City. The lines are softer and edges have been rounded off. The Ciaz looks bit grown up compared to Honda City.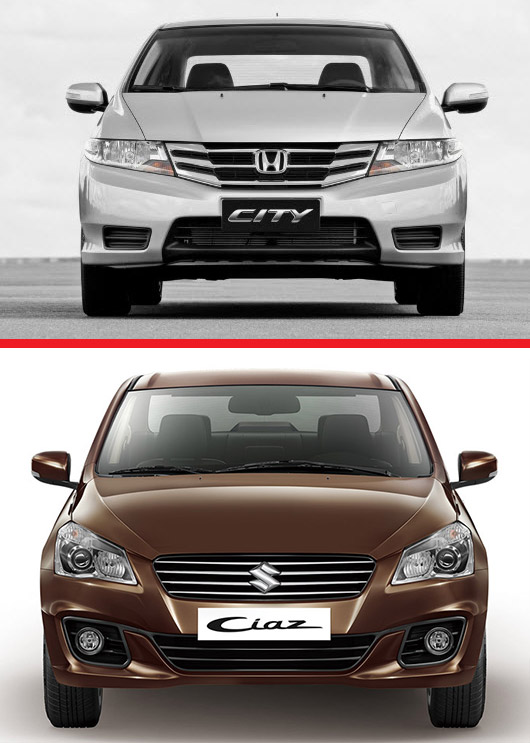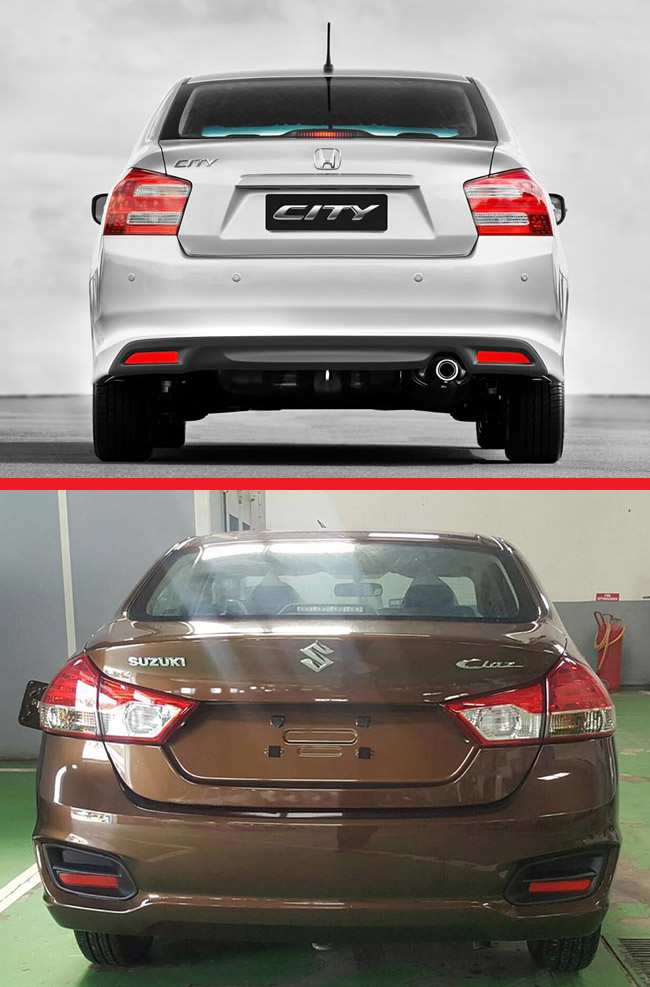 That 'grown up' look is not just due to the design of the car, but it is also about the actual dimension figures of the Ciaz. Suzuki Ciaz is longer and wider than the City. Honda City is measured at 4395 mm in length and 1695 mm in overall width. Compared to that, Suzuki Ciaz is measured at 4490 mm in overall length and is 1730 mm in width. The Ciaz also has a lowered roofline, measuring at 1475 mm, compared to City's 1480 mm height. One thing that heavily influences the driving characteristics and the comfort of a car is the wheelbase of a car. Suzuki Ciaz has wheelbase of 2650 mm compared to Honda City's 2550 mm long wheelbase. Wheelbase of Ciaz is just 50 mm shorter than the wheelbase of both 2017 Corolla and 2017 Civic (2700 mm), and only 20 mm shorter than the 9th generation Honda Civic (2670 mm).
The Suzuki Ciaz is available in just five colors, and arguably none of them are very eye catching. Except the brown one, rest of them is all typical black, white and shades of grey. The Honda City, on the other hand is available in 7 colors which include Ralley Red and Sporty Blue Metallic.
Interior: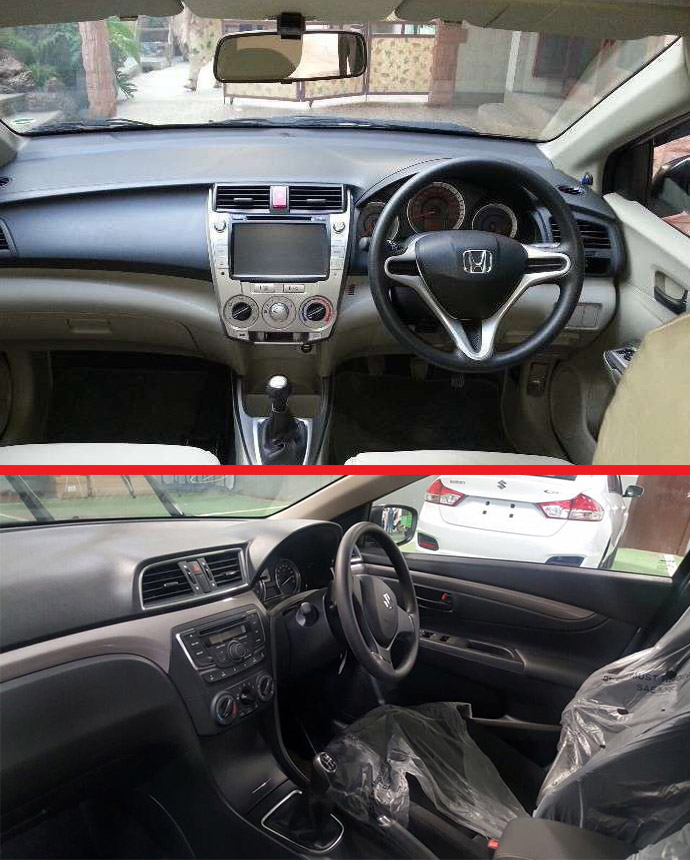 Considering the outer dimensions of the both cars, you can expect the Ciaz to be roomier than the Honda City. That extra 110 mm in Ciaz wheelbase translates into longer interior and improved leg space. Ciaz also has more boot space (510-liters) compared to City's 506-liters.
As far the luxuries are concerned, since the City is available in as many as six variants, you can pick and choose most of the stuff. But that is not the case with Suzuki Ciaz. Ciaz feels a bit less loaded compared to the City. Since the City is available in various variants, the good thing is you can always get a car with better options for a little extra. But that is not the case with the new Ciaz. Suzuki is already getting some backlash from few consumers about the lack of features in the new Ciaz.
Like the basic interior in the basic 1.3-liter City, you get equally basic equipment in the Ciaz as well. There isn't much going on on the dashboard. You get a simple layout with inbuilt audio unit, and climate control unit underneath it. Seats are simple fabric, and there is no multifunction steering wheel. Regular stuff like power windows, power steering, power side mirrors are there. However Suzuki does like to brag about all the storage places available in the new Ciaz. Other than that, in terms of safety and security, you get dual airbags in the front, there is security alarm available, and the new car comes the keyless entry and with an immobilizer. Also, the 2017 Suzuki Ciaz is equipped with ABS with the electric brake force distribution (EBD).
In short, the interior of the new 2017 Ciaz is as basic as it gets. There aren't as many, or rather any, bells and whistles as people were hoping for initially. And that is one thing that can turn potential buyers away from the new car, whereas you can get improved interior in the City if you are willing to spend a little more on the top of the line City Aspire models.
Engine + Transmission: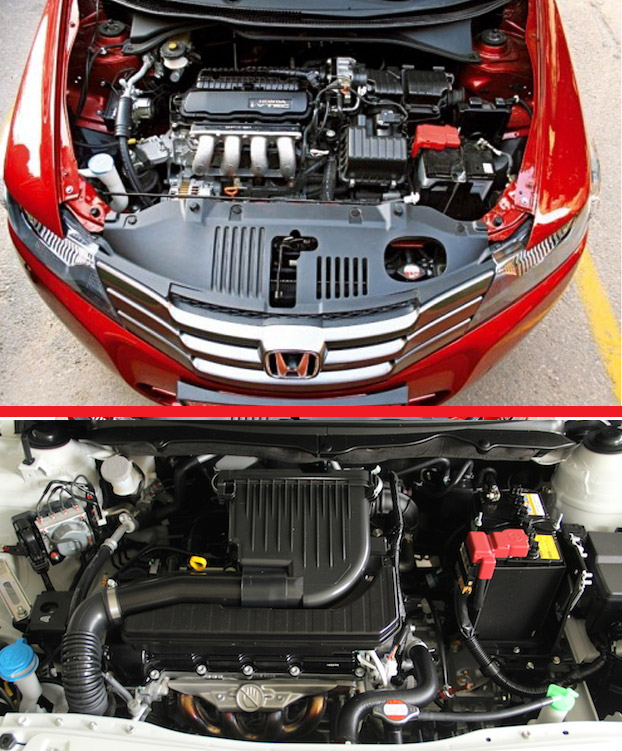 The new Suzuki Ciaz offers Suzuki's new 1.4-liter inline 4-cylinder K-Series engine that makes a little over 90 BHP. This K14 VVT petrol engine has been already very well received internationally. The engine comes with Suzuki's variable valve technology to improve fuel economy as well as better drivability. Internationally, Suzuki has claimed the new engine can return as much as 20 kilometers per liter. That is an impressive figure by any standard. But that is another story how the new engine performs in out typical Pakistani driving conditions and what will be the fuel consumption in the real world scenario.
Compared to that, Honda also has very impressive couple of engines. Both the 1.3- and 1.5-liter engines have proved themselves in Pakistan and internationally. The 1.3-liter engine is famous for return impressive fuel mileage, especially in local driving. The 1.3-liter engine is fairly quick on its own but if you want something with more power, you can opt for the 1.5-liter motor that makes 120 BHP.
As far the transmission is concerned in the new Ciaz, you can either for a five speed manual transmission or a four speed automatic. The Honda City, on the other hand, is available with a 5 speed manual (for both 1.3- and 1.5-liter City) and a 5-speed automatic transmission aka prosmetec transmission for 1.3- and 1.5-liter Honda City Aspire models. The 4-speed auto in the Ciaz can be a major turn off for many buyers. As mentioned above, the 4-speed auto Ciaz is priced at Rs. 1,839,000. Compared to that, you can get yourself a fully loaded Honda City Aspire Prosmatec 1.5 i-VTEC for Rs. 1,815,000.
Final Thoughts:
There is no hiding the fact that the new 2017 Suzuki Ciaz is relatively expensive and less equipped. And that is expected since the new car is being imported from Thailand. And brand new imported completely build units are always going to be more pricey than the same vehicle being manufactured locally. Instead of locally assembling the car, Pak Suzuki for some reason preferred to import completely build units.
Honda Pakistan has sold over a hundred thousand units of the current generation Honda City. The City outsold its bigger sibling, the Civic for the most part of last couple of years. This very profitable segment of small sedans has been run by Honda for almost a decade now. The fact that Honda Pakistan skipped a generation when it comes to the City and continued with current generation and still it managed to sell like hotcakes says a lot about the growth potential in this particular segment and Honda as a company itself. So it is Suzuki that is going to challenge Honda for a piece of a pie this time. And unfortunately for Suzuki, it is now Honda's turf. Had the company decided to assemble the Ciaz locally, and did all the required preparation, the new car would have been excellent bang for a buck!
Disclaimer – This blog was originally published on: Feb 10, 2017
UPDATE: