Today we have something quirky and something that has been in demand for quite some time now. This time around, we are reviewing Suzuki Hustler. Let's begin with the background of this little car. Hustler is a mini Kei car that was first launched back in January 2014, and looks like a small off-roader, thanks to its design made by Suzuki Japan. The car became an instant hit locally due to its retro/funky look and the way Suzuki Japan positioned it for the young millennial buyers. By the end of the year, after its launch, Suzuki sold more than 86,000 units of Hustler in Japan. It is also sold as Mazda Flair Crossover under Mazda's dealerships in Japan. The car won the 2015 Car of the Year award given by Automotive Researchers' and Journalists' Conference of Japan (RJC). Hustler is also called a mini SUV, but purists might disagree calling Hustler an SUV of any sort.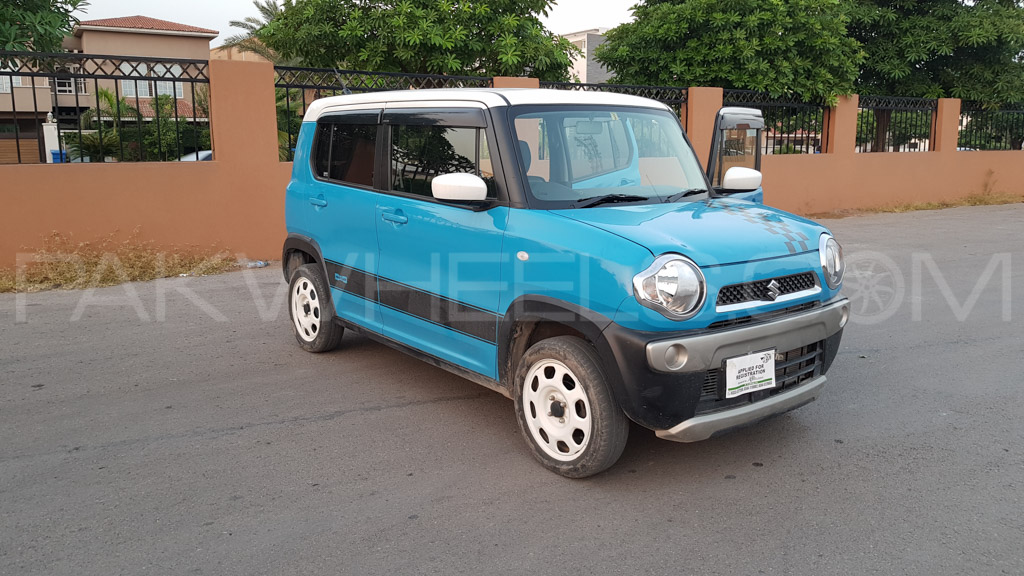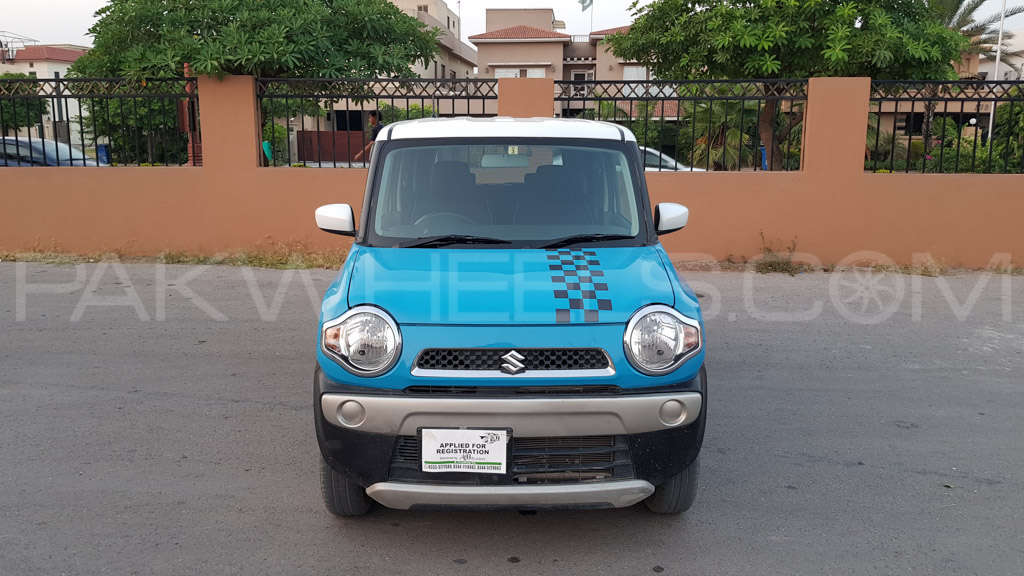 The car we had for the review was a 2015 Suzuki Hustler with a manual transmission. A manual transmission is somewhat rare in Kei cars nowadays, and this Hustler was one of its kind. There are various variants of the Hustler available in the market like A, G, J, X, Wanderer, and limited models like Tough Wild and F Limited II.
Now let's start the detailed review of Suzuki Hustler 2015 mini-crossover.
Suzuki Hustler Exterior
Looking at the exterior of Suzuki Hustler, you will notice that Suzuki has borrowed design cues from Toyota FJ Cruiser as well as to some extent even Mini. This shape of the car is usually known as the tall boy in Japan because of its higher roofline; therefore, you can expect a decent headroom inside. Otherwise, you will also notice that the design, cuts, and lines of this car give quite a retro yet modern feel. It looks like a nice combination of old and new design philosophies.
Suzuki Hustler is 3395mm long, 1475mm wide and 1665mm tall. To give you a perspective, the imported JDM WagonR Hybrid has the exact length and width but is 15 mm shorter than the Hustler. The wheelbase of Suzuki Hustler measures at 2425mm and its ground clearance measures at almost 7 inches (175mm).
This manual version of Hustler 2015 weighs 770kg, which is considerably less than its automatic siblings, and this less weight also helps the car in achieving better fuel mileage as well as it is able to carry more weight than others.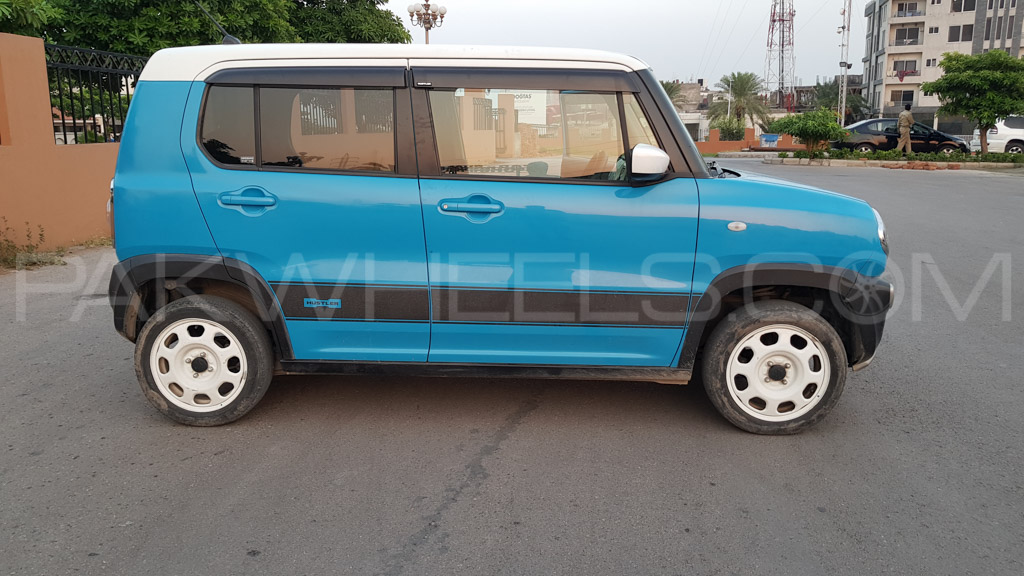 Talking about the front end, it kind of looks stubby yet it's mounted slightly higher, making it a bit muscular from the front. The front end remained the same for most time of its production. However, Suzuki redid the front fascia for the 2018 Hustler model. The frontend has a massive black bumper to make the Hustler look muscular and with a silver strip in the middle that looks like a metal bump bar but of course, it is all ABS plastic.
That chequered racing pattern on the hood gives Hustler a distinctive off-road look. However, I am not too sure about the colour choice in this car. But it's a fact that Suzuki has tried to make it appealing for buyers and millennials, making it kind of funky and sporty yet rugged at the same time. Therefore you will find a number of unusual colours in the Suzuki Hustler lineup. If you want some weird shade of brown, chances are Suzuki has made one of those in that colour.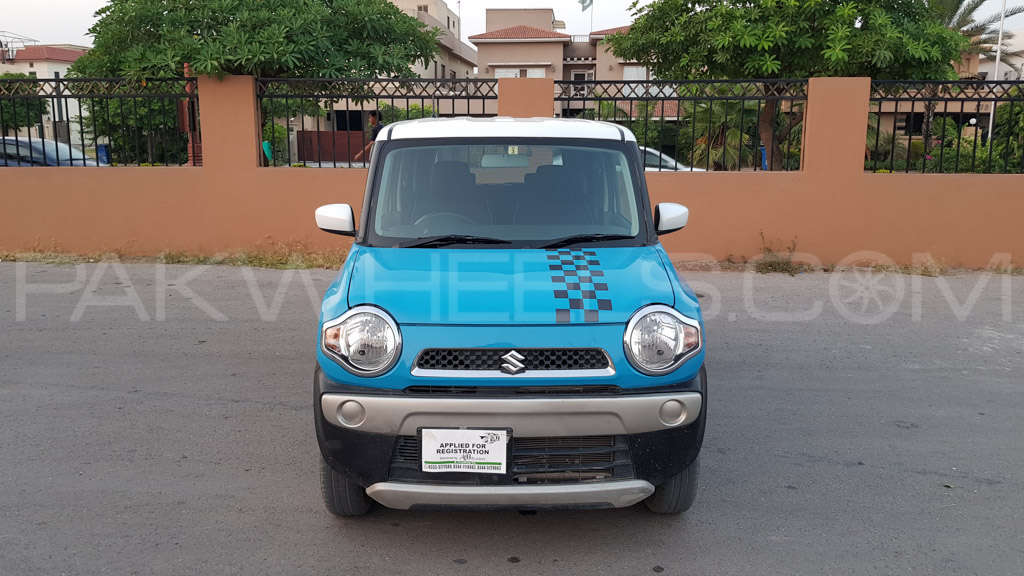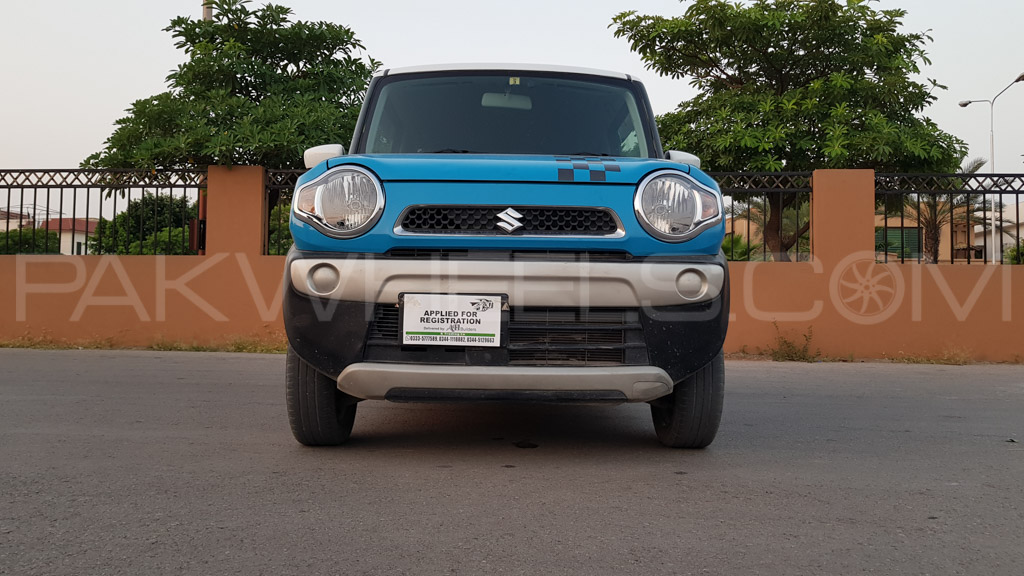 The black bumper extends to sides of the Hustler as well as making the wheels arches flared and giving it an off-roadish look. Being a simpler variant, you will find those retro-looking steel wheels, which have been painted white instead of fancy alloy wheels in this Hustler 2015. The wheel and tyre size is 165/60R15.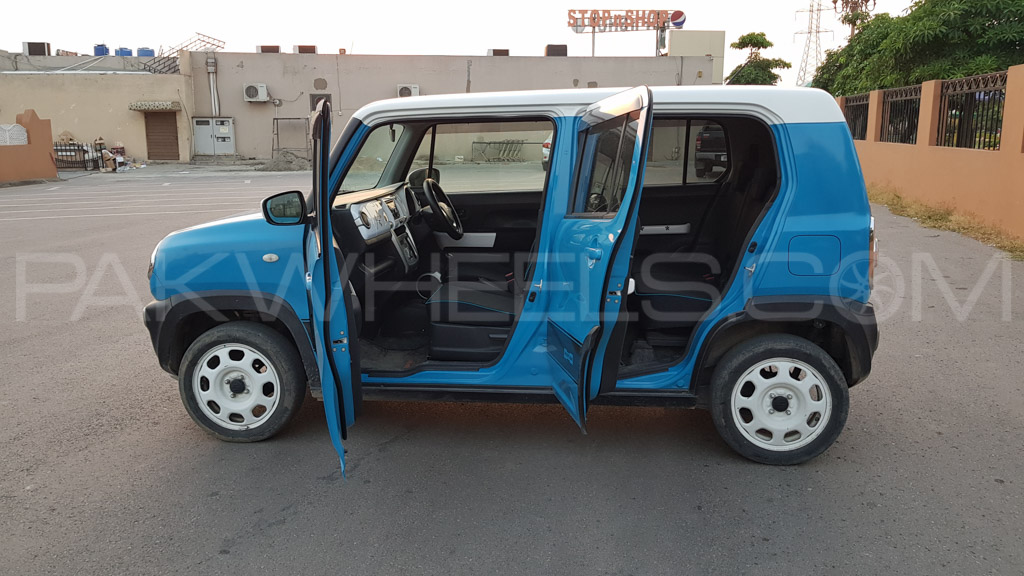 The back end of the car strangely has a bit more design elements then what you will usually find in most of the small Kei cars. The rear lights also give a contemporary look.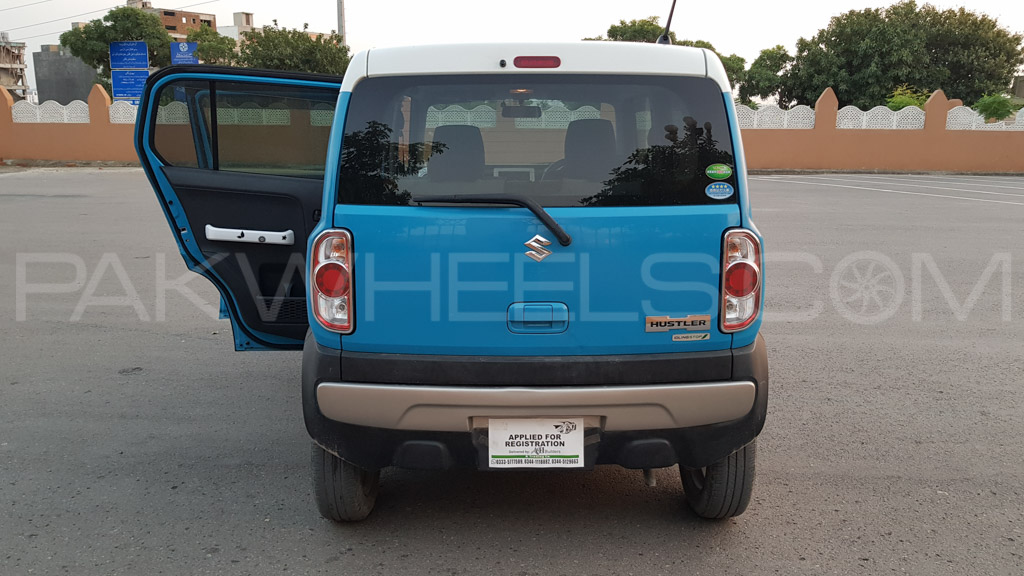 Suzuki Hustler Interior
Now let's talk about the interior of the car. Looking at the dashboard design first, you will notice the dashboard has the similar raised profile as you will find in proper old school off-roaders. It has a bit minimalist yet practical design, but it does not look outdated. In the middle of the dashboard, you will find a factory-fitted multimedia unit, and under that unit, you have your digital climate control buttons. Since it is a manual, you will find a pocket instead of an auto gear lever, where it usually is in auto Kei cars. Passenger side dashboard looks simple and practical with two glove compartments as well as a storage space in the middle. Those stickers on the cover of the glove compartment are however a bit off-putting, but since it's a used JDM car, maybe the previous owners applied them because I don't think those can be a factory option. But the glossy surface of the dashboard makes it very easy to clean, unlike those dashboards that have a pattern in them.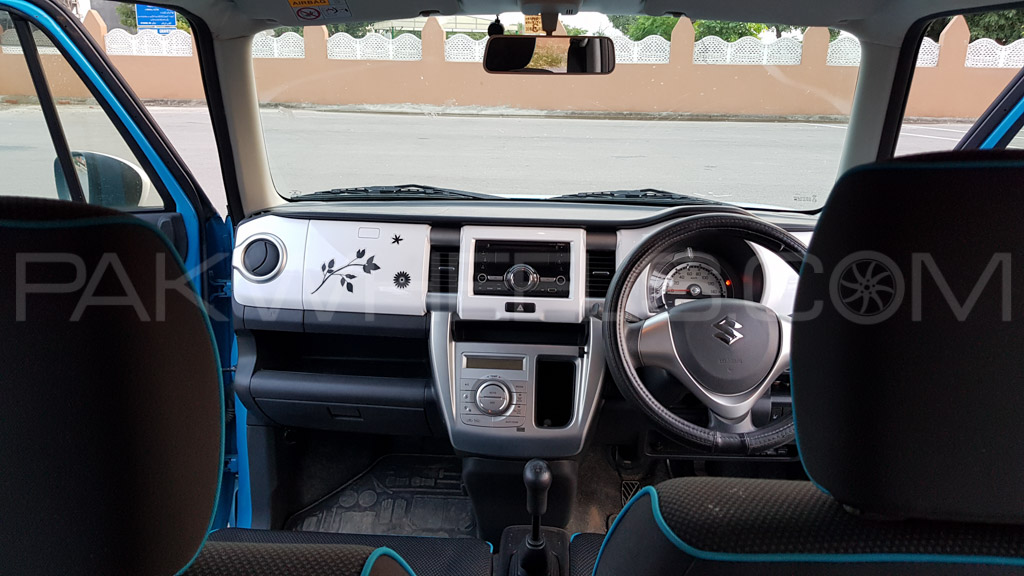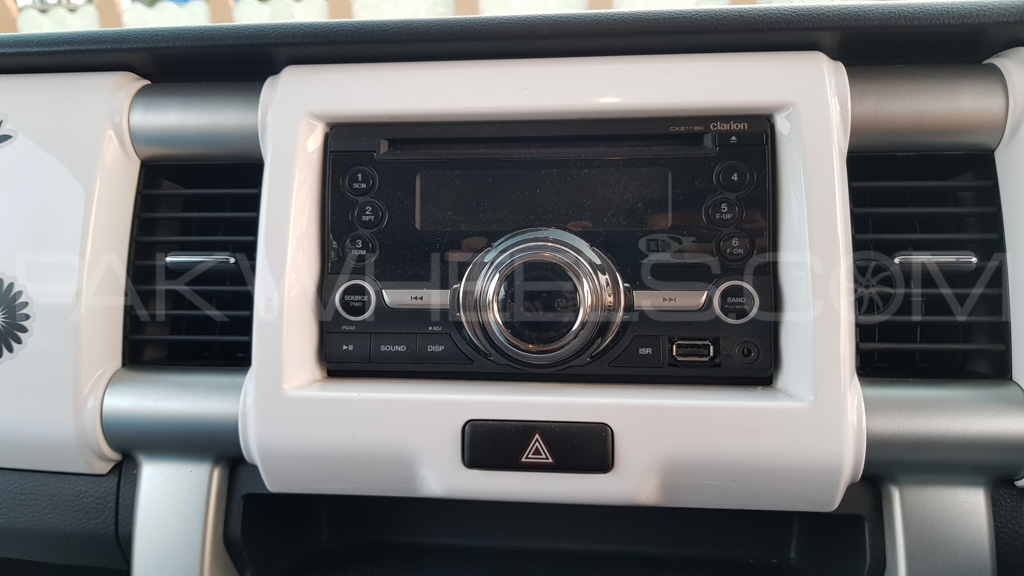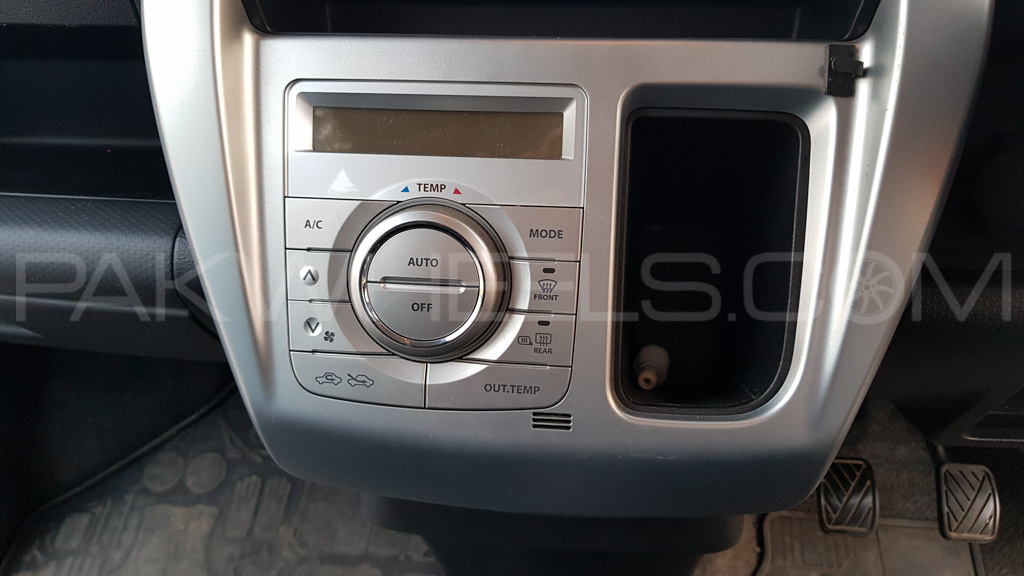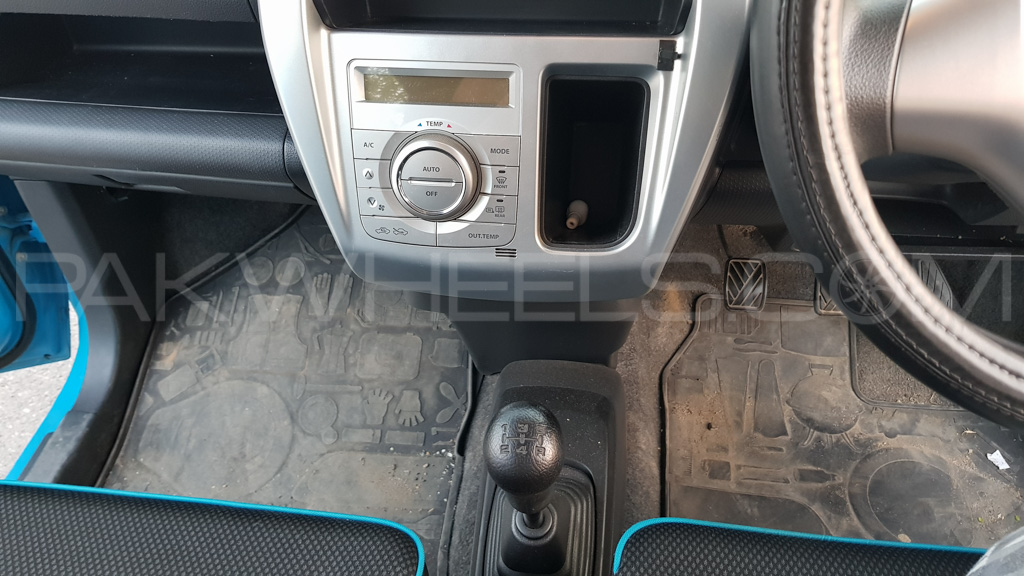 The cluster gauge behind the steering wheel also looks practical and straightforward with just one dial in the middle that shows speedometer and a small digital display at the bottom that shows necessary info and warnings. On the right side of the steering wheel, you will find your ignition switch, and next to that there is an eco-idle button and front headlight adjustment knob.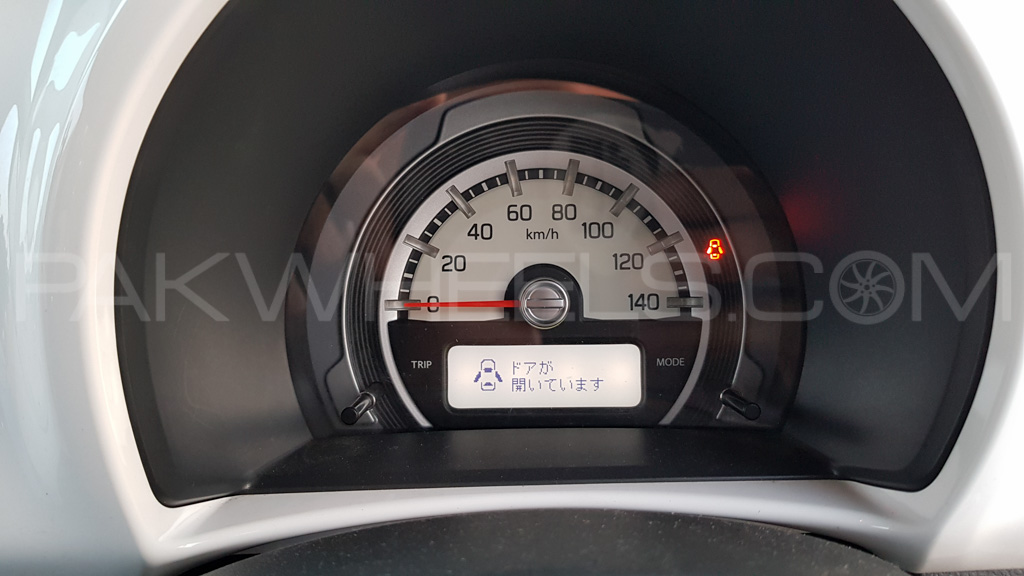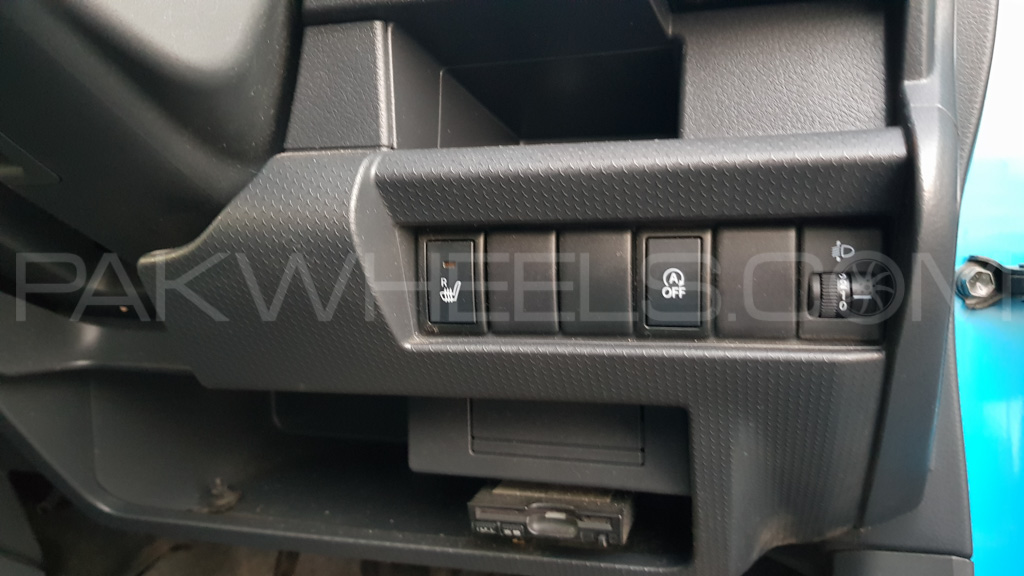 The seats had a really nice to touch upholstery with body colour matching piping. The seat material is breathable so sitting on them for long won't cause discomfort. Seats were pretty comfortable as well. Usually, these small cars come with hard cushioning, but that was not the case in this Hustler. The driver seat was heated as well. Top of the line model comes with both heated seats in the front.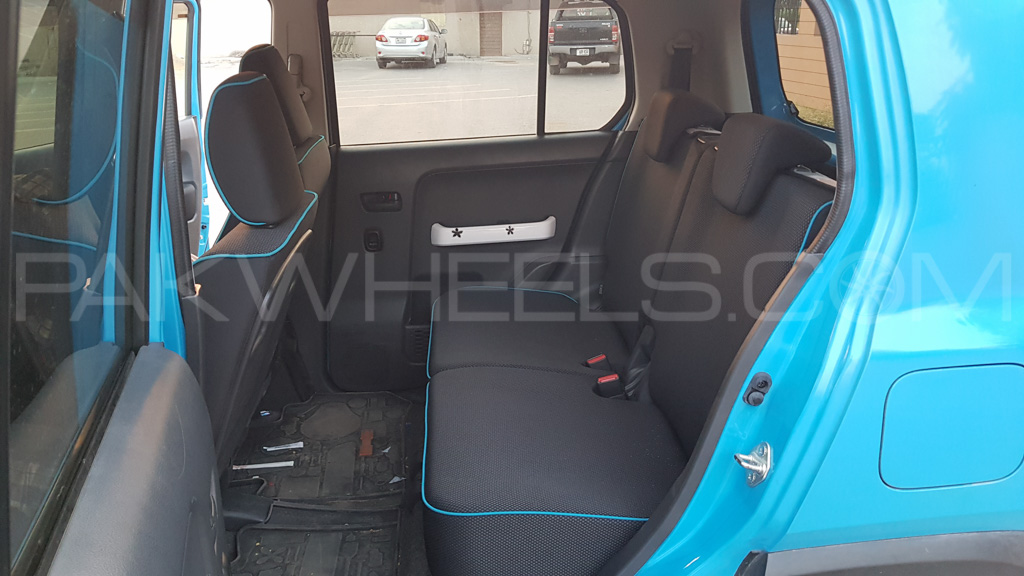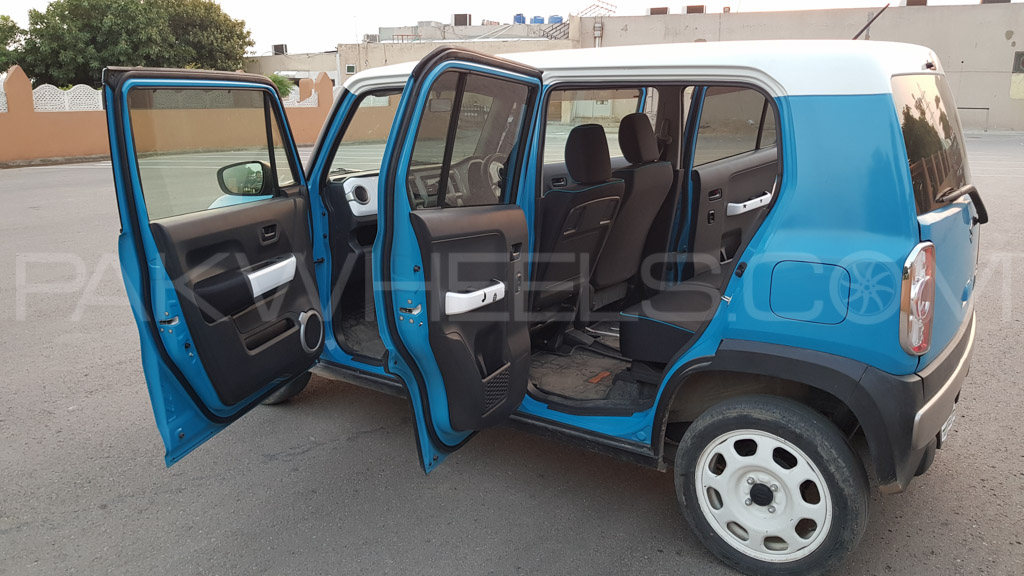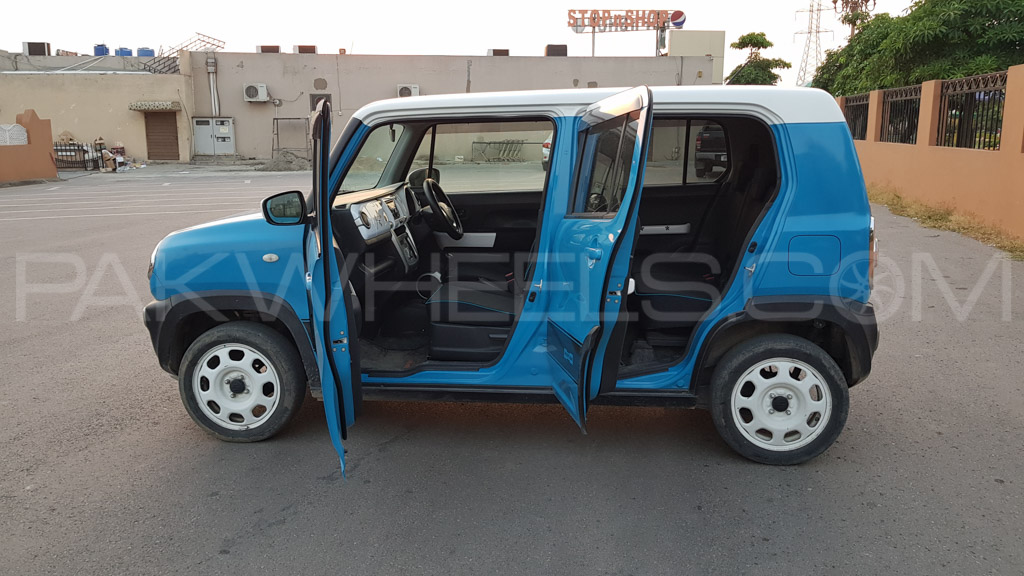 Hustler 2015 comes with power windows, and you will find speakers in all door panels as well.
Since it is a manual car, and you have a gear lever in the middle of front seats along with the handbrake lever, there is no sofa seat like you will find in most new Kei cars that have automatic gear lever mounted on the dashboard and the parking brake is located in the bottom next to the brake pedal. A manual car will have a little less space in the front compared to an auto variant to accommodate levers.
Suzuki Hustler Performance
Being a Kei car, Suzuki Hustler comes with the 660cc engine. This Hustler had a three-cylinder dual overhead cam R06A engine that you find in most other Suzuki Kei cars. But as I have mentioned above, the car we were testing had a 5-speed manual transmission. Usually, the modern Kei cars come with a CVT gearbox. The naturally aspirated 660cc Suzuki engine makes 51.2 BHP (38kW) which is the typical formula that all NA Kei engines make. But what is interesting about this manual Hustler was that the torque it had for such a small engine. If you are a local Suzuki WagonR or Suzuki Cultus owner that comes with a 1000cc engine mated to a 5-speed manual transmission, you would know torque your car makes. You can easily shift to higher gears as soon as you start moving. Same is the case with this manual Hustler. I was able to take off in 2nd gear with two people in the car easily. People who have driven small cars with a CVT gearbox know that there is a certain lag when they press the accelerator of the vehicle. The car takes a couple of moments to realise that the driver is asking for it to go faster and then you will feel, what I usually refer to as a "rubber band effect", where the car feels like it has been shot from a slingshot. In this manual car, however, throttle response is instant. By no means, I am saying it's a fast or performance car and will rip the road surface apart. What I mean is that you feel the car responding to your throttle input for better than you would feel in an automatic car. So that is definitely a plus.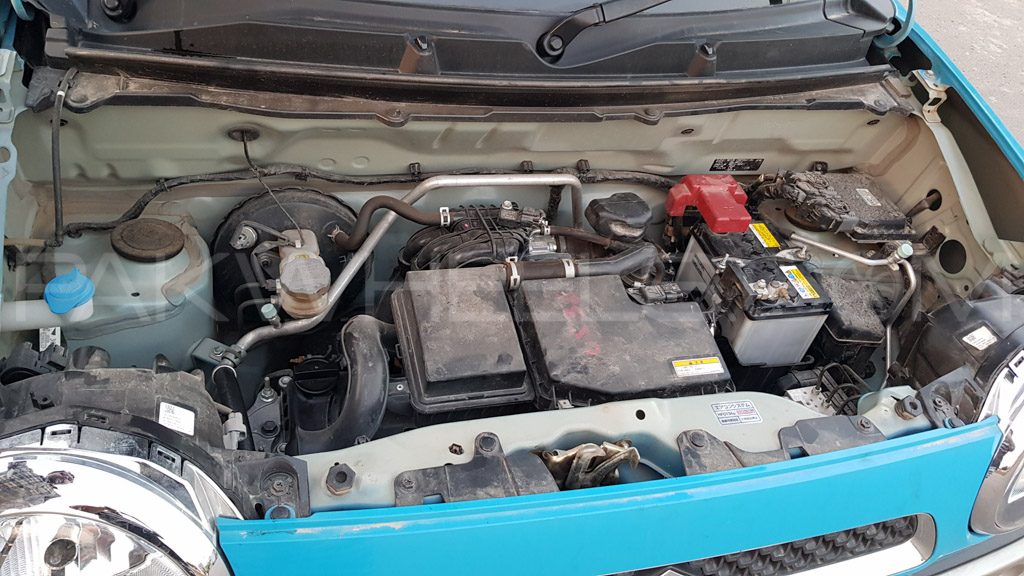 There are AWD variants of the car available as well as a turbo model.
The engine is limited to 140 km per hour speed, and with the manual transmission, the car was able to touch 130 km per hour on the highway easily. Within the city, this Suzuki was giving us around 16 km in a litre with ac on whereas on GT road it was able to return almost 20 to 21 km in a liter. Suzuki claims that Hustler does almost 30 km/l under JC08 testing conditions. Suzuki Hustler has a fuel tank of 27 litres.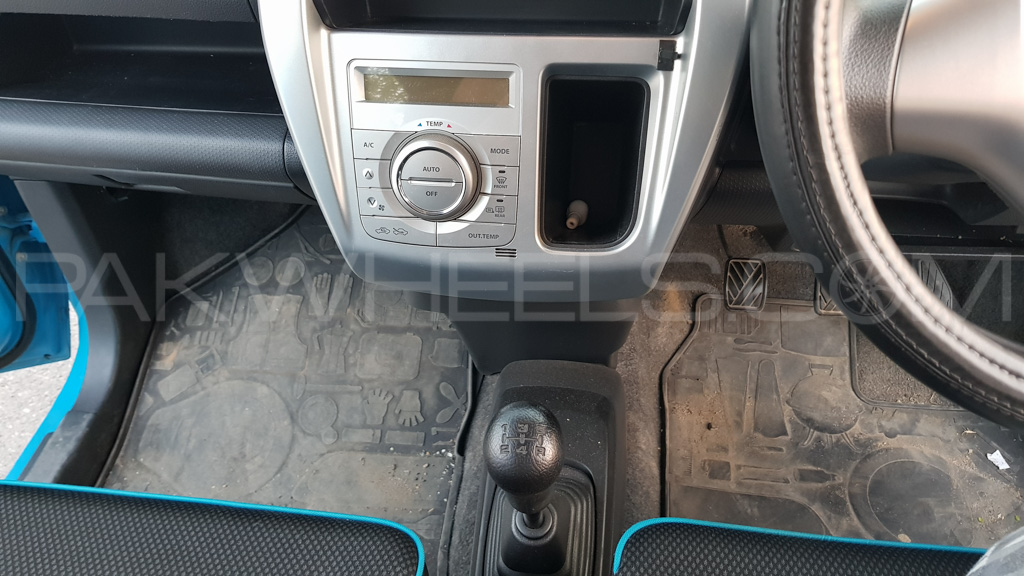 Although it is a slightly taller car, which sometimes hurts the braking and handling capability of a vehicle; it should be safe to say that Suzuki Hustler has pretty decent brakes since it comes with ABS as standard. Throughout the time of testing I did not feel at once that ABS was kicking in prematurity. Suzuki Japan has designed the structure of the vehicle, its suspension, and the dynamics of the car quite cleverly. It is a slightly rugged car than let's say a typical Suzuki Alto, so although Suzuki had to make some compromises in the field of body roll and sway, but it isn't something that would hurt your high-speed driving experience.
Suzuki Hustler Comfort & Handling
The Suzuki Hustler is quite cleverly designed. You get ample leg space both in the front as well as in the back, and there is good headroom on top. Since it is a tall car, one can argue that maybe it is not as stable as let's say others cars of the same category with the low roofline. But it feels right at home with other tall boy cars like Honda N WGN. Of course, it's a small car so you do not get as much boot space as you would like but since you can move back of the rear seat forward, you can have a flatbed in the back where you can stuff as much luggage as you want.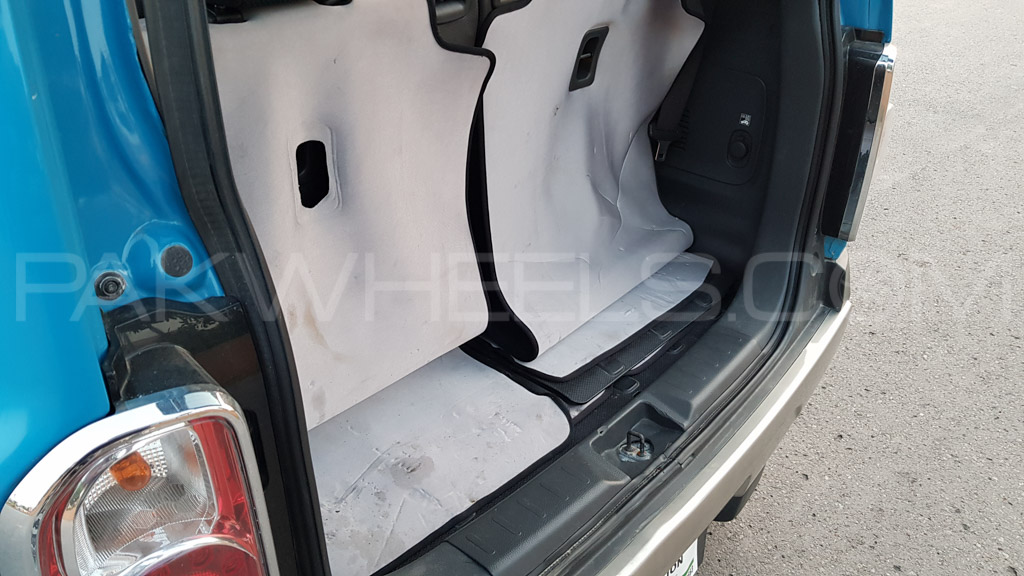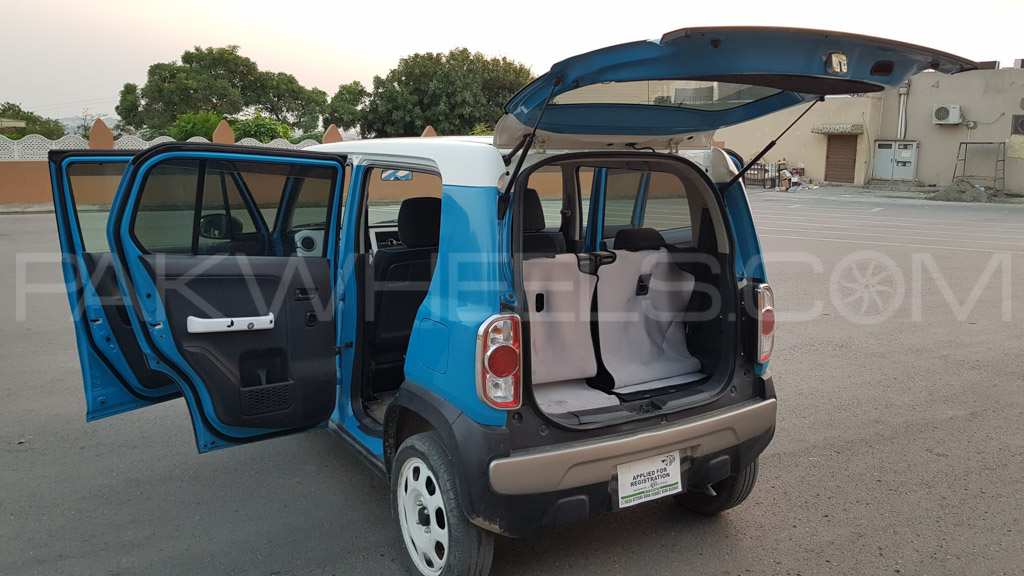 But then again it is a narrow car. We all know that the small Japanese cars are designed under strict rules and regulations provided by the Japanese government to the carmakers. So they cannot exceed a certain length and width. Seating in three adults in the back is going to be quite tricky. For three children it is comfortable, and I would say even roomy, but for grown-ups, that is not the case.
The viewing angles for a driver are great. There are minimum blindspots and due to its raised seating position, going over potholes becomes easier because you can easily spot them and maneuver the car around those.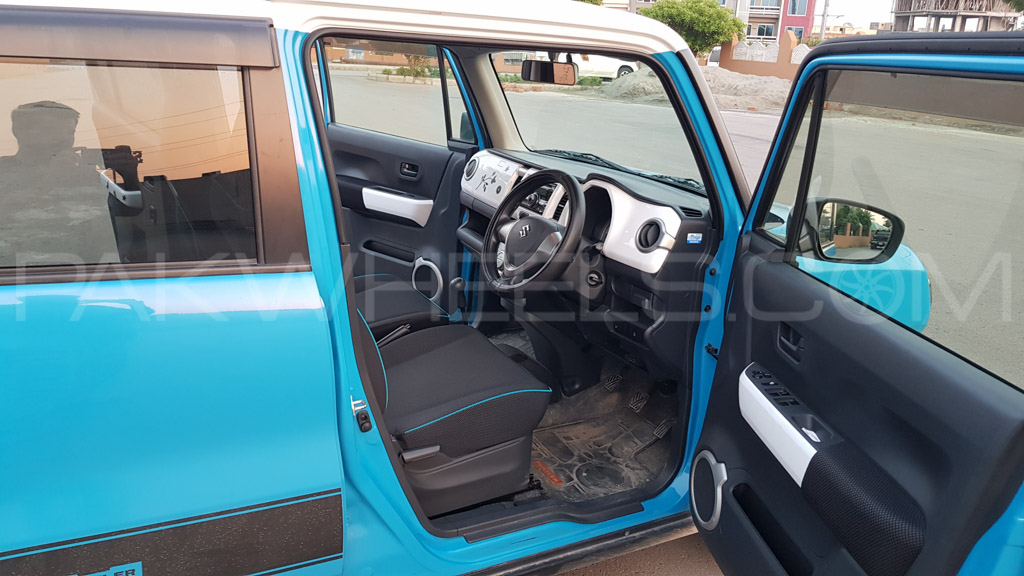 The ground clearance of Suzuki Hustler is slightly better than most other Kei cars (175mm), so that helps the car go over most of the usual hurdles that you find in your regular city drive. Suspension setup wise, it has McPherson struts in the front and isolated trailing link type coil spring in the rear. What is interesting about the suspension design of this car is that with four people sitting inside, I noticed that the car does not slouch down as much as any other car would do. The suspension is otherwise comfortable you will not feel like you are sitting in let's say an SUV. The feeling is of like a car. But the vehicle maintained its stance even with the load. And that massively helps with the bumpy and jumpy roads. The belly of the vehicle would not rub even on scary looking speed humps.
Suzuki Hustler Safety
Although there are cars available in the market that are coming with as many as eight airbags this 2015 Suzuki Hustler that we were testing only had two airbags for the people sitting in the front. Otherwise, you get seat belts all around. The car was equipped with ABS technology as well as brakeforce distribution technology which helps to evenly distribute the breakfast in case of emergency braking while you are maneuvering through obstacles. The eco-idle helps you get good fuel economy as well.
Verdict
This particular 2015 Suzuki Hustler sold for Rs 10.25 lakh. A newer and more equipped automatic Suzuki Hustler can be bought for around 12 to 14 lakh. I am not going to comment on the higher priced variants of this car, but at 10.25 lakh, I think this particular model is a pretty decent deal in today's circumstances. Being a manual car, it performs slightly better than its automatic siblings. But then again manual car has its disadvantages like it can be quite tiring in traffic jams or start-stop traffic. One of the reasons the small cars became so popular was their availability of automatic transmission. So taking that option away kind of hurts the overall appeal of this Hustler. And that is precisely the reason why it was sold at less price than what these cars with auto gearbox usually sell for. But the question is will, I recommend this particular car the short answer is it all depends on your needs. But yes, considering all the circumstances, I do think the manual transmission is a plus point at least in this instance. It makes the car appealing to a lot of customers who usually would not consider a 660cc car because of limited transmission options.
Full gallery: