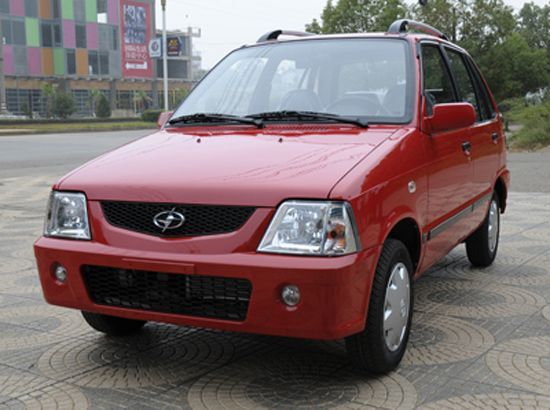 Tata Nano In Pakistan Is A Possibility (Part1)
My father promised me a bicycle on Eid when I was 8. It was a Red and White BMX with adjustable seat, and was on sale for 700 rupees. Later that year, on Chaand Raat, we went to the bicycle shop. Excited as I was jumping out of my pants, or shorts whatever I was wearing that day, it didn't last long. The BMX was there, but the price had increased to 900. We didn't have those extra 200 rupees on us. Abuji promised to save more and buy it to me on the next Eid, and I agreed. After taking a long silent look at that Red and White piece of automotive art parked slanted in the showcase in its full glory one last time, I turned around and headed back home. They were simpler times. We were simpler kids. It was absolutely fine to desire something, and anxiously wait for that desire to materialize.
In the proceeding decade, this episode repeated at least 4 times. We would save, but the BMX would always be a tad out of our financial reach. We tried, but we were always a wee bit short on cash… until I could see college days in the near future. The desire to buy a BMX transformed into the desire to own a motorbike – a brand new Honda CD70. I spent nights dreaming about the places I would visit after college hours, where I would park it, the seat cover and the lights and the number plates I'd install on it. It was a beautiful dream; I could see myself from a 3rd person perspective riding at night on the deserted Mall Road with wind blowing through my hair and my loosely buttoned shirt flapping behind me. The insignificant worldly details fade in the backdrop as I stop at the centuries old oak tree in Bagh-e-Jinnah where a Seemi Shah waits for me wearing a white lawn kurta over blue jeans longing to re-enact Raja Gidh.
Sadly I had to wake up to the bitter reality of us being a good sum short on a new CD70, again. The prices had hiked by 15,000 rupees since we had last inquired, and that's when I realized that it would be the BMX saga all over again – our budget would increase, but the prices would increase faster.
My hypothetical Seemi Shah was on the verge of giving up waiting for her prince on a shining CD70, when a friend enlightened me about the introduction of Chinese bikes in the market.
"32 Thousand Rupees for a brand new 70cc? That's almost half the price of a CD70! Are you sure it's brand new? Chori ki tau nahi? What is the catch" I asked.
"1. It's locally assembled Chinese. 2. It's a new company so they have to keep the price down to capture market and 3. CD70's price is unjustifiably inflated. I'm getting one tomorrow, why don't you tag along?" – he replied.
Next day we came back with two Pak Hero motorcycles. Mine was black. Fast forward what seems like a lifetime and this bike is parked right now in my garage, ready to go anywhere you want on logical horizons. I confess, it never sounded as good as a Honda CD70 – that clean whistle of a sound was always missing. It never ran as well either – the smoothness wasn't there. And it won't sell very well too.
It may not have been a bike that I wanted, but it was definitely a bike that I deserved brand new for 32,000 rupees. It never failed on me, it never went for repairs – just the timely maintenance, and it took me to places, to the Mall road, to Bagh-e-Jinnah and far beyond. It carried me through those golden years of college when the world seems to revolve around you. It hit all the right notes with its familiar mechanics and build, interchangeable-with-Honda parts and affordability at half the price of a Honda CD70.
That, my friends, is exactly the sort of awami hatchback we deserve in Pakistan… our very own Beetle, our own OKA and Nano, a local Das Auto. Tata Nano was not just a car, it was an idea, and ideas are bulletproof. It was one man's dream to give back to his country. To give them what they deserve.
700,000 rupees is an insanely bloated price for Suzuki Mehran. The car however is a winning recipe for our demographic. Give a Mehran alternative for half the price of a Mehran and you have got a clean sweep! You follow what I am getting at?
Imagine the possibilities – local manufacturing, local assembly, local labor engagement and investment – and the options are endless. Who wants a Pak-Mehran flatbed? How about a two door version? Wait… a coupe convert? No… no stretched limo please. Alright coming back to sanity, just the idea of locally manufactured Mehran alternative is an absolute win if the price can be kept under 350,000 rupees for a basic version. 400,000 greens for the AMG version with power steering, power windows and seatbelts. The key is familiar technology and parts interchangeability, and local mechanics will not 'fail' it like they fail every car they can't get their heads around (remember the EFi in Santro how the mechanics went bonkers claiming this technology can blow the car into pieces?).
As a first timer in any field, safe decisions are inevitable. There is a whole class willing to buy their first car but won't risk on the curses of used vehicles. There are ladies and elders who just don't have time or energy to visit mechanics in order to fix a 10 years old Mehran. There are scores who have been increasing their budget each year only to find the mighty Mehran's price increase rendering their savings void.
We all know there is immense talent in Pakistan – a major chunk of which is active on Pakwheels.com. And we are not short of Trillionaires who don't mind spending where needed (Yes, I am talking to you Mr. Malik Riaz). From the govt, authorities the project may not need any subsidy – just the assurance that the project will not be scandalized, harassed or tarnished upon the will and whine of the monopolistic Atlas Honda – Pak Suzuki – Indus Corolla Trio. In return of that assurance, we can consider naming the cars in their honor as "Mehran VXL(N)", "800Z" or "Mehran PTi Oriel"
Believe it or not, but Umar (UIV @ Pakwheels) and I have seriously gone through most of the technical aspects of this venture. And it's not that complicated. Stay tuned for Part 2 of this blog for a blueprint of the car that has the potential to change everything in local industry.