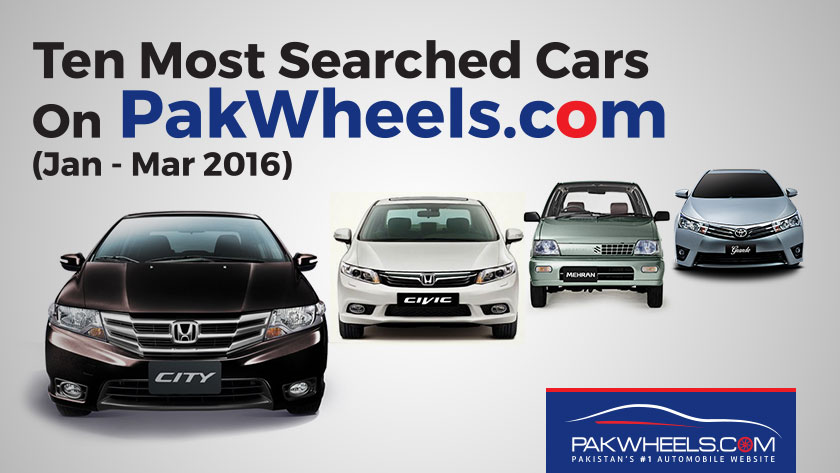 Here Are Ten Most Searched Cars On PakWheels (Jan – Mar 2016)
PakWheels is Pakistan's leading automotive website. Hundreds and thousands of people visit the website daily to interact with fellow automotive enthusiasts, discuss their auto-related issues, buy and sell cars, SUVs, bikes and their accessories, etc. There are more than 43000 cars and more than 2200 bikes for sale on PakWheels. Many use it to talk about all the latest in the auto world from Pakistan to around the world. PakWheels members from abroad try to inform their Pakistani fellow members about all the latest releases and auto shows first hand.
It will not be wrong to say that discussion on PakWheels Forums about different models and makes of cars have made it possible for new car buyers to increase their confidence in various cars. The team records all the searches and clicks about particular brand or model of a car. Following is the list of ten most searched cars on PakWheels from January to March 2016. For the month of February and March, you can see the number of searches as well.
From the looks of, Honda City has remained most popular in first three months. The number of searches increased almost 1000 in March from February. Corolla has been steadily on the rise. In January, it was at the 6th spot, in February it was at fifth, and now in March, it is at the 3rd spot, under Honda Civic which is at 2nd spot with 4003 searches. One surprise entry is by Toyota Prado at number 9 in March with 1520 searches. Rest of the list includes Suzuki cars, Daihatsu and Jeep.
These numbers are not being posted to determine the winners or losers, but only to show the interest of people in certain models. The ranking can shed some light on the popular vehicles of the month.