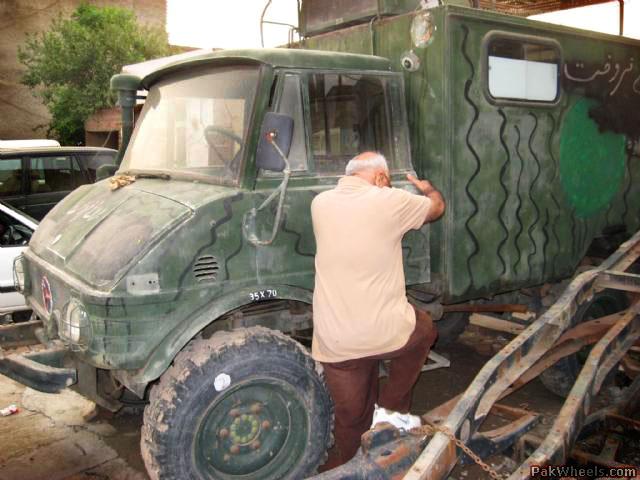 The Unimog Punga Project Begins
The Unimog:
Definition: "Unimog is what Unimog does"
Unimog stands for "Universal-Motor-Gerät" which roughly translated means "UNIversal MOtorized implement machine" (Gerät being the German word for machine or device).
Unimogs are multipurpose, all-terrain, utility vehicles built by Mercedes-Benz. In addition to extreme off-road capabilities, they are designed to be operated in some of the harshest conditions in the world. Unimogs are widely recognized as the most capable off-road vehicles in the world.
The term "Unimog" is a general term that applies to many different vehicles in the same way that "Jeep" or "Land-Rover " refers to a wide range of vehicles. A 1950's CJ is a very different vehicle than a 1990's Grand Cherokee but they are both "Jeeps."
Some vehicles use elements of the Unimog design. For example, Humvees and Pinzgauers use portal live axles while Land Rover Defenders use an excellent solid axle/coil spring suspension system. Furthermore, many vehicles can be retrofitted with locking differentials, larger tires or better suspensions. However, the Unimog is the only vehicle in the world that incorporates torque tubes, hub reduction, solid axles and coils springs and it is this combination that makes it one of the best off-road vehicles in the world and fundamentally different than other 4x4s. No other vehicle combines all the elements of the Unimog and, as a result, no other vehicle has the capability of a Unimog. Due to their off-road capabilities, Unimogs can be found in jungles, mountains and deserts as military vehicles, fire fighters, expedition campers, and even in competitions like "truck trials" and "Dakar Rally". In Western Europe, they are commonly used as snow ploughs, municipal equipment carriers, agricultural implements, construction equipment and road-rail vehicles. Unimogs can be equipped with front and rear tool mounting brackets and hydraulic connections to allow bucket loaders and hydraulic arms to be used. Most units have a power takeoff (PTO) connection to operate rotary equipment such as snow brooms, snow blowers, brush mowers, or stationary conveyor belts.
The Hunt of my first 4×4 project:
In early 2008, I start searching a decent off road machine that could take me to the mountains. It would have to run in mud and sand, cross water channels and do medium to hardcore off roading. Discussion and search were my responsibilities, and my father and I used to visit Army vehicle auctioneers, commonly known as "kabaria" to select a machine for a restoration project. We short listed a CJ7 and Land rover Defender. One day, on a routine visit to the office, we saw a spectacular machine and immediately stopped to check it out.  The looks were very attracting and we started preliminary checkups, however we were confused with so many levers on the gear box area. The person selling it didn't know what this was and commented, "aey mug ay mug pai jaan". I took a picture of chassis plate and came home with so many queries and when I "Googled" the word, Unimog – now there was no turning back. I discussed this project with senior off roaders and they all claimed, "Oye, it's a truck, it's not a Jeep". I contacted Rizwan Bhai aka Cotec and he replied the same but in positively different way and started asking me questions that pertained to purpose, need, can I take my family to Northern area on this THING which has no air conditioning, is a LHD, no power steering. Cotec was logical and practical as well, and I'd have to say, he almost convinced me.
I kept searching on Unimog and kept visiting the Unimog till cotec called me and told me to come to Islamabad to witness the "IJC 4×4 friendly competition" October 5, 2008 and to watch the performance of different brands and also to discuss my project. When I came to know that a Unimog is also participating,  I started thinking this would be the best opportunity to see the beast doing what she's meant to do best (as per YouTube 😉 ). I went there and saw Land Rovers, Land cruisers, a G Wagon, CJs, Willys, Mitsubishi Triton, Vigo performing to the limit but only the Unimog caught my eye. I came home with a clear mind that the Unimog is the project that I would intend to undertake as my dream project.
There was extreme discouragement and near-zero support from the off road community (logically, they were correct to some extent). After a few days, all of a sudden, I gave Cotec token money because I wanted him to break this deal for me. I left him with no choice but to get me the Unimog. He had the test drive and we came with the Unimog! OH YES!! Now my undiscovered love was parked in my factory premises.
The PUNGA:
Believe me, when I started the project I had  no idea what the outcome would be, being new to 4x4s and a person who never drove one in his life. I also had no idea on where to source and buy parts. How much these will cost? Where I will find mechanic of a Mog? What should be the budget? There was no precedent to a Unimog restoration project in Pakistan. My dad after analyzing the list of questions I had, named the new family member as Punga & I started a forum on Pakwheels.com and named it Unimog Punga Project. Allhamdulilah, everything was sorted out smoothly and according to how I wanted it to be.
Started searching for a mechanic and found a 4×4 specialist nearby. He visited the project and left in 4 minutes and 23seconds with an excuse, "Sir, I am not the right guy for this job". It was a shock to me and then I realized that this "THING" is too big and probably scared the hell out of the mechanic. I rented a fork lifter and removed the rear radio cab to give it a look of small vehicle, but least, still no luck.
It was through sheer luck that I found specialized Unimog mechanic and he agreed to undertake the project at my premises, but only on Sundays. I had no issues with it so we signed a contract. He started visiting on Sundays and things were now going in the right direction. We removed the driver cab, engine and opened it for an overhaul, clutch plate, pressure plate, starter, alternator, wheels, break lining, shocks etc etc., moreover, an electrician was engaged as well. The parts list that was longer than my monthly grocery item list which squeezed my pocket, but, "shauk da koi mul nae".
Now the scary hunt of Mog parts was on, and again all engine parts were from a 240D Merc car so no issue finding them. The rest of the parts were hunted from an Army Mog parts supplier. We started assembling the "THING" and were running late due to absenteeism of the Team on a couple of Sundays.
January 04, 2009, it was the first rainfall of 2009 and Allah showered his blessing on the project and engine started on the first ignition, much relieved.
It was one of the happiest moments of my life to see the impossible all of a sudden, become possible. The Mog fired up on first ignition and my father offered everybody cigarettes to celebrate the success (it was 12:35 past midnight). The interesting bit was that he offered me cigarette as well and for the first time we smoked together.
There never came a moment that I got bored of the "PUNGA". I remained consistent and took it as a challenge and enjoyed every bit of it that has now become the PUNGA of my life. To keep a record of my PUNGA and to keep enjoying the project I started my first thread at pakwheels.com, "Unimog Punga Project", where I met lot of likeminded people and most of them are now my friends. Likeminded doesn't mean here that they were also into Unimogs, but yes, 4x4s was something in common among us and still is.
Now Pakwheelers were also enjoying the PUNGA updates with their suggestions, appreciations and some criticism as well. I met Kashif, aka fihsak, on Punga thread and he showed interest in makeup of the THING, he shared few sketches, 70% of which I opted for and the rest of the 20% are yet to be completed, 10% are not doable and were rejected. He sourced for me the IPF Super Rally edition driving lights with the IPF roof rack, 360 degree Golight Stryker, a pair of Stanley lights, Recaro bucket seats, rear view mirror with a navigator map spot light, 7 button panels for extra lights fitted under the roof amongst other items.
Kashif a.k.a Fihsak's front and rear sketch.
The rear radio cab is now off and never goes back in. I took the Mog for denting and painting after she took her first bath. Got Recaros mounted and spare wheel mount designed and mounted on the rear to give it a look of an off road machine. Electric fittings were ready but the painter kept on delaying. Now the 4x4Engaged first Jeep Mud Night Rally was announced to be held on first week of April 2009. Pressure was escalating from IJC to get the THING ready for the Mud Rally. But my painter never took the pressure. I was convinced on the quality that he was delivering but time was now of the essence. I called Kashif aka fihsak to come over to have the first ride on Mog as he deserved it the most. He reached a day before the rally.  I picked him from Daewoo and we went straight to the paint shop where the electrician was making the final fittings. I remember we took the Mog to Thokar Niaz Baig to welcome and escort Team IJC. My total Mog drive experience was of 25km till now but I was confident and synced well with it.
The THING is now named DeeMog by cotec……
Adeel Khalid a.k.a DeeDee,"Still plays with Mog".

To be continued…….