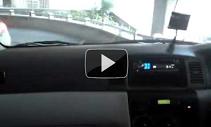 Tour De Liberty Park And Ride Plaza
The Park and Ride plaza which was completed at a staggering cost of 0.67 billion PKR was inaugurated by the chief minister, Mian Shahbaz Sharif, on Wednesday, December 22, 2010. The parking plaza can accommodate some 308 vehicles and 150 motorbikes in its 11 floors and is situated at the Bank Alfalah round about near Liberty Market. The parking plaza also has some 85 shops along with 2 restaurants. The shops will be auctioned by Collier International.
A free of charge transport service from the plaza to the Liberty market will be given to the shoppers who park their vehicles in the plaza. However, since the service has yet to be begun, people have to walk which has taken its toll on the sales of few stores because what use to take 0 minutes before now takes 15. The walk from parking plaza to liberty market isn't quite a worthwhile experience as well since half of your commute is done on the roads and half on the footpath. Also, the security risk contributes further to make one reluctant to park over there, but one do not have any option as liberty market's parking has been sealed down to make people park their cars in the parking plaza, however it remains open for traffic.
The design includes open stairwells and ramps, security devices such as road blockers, car scanners, CCTV, Public Address System, fire alarm and fire fighting, audio and emergency buttons that call into the booth or local police station, elimination of potential hiding places, such as under open stairs has also been arranged.
But all that technology doesn't help much as fire is rare, public address system is only used when you lose your kids or someone is dumbstruck, and those emergency buttons to call in the police won't help much either as the exit way leads you out from the parking plaza to a street which is mostly found in the state of traffic jam because quite amusingly, entry and exit points are separate but both of them are accessible through the second floor, however, floor-to-floor (from 2-9) travelling is quite hectic as the lanes are very petite, hence only one car can travel at one moment so others have to wait to go up or down. The ramps are also quite steep so it takes some hard effort from the cars on CNG to climb up.
Shopkeepers of liberty market are protesting, few civilized people like the idea but despise it for countless other problems for a pedestrian in Pakistan. A lot of better planning needs to be done on the part of our government before forcing something onto the people, for example; rather forcing the powerless people over the powerful few, the government should force the builders to create double the parking place against the shops but sadly, it is done otherwise.
Following are the details of the parking plaza followed by the video I made on my last visit to the plaza:
Basement = Shops
Ground Floor= Shops
First Floor = Shops & 1 Restaurant
2nd-9th Floor = Car Parking (308 Cars + 150 Motor Bikes)
Roof Top = Restaurant
Parking Rates
Car = Rs.20/Hour
Car = Rs.3000/Month
Motorbike = Rs.10/Hour
Motorbike = Rs.750/Month