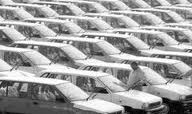 The actual reason for drop in sales of locally made cars
Nowadays we often heard news and debates where our local OEM's are making hue & cry and claiming that the free import of used cars is causing a drop in sales and this will eventually lead to unemployment and closure of manufacturing units in Pakistan. I totally disagree with this argument. The reality is that Pakistani OEM's especially Pak Suzuki have been selling obsolete models due to monopolistic agreements signed with the government of Pakistan by not allowing any other manufacturer to assemble cars in 800cc category. So for many years poor people of Pakistan were forced to buy models like Mehran which was launched in Japan in 1984 and production in Pakistan started in 1989 and it is still continuing although 23 years have passed and automotive world have gone through many transformations in design, engines technologies, comforts, safety systems but our Mehran is still the same except that it has been converted into EFI recently. (WOW what an effort!)
Reality is that OEM's especially Pak Suzuki has failed to realize that customer needs and requirements have changed with the arrival of used cars which have new shapes, attractive designs, advanced and fuel efficient engines, automatic transmissions and host of other safety and utility features. To support this argument let's have a look at sales figures of some models produced in Pakistan. Sales of Suzuki Swift have increased from 1826 units to 1902 units in July ~ Sep 2012 as compared to last year same quarter (Source: Dawn 11th Oct, 2012). Sales of Honda City have also improved from 2562 to 2936, an increase of 14% which is very commendable in the current economic conditions. All other models apart from civic which is recently launched have seen a decline in sales.
So why then import of used cars have not affected sales figure of these cars? The answer is quiet simple. These cars are being produced with good quality, more standard features, and better value for money thus fulfilling customer's needs and requirements.
My suggestion and recommendation to our local manufacturers is that we would love to see our local industry flourishing but they should stop ripping the people of their hard earned money by selling obsolete models. Pak Suzuki has a huge line up of models in the Kei car segment. Why can't they start manufacturing some of the new models in Pakistan? E.g. New 660 cc Alto. Similarly why can't Daihatsu produce Mira or Move in place of Cuore. Why can't Honda produce small cars e.g. Life, Zest, Brio. All these cars have a big market in Pakistan. If importers can sell more than 55000 used and tampered cars, then brand new cars certainly have a big market in Pakistan. The only thing the consumers want is value for their money.