The use of nitrogen gas to inflate car tyres has started to become a rising trend in Pakistan. Many car tyre shops across the country have been promoting the use of nitrogen to inflate tyres. Although the use of nitrogen to inflate car tyres has been something new for commercial vehicles, it has been used for racing cars and air crafts for a long time now. Nitrogen gas is expensive when compared to normal air for tyres. The cost of filling nitrogen into your tyres can go as high as 500 rupees at some tyre shops. But is it really worth it?
Also Read: Five Tips That Can Increase the Life of Your Car Tires
Drivers across Pakistan have many questions regarding the use of Nitrogen for car tyres. Questions like what does Nitrogen do to car tyres? Is the use of nitrogen gas safe? Is the additional cost justifiable? Are on the minds of many.
Well let's start off with the basic question, what is nitrogen? Nitrogen is a colourless gas that makes 78% of our atmosphere. It is odourless and tasteless. And yes, there are some benefits of using Nitrogen gas for inflating car tyres. Here are a few of them:
Nitrogen is known to reduce the temperature of car tyres
The car runs smoother
The life of the tyre is increased
Tyre pressure is maintained
It doesn't affect the rims
I am going to discuss a few Questions many might have regarding the use of Nitrogen to inflate car tyres.
Does Nitrogen gas keep the tyres cool?
Well according to research, the dryer the air the cooler the tyre remains. Regular compressed air has a considerable amount of moisture in it, thus resulting in the tyres to heat up at high speeds. Nitrogen contains less moisture, and that is why it keeps tyres cooler. So it might be a good idea to fill nitrogen in your tyres if you travel a lot and speed a lot.
Does Nitrogen make the car feel smoother?
No, there is no difference to the feel of the ride. There is no scientific reason or research to support this claim. The car would feel the same with either nitrogen or regular air. Though, at high speeds the ride quality might improve since nitrogen would maintain the temperature of the tyres better than normal air.
Will Nitrogen increase your tyres life?
Well yes, since temperature is reduced by nitrogen gas it will increase your tyres life. High temperatures do cause more wear and tear of tyres. Though this doesn't mean that a car tyre life would be doubled, regularly check the condition of your tyres, and I would recommend changing tyres every four to five years.
Does Nitrogen maintain tyre pressure?
Tyre pressure changes with temperature. It is a good practice to check tyre pressures regularly, especially when the weather gets colder. Tyre pressure of normal air is said to increase with an increase in temperature. Nitrogen gas, on the other hand, has a stable pressure to temperature range, therefore maintaining tyre pressure better than normal compressed air.
Does Nitrogen gas escape tyres slowly compared to normal air?
The air of your tyres will eventually leak over time; this is something that does happen over time. This is because tubes and the tyre linings are porous to some extent. It is, therefore, a good practice to check tyre pressure regularly. Nitrogen leaks slower than normal air because of its chemical structure.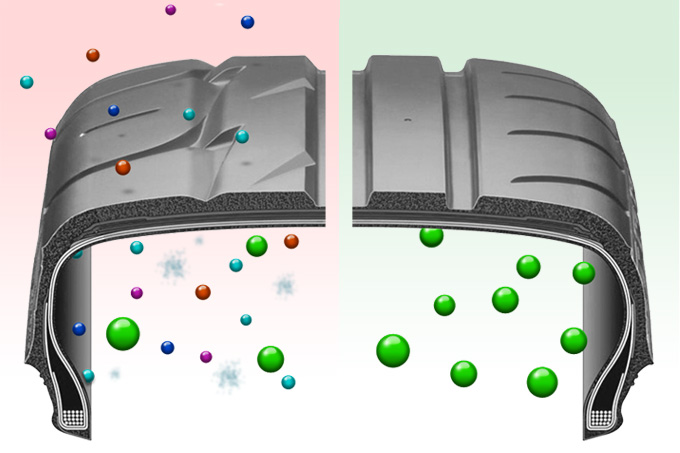 There are many other questions that come to mind when you consider using nitrogen in your car tyres. You should know that once you fill nitrogen into your car's tyre, you have to fill nitrogen in them each time you go for a top up. The use of nitrogen does not mean that you never need to check tyre pressure either. Cost and availability are a huge factor to consider especially for the ordinary Pakistani. In my opinion, it's really not worth the cost, unless of course, you own a sports car.