In a world full of colours, a majority of people prefer to choose black or white – for some of the most desirable commodities like cars.
For the sixth consecutive year, white is the most popular colour for new cars, according to Global Automotive 2015 Color Popularity Report: black, silver, grey and red round out the top five. White has kept on expanding in notoriety, topping this year again, as the clear winner by rounding up 35% of world car population. Globally, it overtook silver in 2011 as the most preferred vehicle colour. Since then, White has continued to gain popularity in all vehicle types in most regions, while silver has continued to decline. Customers in Asia (41 percent) and Africa (46 percent) prefer white more as compared to other parts of the world. Furthermore, since 1953, White has been one of the top five colours during all, but three years. Whites have evolved, and today they are available in a rich variety of alternatives from stone white solids and vanilla shades, to cool bright whites and pearlescent whites.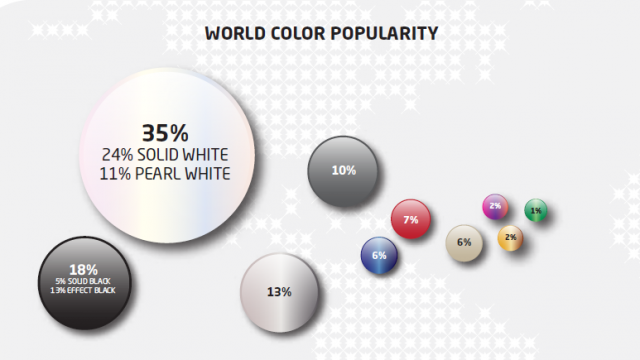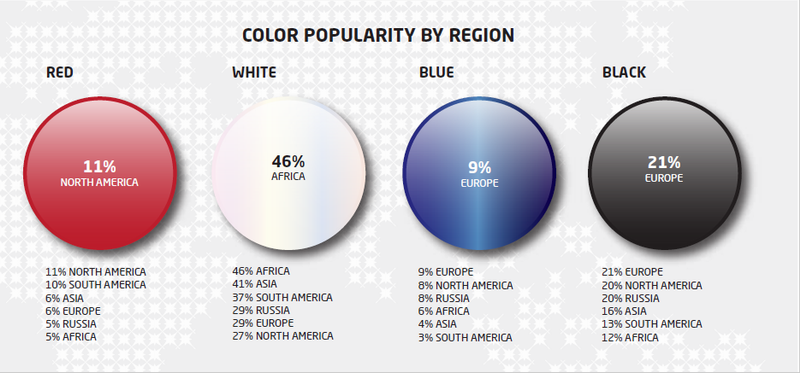 Analysts remark that white has been a consistent top runner since 1998. Although silver had its reign from 2001 to 2006 as being the leading colour, and now Black has surpassed silver and is becoming a preferred colour in particular market segments, especially luxury.
Experts hypothesise the current dominance of white in the auto industry may be due to the 'Apple Effect'. What exactly is Apple effect? It's a theory that illustrates car colours follow the latest technology trends. If you recall, at the turn of this century, back in 1998, Apple introduced the trend of vivid colours with the introduction of iMac. Fast forward to 2000s and silver was considered to be the primary colour. Silver became the colour of choice for cell phones, computers and home entertainment systems in the early to mid-2000s. Consequently, it also became a prominent car colour. Then, in the mid-2000s Apple went ahead and switched boats and introduced its product line-up in white colour. Thus, Apple helped to propel the white colour to prominence. Additionally, this hypothesis aligns with what psychologists say about the appeal of white colour. The choice of this particular colour evokes a persona that's fresh, young, minimalist and contemporary while possessing taste and timeless elegance.

A lot of people will agree with me that white is one of the easiest car colours to keep clean and offers many benefits. It doesn't absorb heat like dark colours; thus it also helps in saving fuel cost.