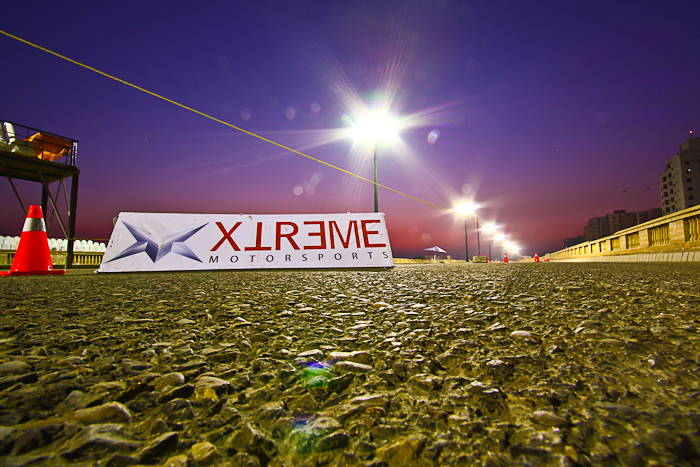 The only motorsports event of its type in Pakistan – Autocross
Motorsports have never been recognized as a proper sport by the Government of Pakistan and it always has been the mentality of the greater masses in our country that Motorsports is a sport enjoyed only by a few rich blokes, but the reality's a little different now.
Ever since Xtreme Motorsports started organizing the Xtreme Autocross Championship every year (since 2009), there has been an increasing trend in drivers and spectators participating in this sole autocrossing event held in the country.
To start it off, autocross is a form of motorsports that emphasizes safe competition and active participation. It is very much different from drag racing or any other forms of racing that are considered to be dangerous. In an autocross, each driver is individually timed to the thousandth of a second, over a short, miniature road course clearly defined using traffic cones. Autocrossing is considered to be so safe that it is said that a day of autocrossing is far safer for both the car and the driver than most people's daily commute to work.
Talking specifically about the Xtreme Autocross Championship, it is no different from autocrossing events held internationally. There are 6 rounds (including the final round) held each year with a gap of two months between each round. At the end of the final round, all the points a driver has scored in the previous rounds is summed up and then it is decided whether he/she is a winner in his/her particular category or not.
There are two categories in which participants can enter their cars to compete against each other, namely the Stock Category and the Prepared Category. Then there are 4 sub-categories in both of these categories. The Stock Category consists of A. Stock (1851cc and above), B. Stock (1351cc to 1850cc), C. Stock (600cc to 1350cc) and L. Stock (open for ladies only) while as the Prepared Category consists of A. Prepared (2451cc and above), B. Prepared (1851cc to2450cc), C. Prepared (1351cc to 1850cc) and D. Prepared (600cc to 1350cc).
Each driver is allowed to do 5-6 runs around the circuit and his/her best time is noted. Recently, to encourage female drivers to take part in autocrossing, officials at Xtreme Motorsports introduced a new category by the name of 'L. Stock' in which ladies can participate and compete.
Apart from the drivers, this event has also managed to attract a large number of spectators from all over Karachi. The Xtreme Autocross has also succeeded in getting media attention which is playing a vital role in its publicity internationally and all over Pakistan.
As far as the track layout is concerned, every round has its own track with a different difficulty level.  Autocross events are usually held in parking lots that have a flat paved surface; following this trend, the Xtreme Autocross Championship is held at the KPT Fountain Parking Lot located in Clifton Block-2, adjacent to the beautiful beach.
The Xtreme Autocross Championship is sponsored by Red Bull and as a part of its promotions, female Turkish rally driver, Burcu Çetinkaya was invited to participate in the 2nd Round of the Xtreme Autocross Championship.  She did a test run around the circuit in an Infiniti G35 and highly praised the whole setup of the autocross.
The entry fee to participate in the Xtreme Autocross Championship is PKR5000 which is pretty much affordable by anyone who can afford to keep a car and drive it. Also to encourage rookie drivers to take part in autocrossing, all such first timers were exempted to pay the entry fee in the 4th Round of the Xtreme Autocross Championship.
One can expect to see all kinds of cars participating in the Xtreme Autocross Championship ranging from sumptuous Mercedes Benz's and BMW's to highly tuned Mitsubishi Lancer Evolution's and Toyota Supra's to the locally assembled cars such as the Honda Civic and the Toyota Corolla.
At a time when our country is overshadowed by Terrorism and other internal problems, the Xtreme Autocross Championship is a great initiative to divert the nation's attention to enjoy something positive and it is also playing a major part in promoting motorsports in Pakistan.
Pictures by PW member, quadvision.
Visit his portfolio, Quadvisionphotography.