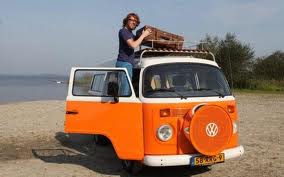 The original 1967 VW Type-2 Microbus is coming back to Europe again
I thought that Pakistan was the only country which still is producing 40 years old Bikes and cars but there are more countries, developing nations as I may say that are still making the cars which the rest of the world has called a classic car.
Take the VolksWagon T-2, also known as Kombi saw the first light in the year 1967 and production ended in 1979 for Europe and US while Argentina ended its production in 1986 and Mexico in 1996 but Brazil continued to produce it and now, it is going to began exporting it to Netherlands.
Yup, currently, these Microbuses will only be available in Netherlands however they will be eligible to get registered anywhere in the European Union.
The T2 hasn't been changed much to make it more suitable for modern families. The van's air-cooled flat four-cylinder engine has been replaced with a more modern 1.4-liter inline four, and the "spare tire" is actually an air filter that obscures placement of a front-mounted radiator.
We won't have them but I think these are alot better than our Suzuki Hi-roofs as the Type-2 carries a style of a classic.