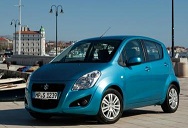 The Suzuki which Pakistan should've had gets a facelift in Europe
Pak Suzuki is all set to officially announce a new model of their decades old Mehran with changes anyone can barely notice but people are bound due to lack of options available with them. This lack of options have led us towards a suffocation of options available for cars in category of Mehran or around.
Alto's production has been called off and Cultus has almost crossed the one million rupees mark leaving the majority buyers with only one option when searching for a new small car, that is Mehran.
Over the world however Suzuki has a pretty big portfolio for small cars, even India has a lot of them. Suzuki Splash, also known as Maruti Ritz in India is for example a small car placed directly below Suzuki's Swift.
Before we know that such a model even existed, Suzuki has given it a facelift in Europe which will follow closely for the Indian Ritz.
Suzuki Splash comes with small engines build with newest technology so that they consume less fuel for each KM traveled. The 2012 Suzuki Splash facelift is available with two engines, the 1.0 liter VVT with three cylinders, which is developing a total output of 68 horsepower, and a four-cylinder 1.2 liter Dual VVT, producing 94 HP, the same one used on the Swift. The 1.2 Dual VVT can be ordered with an automatic transmission.
While it also has all the latest mandatory requirements placed upon the automaker by the government such as the top of the line Suzuki Splash is now receiving a keyless entry and start system, rear tinted windows, fog lights, curtain airbags, ESP and the same high driving position.
Apart from stretching the overall length of the car by 60 mm, the exterior and interior have all been revised to look better which it does.
We're still not sure whether Alto will be replaced by Wagon-R or which model, but if Pak Suzuki's listening, than the Splash isn't a bad choice either.