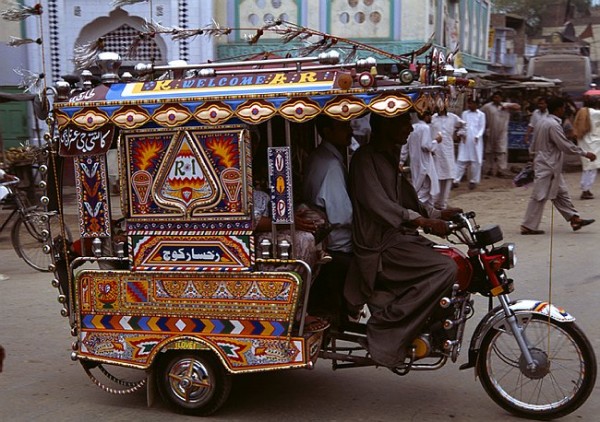 The three-wheeling menace called 'Qingqis' must be regulated
We all travel from one place to another almost every day. There is one thing we all see in common; yes exactly you got me right, Chinkchee which is nothing but just a destruction of the word 'Qingqi'. Have you ever noticed why the trend of Qingqi is increasing? It's still questionable for many of us but there are reasoning which may satisfy you.
Qingqis are found in large population in major cities of Pakistan such as Karachi and Lahore. Interestingly though, the thing about Qingqis is that they are not being registered like other proper public transport vehicles. Being unregistered means that they don't have any proper records with the government and which also proves that they don't have laws to govern them.
Have you ever traveled in a chinkchee? I have, and I can easily say that the only thing which attracts me is its fare, nothing else. I guess travelling in a chinkchee is nothing but just being selfish to yourself and the society. Have you ever noticed that these chinkchees create huge amounts of noise and air pollution? We are already deprived of fresh air and then these chinkchees add up to more.
The seats you get to sit on are nothing but just a source of pain. Not only this, I would also add up that there is no safety for the passengers, At least for the ones who are sitting at the back side of it. It is in essence, a death trap being pulled by non-trained rider on a 70cc motorcycle. Which barely has enough power to get out its own way and they have at time, 7 passengers including the rider.
If a car behind you has fail brakes, you're nothing but dead. Is this why you'd prefer to travel in a chinckchee and save up some 30 40 rupees?! To avoid criticism I would also state that your life is more precious than just saving up some money. Now I understand that there's no alternate, buses are slowly decreasing in number and on the CNG holidays, they just vanish then the difference in fares, I agree but these Qingqi and their drivers are nothing but a nuisance for other drivers.
Have you ever realized why these chinckees charge you at such minimal rates? I'll tell you why. They are not registered and they don't need to pay the taxes like other public transporters do. Also through sources, I would like to tell you that the bikes they use are stolen and all they need to do is just add up a cart behind it. The cost of buying a bike is exempted for them.
As chinkchees can be easily made, every other person goes on making their own chinkchee and start finding on for passengers. There are more chinkchees and fewer people to ride on them now. But do they ever realize that there is already so much of traffic found everywhere and there is lack of parking too?
Personally, I really don't have issue with chinkchees, and also, in my opinion, I would say that they somehow represent the rich culture and heritage of Pakistan. The art work they get done on these chinkchees become tourist attraction. It might have happened to a lot of you guys that your relatives visit you from abroad and they urge you to get them a ride on a chinkchee and show them the art work done on them.
All I would want to say is that government should take strict actions against these chinkchees by getting them registered, regulated and setting a limit on the availability of chinkchees on the road. Not everyone can wake up and get on the road.
It is funny to see that while the world is engaged in debate to regulate self-driving cars, here though, we aren't even able to regulate some damn Qingqis.