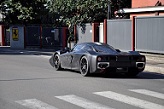 These are the first pictures of the next Ferrari Enzo
Ferrari has had announced in the past that they are working on developing Ferrari Enzo's successor  to take on the mighty Bugatti Veyron. Little is known to the press about the details of the Enzo's successor except that it's called the 'F70'.
These photos which Jalopnik found over at the FerrariChat forums, were posted by a member of what seems to be a test mule for the Ferrari F70 strolling around, what seems to be as Ferrari's Head Quarters.
There's no detail available regarding the power or the technology that the F70 packs in it however, it is not arduous to be unable to grasp from this test mule that the car does have it's styling cues shared from the Ferrari FXX.
KERS will probably be in the F70 and that the car is subjected to battle the mighty Veyron, we guess that this will pack more than 700-800 BHP with possibly some v10 or v12 delivering those ponies.