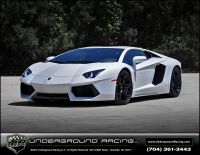 Underground Racing develops 1,200 BHP Twin-Turbo setup for Lamborghini Aventador
Underground Racing is known for their outrageous Lamborghini Twin-Turbo set ups, so far done in almost all the models produced by Lamborghini and we had reports that they working on a TT setup for the Aventador, well the wait if over as they've revealed it with a very good video.
Although they don't show the twin-turbos in the video but claims that the setup has pushed the BHP to 1,200 and 0-60 to an impressive 2.2 seconds.
Here's the video, and you can view more pictures here.