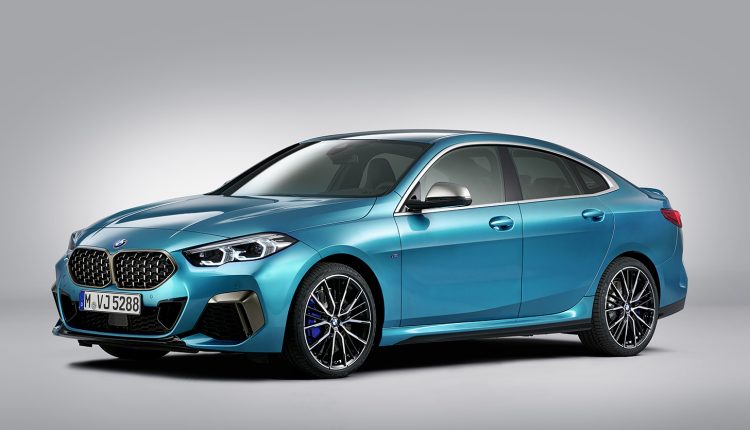 This is The New Launch of BMW in Pakistan
BMW Dewan Motors has launched 2-Series Grand Coupé in Pakistan. In a social media post, the company said the new vehicle is on display at Park Tower Showroom in Karachi.
The new Grand Coupé is a 4-door compact car inspired by the compatibility of Sedan and the chic design of a Coupé. The company is launching this new vehicle in four variants, i.e., Advantage, Sport Line, Luxury Line and M-Sport Model, which will be the best model available in Pakistan.
Exterior: 
BMW has made some bold changes in the new model, which has gained great reviews from consumers across the world. At the front, the vehicle has huge kidney grills, making it the most prominent feature. The M-Sport variant has big vents, more angular bumper along with air-scoops to enhance the aerodynamics of the car. The company has installed all-new BMW LED Laser headlights in new car, best for a night drive.
Although other variants share the same profile with M-Sport, they are relatively much subdued as compared to this one. The side of the car comes with multiple stylish lines, enhancing its whole outlook. Furthermore, the car has frameless doors, which makes it stand out among other vehicles.
The company has installed 19-inch alloy rims in M-Sport, while simple versions have 18-inch rims.
The rear of the car is also very trendy, with sleek taillights, two air vents on the side, and two reflectors on the bumper. The M-Sport Variant also has two exhaust surrounds for more speed.
Interior: 
The interior of this new vehicle is rather simple, without any flashy designs and colors. However, the company has installed all modern-tech features in it. The car has highly comfortable leather seats, driver assistance such as rear and front collision warning, lane-change assistant, cruise control, high-tech infotainment system, parking assist, and dual-zone climate control system.    
Meanwhile, the M-Sport variant has more upgraded features in it. The specifications include a bigger infotainment system, paddle shifters, multi-way driver seat adjustments, and a completely digital gauge cluster.
Engine Power and Performance: 
The base model of this new BMW is 218i with a 1.5-liter 3-cylinder turbocharged petrol engine. The engine can produce up to 140 horsepower and 220 newton-meter torques. The engine is mated with 7-speed automatic gearbox and does 0-100km/hour in 8.7 seconds.
The second one is a 220d version with a 2.0-liter 4-cylinder turbocharged diesel engine. This unit generates 190 horsepower and 400 newton-meters of torque. This engine is linked with 8-speed automatic gear transmission and reached from 0-to-100 km/h in 7.5 seconds.
The M-Sport version is at the top of the line with a 2.0-liter 4-cylinder turbocharged petrol engine. This machine can produce 306 horsepower and 450nm of torque. It also has an 8-speed automatic gearbox but goes from 0-to-100km/h in 4.4 seconds.
BMW has also provided sports steering, suspension, and brakes from agile yet fast driving in M-Sport. This model also has BMW's xDrive All-Wheel Drive system for a quick and speedy launch.
Price: 
The company has not yet revealed the price of this vehicle. But keeping in view the point that it is a high-end car from a top-notch brand, so, its price is expected to be quite high. The consumers who can afford this car will surely enjoy a high-tech, modern, and speedy experience with great features.  
Recommended For You: 2020 BMW 7 Series Electric Plug-In Hybrid
For more news, articles and updates on national and international auto industry, keep visiting PakWheels.com