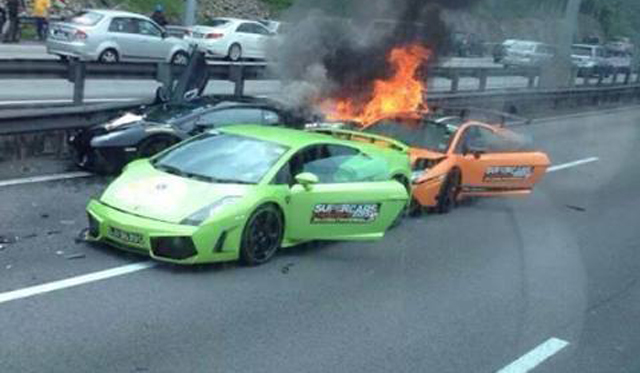 Three Lamborghinis reduced to ashes in one super crash
We have often seen and read news reports and unfortunate events in which super expensive exotic cars are involved. The fact is these cars are too expensive to maintain.. after accidents these are mostly totaled or auctioned at lower prices. Just recently a trio of Lamborghini's were involved in accident on  North-South Expressway near Seremban city of Malaysia.
According to News reports the cars were on a local charity drive when one of the local driver swerved in front of the orange Gallardo LP570-4 Superleggera to rear-end the other while the Aventador went straight into the steel crash barrier.  The crash caused three Lamborghini's to catch fire which burnt it down to ashes.
Little is known at this point but a hefty bill for insurance might be on its way.The price of exotic cars is very high in Malaysia. Current standing price of  the Aventador is at US$1.48 million, and the Gallardo at US$372,000.A video of the crash went viral among automotive enthusiast.

3 Singapore Lamborghinis Crash and Catch Fire… by f1589661886