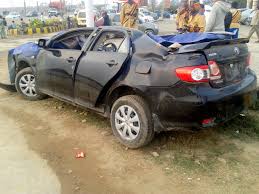 Tips To Avoid An Accident And Things You Need To Do After a Car Accident
Avoiding accidents is easy when you know what to do. At times it's the obvious thing that can have the biggest impact. If you follow these common sense steps, you will be taking the most important steps to ensuring you prevent an accident.
Develop the right attitude about driving.
Get as much supervised practice driving as possible.
Always wear your safety belt.
Drinking and drug use are illegal.
Limit your passengers.
Limit your night driving.
Keep it slow and safe for starters.
Train for poor weather conditions.
Cell phones are for emergency use only on the road.
Drive a safe vehicle.
What to do if you get into a car accident?
If you are involved in a car accident, there are certain things you can do to protect yourself. Check out what you should do if you are in a car accident. Never drive away from the scene of an accident, even if it is a minor one. You can prevent further accidents by setting up flares, or keeping your flashers on. Even if there are no serious injuries, it is a good idea to call the police. When the police arrive, make sure you tell the investigating officer exactly what happened, to the best of your ability. You should take pictures of the vehicles if there is visible damage. Typically, the investigating police officer obtains this information. However, if the police do not respond to the accident, you should obtain the name, address and telephone number of all persons involved in the accident, drivers and passengers alike. Notify your insurance company as soon as possible. Many policies require immediate reporting and full cooperation. Often, injuries caused by motor vehicle accidents are not immediately apparent.
What to do if you witness a car accident? 
Witnessing a car accident first-hand requires a calm, cool, and collected response under traumatic circumstances. Your course of action will largely depend on the severity of the crash and the extent of the injuries, but there are some general guidelines to keep in mind. By following these tips, you'll be better prepared to help your fellow drivers until the professional emergency respondents arrive. Ensure your safety first. Immediately Call 1122. Check on the victims. Stabilize the vehicles. Give a statement and provide your contact information.
Always leave a two-second cushion between your car and the car in front of you and begin your journey early enough so you don't speed to make up time. As tempting as it may be when in a hurry, tailgating is a major cause of accidents.Be courteous to other drivers. No one owns the roads, so treat others with respect.
When you are practicing safe driving skills, and making sure that you are always paying attention to your own driving and that of others around you, you are doing much to save yourself from ending up in traffic accidents. Be sensible when you are behind the wheel, and you will be safe when you arrive at your destination.
Happy Driving!