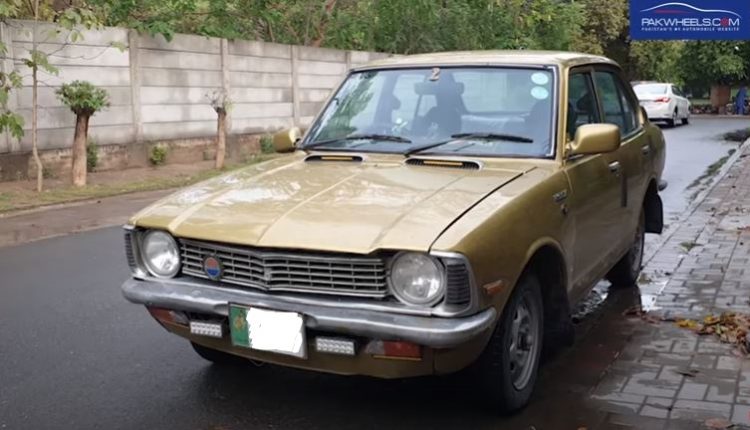 Toyota Corolla 1974-An Owner's Review
We have brought a unique owner's review of Toyota Corolla 1974 for our readers. This is the second generation of the car, and the owner bought it in 2019. As per the owner, he loves classic cars, and he had a 1972 Corolla model before this one.
The car originally remained in production from 1970 to 1978.
Price and Purchase Decision: 
The owner said that he wanted to buy a Charade car, but couldn't find any. "Then one of my friends told me about this car, I met the owner, loved it and hence bought it," he said. The owner bought this car in only Rs1,35,000, making it a budget car.
Engine of Toyota Corolla 1974: 
The car has 1200cc original engine, mated with a 4-speed transmission. The vehicle produces 83hp and 102Nm torque. In comparison, the 2019 model Corolla produces 84hp and 120Nm torque.
This is the basic variant of the mode, and it has three variants. "The other two are 1400cc and 1600cc," the owner told us.
Condition: 
The owner told us that it is a first owner car, and it is still in great condition. "The body has no rust, making it a great car in this low budget," he added. Furthermore, he got original documents of the car from the previous owner.
Why Classic Corolla Cars? 
The owner said that he loves these classic cars, because he buys them in low budget, and then restore them. "I have spent around Rs50,000 on it, and will spend around Rs100,000 more and then it will be an excellent vehicle," he said.
He explained that he would install new tyres, alloy rims, power windows and power steering in the car.
Interior

of Toyota Corolla 1974: 
The car original seats, but the previous owner has covered them with new seat poshish. Furthermore, it has one storage space and radio in its dashboard. "As it is the basic variant, it doesn't have AC in it," the owner told PakWheels.
Safety in

 Toyota Corolla 1974: 
The car has seatbelts for driver and front passenger seat, making it a relatively safe vehicle of its time.
Major Issues: 
The owner told us that he is facing issues with its brake, which is pressure. "Sometimes, the brake doesn't create pressure and becomes loose, which is a serious problem," he said. As it has a very old engine, so there is always a fear of engine break down. "But if you keep it well maintained and change its oil regularly, there will be no major issues," he added.
Sitting Space in

 Toyota Corolla 1974: 
The car has ample sitting space on front seats, while it is rather compromised on the rear. Meanwhile, its seats are quite comfortable.
Fuel Average:
The car's intracity average is 11-12 kilometres per litre, while he hasn't taken this vehicle on the long route.
Why Should You Buy  Corolla1974?
According to the owner, you can keep this as a sidecar, as a classic piece and for taking it to auto shows. "It is also a good choice for within city drive, but on longer routes, it may create problems," he said.
Watch Video: