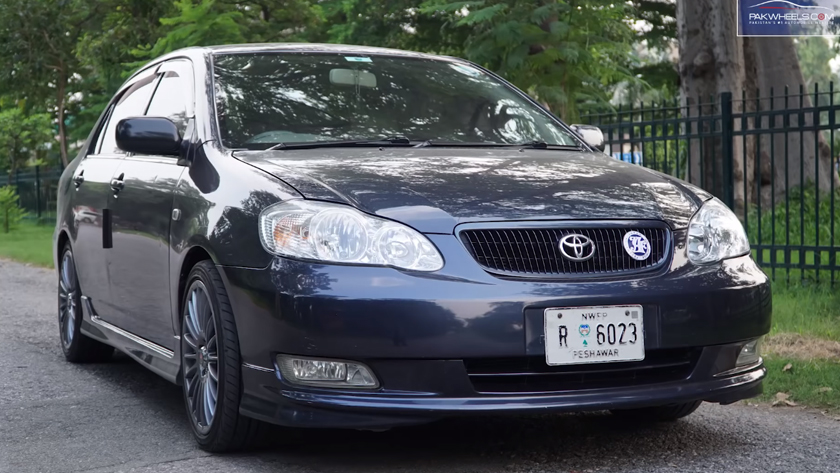 Toyota Corolla (2002-2008) – Budget Car Review
Toyota Corolla is renowned worldwide for being an affordable and durable family sedan. Toyota Corolla started its journey in Pakistan back in the early 1990s. By the time the new model was introduced in 2002, the public's anticipation for a new model was very high. People wanted a new shape and Toyota delivered well by launching the ninth generation of Corolla in Pakistan which was sold till 2008 in Pakistan. The widespread anticipation of the ninth generation Corolla also created a market for hefty premiums being charged for the first time. The premium went as high as PKR 200,000 after the launch. 
At the time of its launch in 2002, three variants were introduced: Xli, Gli, and SE Saloon. Both Xli and Gli were of 1300cc and SE Saloon was of 1600cc. The popularity of Xli and Gli was way more than that of the SE Saloon. The resale market is also strong for Xli and Gli variants. Variants with automatic transmission came in around the end of 2004 and the start of 2005. The 2.0D variant also became very popular due to cheaper diesel fuel at that time and higher mileage of diesel fuel. 
Exterior 
The appearance of Xli, Gli, and 2.0D variants was the same and the appearance of SE Saloon, 2.0D Saloon, and 1.8L Altis was similar. In Xli, Gli and 2.0D there were black mirrors, no side skirts, wheel caps instead of alloy rims, and no fog lamps. In SE Saloon, 2.0D Saloon, and 1.8L Altis there were side skirts, alloy rims, body-colored side mirrors, side door moldings, and fog lamps. Moreover, ample ground clearance meant that Corolla could be driven on any terrain. This generation can be distinguished by its rounded headlamps and rounded rear lights. 
Interior 
The two-tone beige interior was introduced in the Pakistani auto sector. It gave a premium look and feel to the interior of Corolla. It was a step up from the dull grey interior of the previous generation. The interior of the new Corolla was deemed futuristic and revolutionary at the time of its launch in 2002. 
Key interior features that came with the SE Saloon, 2.0D Saloon, and 1.8L Altis were power windows, power side mirrors, single airbag, ABS brakes, wooden interior accents, power steering, Pioneer cassette, and CD player and illuminated Optitron meter. In the Xli and simple 2.0D variants, there were manual windows and side mirrors; however, they were present in the Gli variant. 
Performance and Comfort
The level of comfort offered by the entire Corolla lineup was great in the segment in which it was competing. This generation of Corolla is still present everywhere in Pakistan from rural to urban areas. One of the reasons behind its widespread presence is its superior comfort level. Performance figures of SE Saloon, 1.8L Altis, and 2.0D Saloon are also great, especially when compared with the competition i.e. Honda Civic.
Spare parts availability and maintenance 
Toyota's brand is known for making durable and rugged vehicles. This together with the widespread availability of spare parts has made the maintenance of ninth-generation Corolla an easy task. The spare parts are also cheaper than the competition. All the Corolla variants are similar structurally; therefore, their spare parts are similar as well. This widespread availability of spare parts tends to drive prices down in the market. 
Mileage
One of the many factors that contributed to the overall success of Xli and Gli variants was their good mileage figures. A well maintained Xli or Gli can still give around 13 to 14 km/l. Moreover, SE Saloon and 2.0D variants can give somewhere between 10 to 12 km/l if the car is well maintained. 
Verdict
This generation of Corolla is available in the price bracket of PKR 11,00,000 to PKR 13,00,000 which is affordable given the current prices of cars in Pakistan. You are getting a family sedan with a big boot at the price of a new Suzuki Alto. The reliability, durability, comfort, and features are all the factors that make the ninth generation a wise choice even today. The built quality was also phenomenal in this generation of Corolla. 
Recommended for you: Honda Civic X 2017 Owner's Review