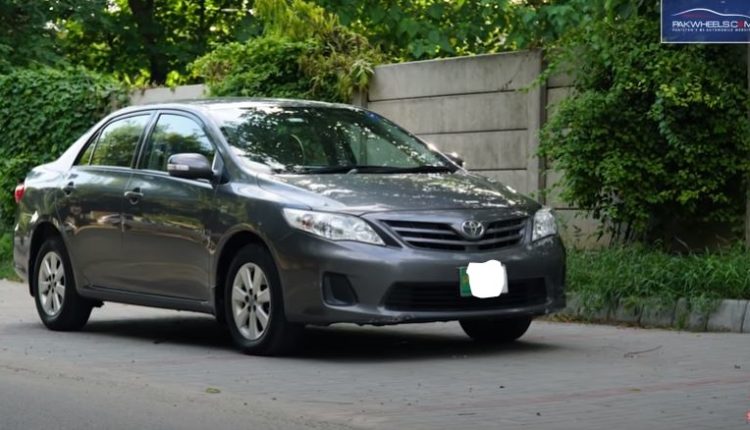 Toyota Corolla GLi 1.6 Automatic 2013-Owner's Review
PakWheels has brought the owner's review of the Toyota Corolla GLi. This 2013 model comes with a 1.6L engine mated with automatic transmission. The company launched this car in 2011, and its manual version comes in a 1.3L engine.
The car comes with 15-inch steel rims, but the owner has installed alloy wheels in it.

Price and Purchase Decision. 
The owner bought this car a month ago, at the price of Rs18,15,000. Talking about his purchase decision, the owner said he has owned this model twice earlier and really likes it. "The Altis costs you a bit much, although it has the same engine and gearbox, while this car has better fuel average," the owner said.

Difference between GLi and Altis: 
The Toyota Altis comes with retractable side mirrors, leather seats, different shaped meter, and alloy wheels. Furthermore, GLi's infotainment system is simpler as compared to Altis.

Fuel Average of Toyota Corolla GLi 1.6L:  
As per owner, he drives the car with a light foot, hence it gives an intra-city average around 11.5 kilometers/liter, while its long route average is 17-17.5 kilometers/liter with AC.
Oil Change Cost of

Toyota Corolla GLi 1.6L:  
The owner said he changes the car's oil after every 4,000 kilometers, and it costs him Rs35,00 to Rs4,000.
Suspension and Ground Clearance: 
The owner feels that this car's suspension is very soft, while the road clearance is excellent on Pakistani roads.
Sitting Space in

Toyota Corolla GLi 1.6L:  
The car has ample sitting on front seats, while back seats are a bit cramped. "Five people can easily travel within the city, while four people on a long route," the owner said.

Parts Availability of

Toyota Corolla GLi 1.6L:  
The owner told us that all parts of this car are readily available in the local market at very reasonable prices. "There are different qualities, including genuine, Chinese and Taiwanese," the owner said, adding that its genuine backlight costs Rs22,000, while you can buy used or Chinese one in Rs5-6,000.
Known Faults in

Toyota Corolla GLi 1.6L:  
If you change the oil grade in this car, its chain set (timing chain) of the engine causes issues. "That is why I sold my previous two cars," the owner said.
Furthermore, he said that the fitting of its dashboard is not right.

Is 1.6L Auto Underpower? 
The owner feels that this car's pick is excellent, and it is not under power. "I have traveled to north on this car with family and luggage, but its performance remained satisfactory," he said.
Trunk Space: 
The car has ample boot space as you can fit 2,3 large travel bags in it very easily.

Body Roll: 
The owner said he has traveled on the highway in this car but has never faced body roll issue in it, meaning it is a stable vehicle.
AC Performance: 
The owner is delighted with the AC performance of this car. "Its cooling is excellent, even on low settings," he said.

Safety in Toyota Corolla GLi:
Although the car has ABS, it does not have any airbags, making it not so safe. But the owner believes that other cars,  in this price bracket, also don't have this feature.
Missing Features: 
The owner believes that this car should have airbags and retractable side-view mirrors.

 Watch Video: