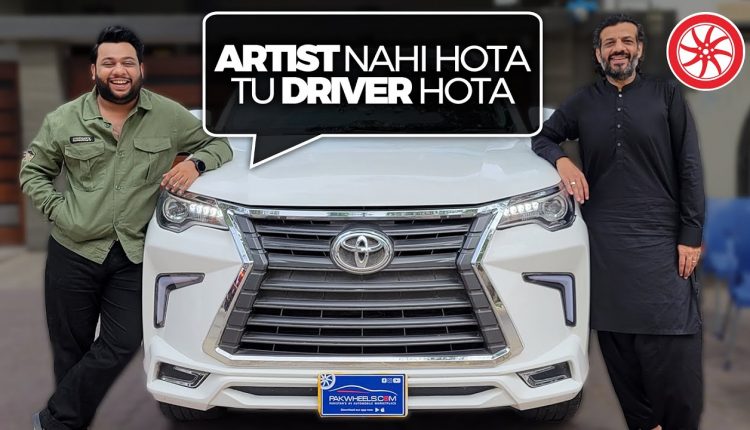 "Toyota Fortuner is a Tough SUV" – Nadir Ali
Today, we present an owner's review of Nadir Ali's Toyota Fortuner. A renowned prankster and YouTube star, Nadir shares his experience with this SUV and tells us about some of its aspects that make it a perfect ride for him to travel in. This is the 2nd generation Fortuner launched in 2016; this particular car is the Sigma variant launched in 2018. It comes with a 2.8 liter 1GD-FTV diesel engine producing 174hp and 450Nm of torque paired with a 6-speed automatic transmission.
Purchase Decision
The owner specifically had the Fortuner in mind and had been looking for this SUV for a long time. The main criteria was 7 seats, which he wanted, and the options were very limited at that time in this segment. He did not consider Prado as only old models were available, and the owner wanted a brand new car. He bought the Fortuner for Rs. 99 lacs. 
Drive and Off-road Performance
The owner mainly uses this car for long journeys and really enjoys the power delivery of the Fortuner. The 2.8-liter diesel engine has 450Nm of torque, which provides serious off-road performance in hilly areas, and its robust engine is perfect for uneven terrains in those regions. As per the owner, the steering is very responsive, and the overall drive is very smooth. " The car is rough and tough, which I really enjoy," he stated.
Fuel Average
The 2.8-liter diesel engine produces more power than the 2.7-liter variant, and it is more efficient in fuel economy. The owner gets a combined average of 10 to 11 km/l on normal driving.
Interior Space
Being a full-fledged SUV and a 7-seater, space is not an issue in the Fortuner. The owner has traveled with seven passengers on long journeys, and space is sufficient. However, "I think it is ideal for 6 passengers", he added.
Modifications
The owner has done some modifications to his car, including an upgraded front and back bumper, as he really liked its look. Along with that, he has added rear infotainment screens. Moreover, he added a tesla style infotainment screen but removed it as it had some glitches.
Maintenance
The owner maintains the car from Toyota's dealership, and an average oil change costs around Rs. 25,000, which is on the higher side. Meanwhile, routine maintenance is done every 7000 kilometers. Spare parts are readily available from the dealership and local markets.
Watch Video