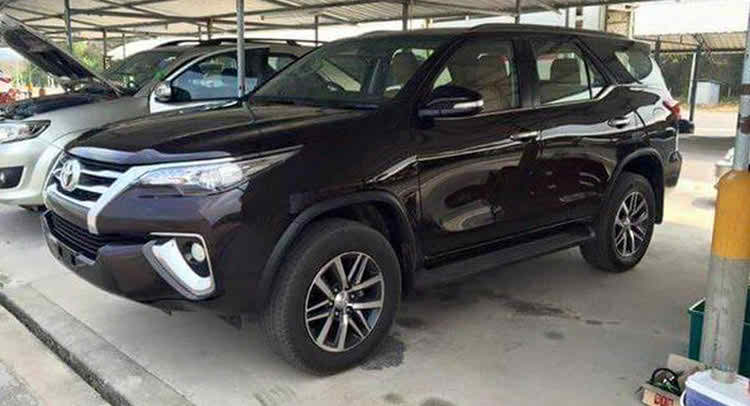 Toyota IMC launched the 2nd Generation Toyota Fortuner earlier this year and since its launch, it has successfully captured a large share of the market from the SUV segment. Considering Toyota's higher than usual fan following and customer base in Pakistan, the company's clever marketing of their products should not come off as a surprise. The sales of Toyota's new Fortuner has more than doubled, compared to the sales of the previous model.  There are so many factors which are contributing to the success of new Fortuner, we are going to discuss the factors which contributed in the immense triumph of this new Fortuner.
Lesson Learned!
1st Generation  Fortuner was launched back in 2013, like Toyota  Hilux it had a fairly dull exterior but it lacked all the top tier amenities making it a difficult to sell the vehicle for the price it was being offered. It was a very basic vehicle lacking most of the features and safety kit. The high fuel prices prevalent at that time also led to to the decrease in sales. With the launch of the 2nd Generation,  Fortuner Toyota Indus has really overcome the shortcomings of the previous model. It is very good looking and it is launched during the time when fuel prices have also gone down. Fortuner comes with many new features for the first time in any category of locally made vehicles.
Key Features include:
        Leather upholstery

        8" infotainment system

        Cool box

        Dual zone A/C

        6 speaker audio system

        Bi-Beam LED headlamp

        Alloy wheels

        Electric side mirrors

        Paddle shifters

        Rear dif lock

        Automatic braking system

        Brake assist

        Hill climb assist

        Dual SRS airbags along with driver knee airbag

        DRL's and LED tail lights

        7 seats
Technical Specifications
With such a number of security and safety equipment, it's clear that Toyota Indus has put a lot of effort into making this vehicle much more posh and luxurious while keeping the price as low as possible. This vehicle is only better looking in terms of design and this new Generation also  sits lower than the previous model at 1835mm where the length has been increased to 4975mm and the width is increased to 1855mm. It comes with a much better 6 speed auto transmission unlike the 4 speed of previous generation  Fortuner and vehicle can easily be switched between 2WD and 4WD depending on the driving conditions. It's not all good news as this car comes with the same 2.7l VVT-I engine although slightly tweaked for 4 more horsepower, it still feels sluggish just like the previous model but even then it's a very capable off road vehicle and has absolutely no problem on any kind of terrain you drive it on. You can check out Pak Wheels exclusive  video review of the new Fortuner to know more about its off-road capabilities.
 Fortuner is priced at PKR 52,59,000, which is not a bad price for a vehicle of such caliber and when you compare similar specifications Toyota Prado or even Honda CR-V both these vehicles cost near PKR 1 Crore which makes the Fortuner an even more desirable SUV. 
Ridiculously High Premium
Like any other successful vehicle in Pakistan this SUV too has high premiums around PKR 5 lacks to be exact, which is more than any vehicle currently on sale today in Pakistan.  There is also a long delay in the delievery of the Fortuner . If you book a Toyota Fortuner today you are likely to get  it delivered in early 2018. Long wait time automatically promotes higher premiums on cars. Ali Asgher Jamali (CEO Toyota IMC) suggests that government should impose a duty of 0.1 Million rupees to the owners who buy and sell their cars within 6 months which will help reduce artificial shortage of cars in market. but no such action has been taken to date and car premiums continue to skyrocket.
Competition and Demand
Like we mentioned before there are no locally made vehicles to directly compete with the Fortuner, its competitors are most imported SUV such as Lexus RX series, Toyota Prado, Honda CR-V which all are available at a much more higher price. This can also be the key reason that we see more Fortuner' on road today than ever before. Long wait times also make it clear that the demand of this SUV continues to be high. Although due to the new investor-friendly auto policy new manufacturers are expected in the country soon but it is currently unknown if any company will introduce a direct competitor to this vehicle and till then it is all in Toyota IMC's favor.
Final Thoughts
Fortuner is no doubt a visually beautiful SUV with modern looking interior and top tier technology equipped with excellent off-road capabilities. This is a hint towards the future of auto industry of Pakistan. While each year 40,000 JDM's are imported in Pakistan to meet the demand but experts believe that the number will decrease as local manufacturers have decided to up their game a notch. With companies focusing more on their line up it's a win-win situation for both manufacturers and buyers. The problem arises when almost every single popular vehicle already priced high , being sold on high premiums. To overcome this menace we suggest our reader not to buy vehicles on high premiums until or unless it's the only option left. Discouraging this behavior will help in reducing the artificial shortage of cars made by seller and people will be able to get cars on the actual prices.