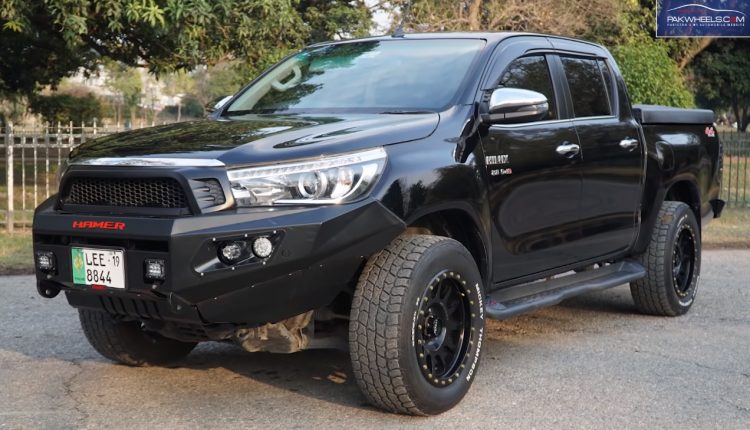 Toyota Hilux Revo V 2.8L 1 GD Owner's Review
The owner bought this truck back in the mid of 2019. This Revo comes with an upgraded engine that started to come by the end of 2018. This Revo cost the owner approximately PKR 56,50,000. The exterior of this truck has been modified by the owner to his taste.
At the time of the purchase, the owner wanted a 4×4 offroader. He also considered Isuzu D-Max. However, the owner did not like the interior of the D-Max, and it also did not have cruise control. Toyota also has a strong brand image in Pakistan; therefore, he chose Hilux Revo. Given a choice between Hilux and D-Max today, the owner will still choose Hilux over D-Max. 
Exterior
Some of the modifications in this truck include changing of the tires and rims. The tires are from an American company, Mickey Thompson. Rims are rally-rated and are from a brand called Method. This truck also has bull bars, both at the front and the rear, from Hamer.
The owner also changed the standard taillights with full-LED after-market taillights. The trunk lid was also installed by the owner, which does not come as standard. As standard, the front grille comes in chrome, which the owner has replaced with a black one. 
Standard exterior features include Daytime Running Lights (DRLs), 18-inch alloy rims, LED headlamps with the smart operation, chrome door handles, LED fog lamps, bold front grille, rear bumper with easy step, sliding rear window and sporty taillamps.
Exterior accessories that you can purchase from Toyota include roof tray and sports bar. Hilux Revo is available in super white, attitude black, silver metallic, graphite, and bronze mica. As standard, door handles and tailgate handles are chrome plated. The headlamps have automatic leveling that helps in going for an offroading trip. 
Interior
Interior features include automatic air conditioning that allows for easy adjustment of comfortable temperature, 4.2-inch TFT multi-information display, hot and cool box, cruise control, 12V DC and 220V AC power outlets; driver powered seat, rear armrest with cupholders, illuminated power windows, and power mirror controls, overhead console and interior lamp and premium quality leather seats.
Moreover, there are shopping bag hooks, coat hooks, eco lamp with a display, sunglasses holder, and hydraulic power steering with tilt and telescopic features. Sun visors are provided for both the passenger and the driver and have integrated mirrors with lids.
The 7-inch infotainment system has Bluetooth and USB connectivity. However, this display is not very crisp, considering the standards nowadays. The infotainment system in this vehicle needs improvement as it does not even have Toyota Connect feature that Altis Grande has.
There are also rear climate control vents for the rear passengers. Some models oddly do not have rear climate control vents. The performance of the air conditioning of this vehicle is optimal and works fine in hot weather conditions. A total of six speakers are given in the vehicle. 
Toyota Hilux Revo V | 2.8L 1 GD | Owner's Review – video:
Performance 
The Toyota Hilux Revo comes with a 1GD 2.8L 4-cylinder intercooler diesel engine. This engine produces 130kW of power and 450Nm of torque. This engine is paired with a 6-speed sequential automatic transmission. This is a four-wheel-drive vehicle with H2, H4, and L4 features. Three modes are provided: Eco, Normal, and Power.
Ventilated disc brakes come with the Hilux Revo. The 1GD engine in Revo is turbocharged, fuel-efficient, and provides a smooth power delivery. 
Fuel efficiency is ensured through providing wide gear ranges. If you prefer fuel efficiency, you can choose the eco mode. If you prefer sharper acceleration, you can choose the power mode. The owner gets around 11 km/l fuel average on this vehicle in the city. On the highway, it can return up to 12.5 km/l.
The owner changes engine oil every 4000 km. The owner has taken this car for many offroading trips, and this vehicle has performed each time optimally. 
Comfort and Handling 
The owner is a tall adult and still the headroom, and the legroom is ample for him to ride this truck comfortably. However, the legroom can be a bit tight at the rear for taller adults. Cruise control also increases the comfortability of this vehicle and can be applied at speeds up to 125 km/h.
Features like Vehicle Stability Control (VSC), Active Traction Control (A-TRC), Downhill Assist Control (DAC), and Trailer Sway Control (TSC) help in the stability and handling of a large vehicle like Hilux Revo. The 4×4 system can be engaged easily with the help of a switch provided in the center console. 
Safety 
To ensure the safety of passengers, this truck comes with three airbags for the driver and the front passenger. There is an airbag indicator light that informs whether the passenger seat airbag system is on or off. You can also manually switch the airbag system on or off. Hill-Start Assist Control (HAC) enhances the safety of this truck when traveling on inclined slopes. ISOFIX child seat anchors are also provided in this truck. 
Hilux Revo also comes with Anti-Lock Braking System (ABS) with Electronic Brake Distribution (EBD) and Brake Assist (BA). The high-strength body structure and frame of Revo are impact-absorbing. An immobilizer and engine oil leveling warning are also incorporated in this truck. Other safety features are a light reminder, key reminder, shift-lock system, and clutch-start safety system.
Verdict
Given the price bracket, this truck is a capable offroader and provides a good degree of comfortability. Compared to some imported variants, the local Hilux Revo does have some shortcomings when it comes to comfortability. The Hilux Revo holds up its resale value, and there is a strong resale market for this truck in Pakistan. Through a widespread dealer network, you can easily purchase spare parts, and maintenance can be done conveniently. 
This truck is also used by government departments like security agencies and police. This is a testament to the popularity and ruggedness of Hilux. There are some issues with regard to the stability of this vehicle, which the owner has solved using bull bars both at the front and at the rear. 
Stay tuned for more review-based content like this one and drop your thoughts in the comments section below.
Visit the online auto parts store of PakWheels and browse through Hilux Revo spare parts and other accessories that you want to order.
You can also find a large number of Hilux Revo listings on Pakwheels.com, and you can choose from them based on your likings and budget. Also, do make use of the PakWheels Car Inspection Service before buying a used car.