Toyota Hilux is a light commercial vehicle that is manufactured by the Japanese car manufacturer Toyota. Toyota Hilux is mostly sold as pickup trucks in most countries.  Toyota Hilux is sold in many countries around the world, except Japan, North Korea, South Korea, India, United States and Canada. In 1995, Toyota Tacoma was introduced in North America, which resulted in the Hilux being discontinued there.  Toyota Hilux has gone through a lot of transformation, and it is considered to be one of the toughest 4×4 pickup trucks in the world.
First Generation (N10; 1968–1972)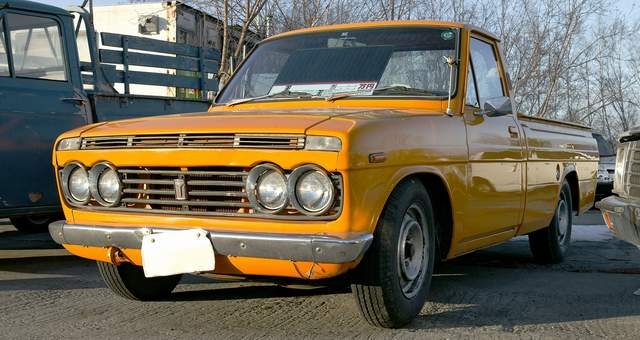 The first ever Hilux was produced in March of 1968. It was referred to as RN10 by the company. This pickup truck had a short-wheelbase and had a 1.5 Litre engine. The 1.5 Litre engine produced 57 kW of power. It has a top speed of 130km/h which was considered to be pretty good for that period. This engine was upgraded to a 1.6 Litre inline-four engine in February 1971.
A year after production began, a long-wheelbase version was added. This extended wheelbase version was sold in North America until 1972. The Hilux was considered to be an alternative to the Toyota Corona, Toyota Crown and Toyota Corona Mark II.  The Hilux was also deemed to be a luxury car when compared to Toyota Stout. The car was assembled and engineered by Hino Motors.
Second Generation (N20; 1972–1978)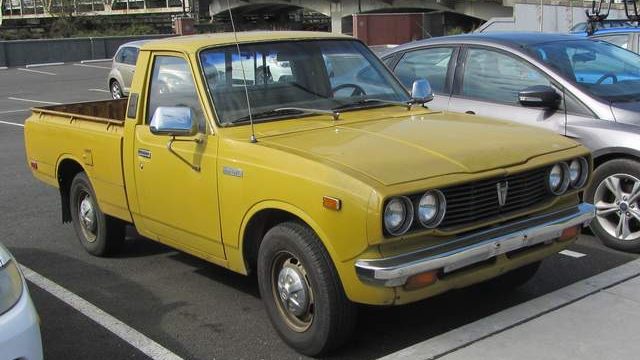 The second generation Hilux was introduced in May 1972. It was referred to as the RN20. This Hilux had a nicknamed "RokeHI" (Rocket Hilux). The car was designed with a more comfortable interior when compared to its predecessor. It had a 2.0 Litre 18R engine. A three-speed automatic transmission was also available. The 2.0 litre automatic produced 89 KW of power and claimed a top speed of 136km/h.
In 1975, the second generation Hilux was redesigned to be larger with more standard equipment added to it.  The engine was upgraded to a 2.2 litre 20R with an optional five-speed manual transmission.
Third generation (N30, N40; 1978–1983)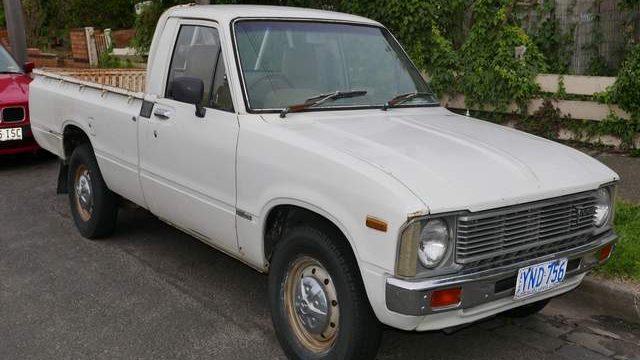 The third generation Hilux was introduced in 1978. The 4WD variant of the car was introduced in 1979. The car came with a 2.0 litre 18R engine and it had similar features to the Toyota Land Cruiser. In 1983, the production of the 4WD variant was stopped. A diesel engine option was also offered in 2WD and 4WD.
In North America, the market for a four-wheel drive was more, and Toyota redesigned the 4WD system. An RF1A transfer case drove the new 4WD system. This new transfer case was unique because it had a low-range reduction portion, which could be replicated.  This development made the overall gear ratio low.
Engines:
1978–1983: 1.6 L (1587 cc) 12R SOHC I4, 80 PS (59 kW) at 5200 rpm and 12.5 kg·m (123 N·m) of torque at 3000 rpm (RN30/40)[9]
1981–1983: 1.8 L pre-flow, 4-speed manual (Australia)
1978–1980: 2.2 L (2189 cc) 20R SOHC I4, 67 kW (91 PS; 90 hp) at 4800 rpm and 165 N·m (122 lb·ft) of torque at 2400 rpm
1981–1983: 2.4 L (2366 cc) 22R SOHC I4, 98 PS; 97 hp (72 kW) at 4800 rpm and 175 N·m (129 lb·ft) of torque at 2800 rpm
1981–1983: 2.2 L diesel I4, 46 kW (63 PS; 62 hp) at 4200 rpm and 126 N·m (93 lb·ft) of torque (SR5 long bed only in the US), LN30/40
Fourth generation (N50, N60, N70; 1983–1988)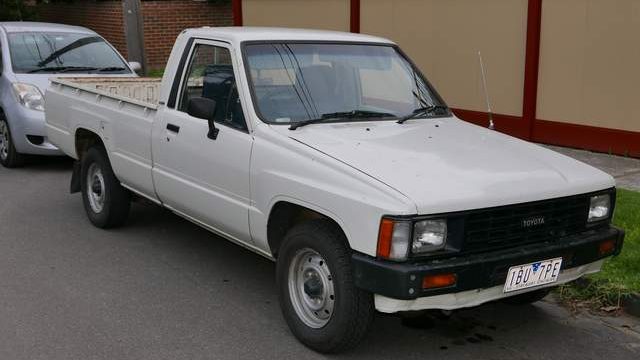 The fourth generation of the car was introduced in 1983. It was presented with a "Xtra cab" extended cab option. The car had six inches of space behind the seat for in-cab storage. This model carried over the 22R carburettor engine. The diesel engines were discontinued in 1986. The following year, a turbo option was made available. The Hilux surf was based on this generation of the Toyota Hilux.
Fifth generation (N80, N90, N100, N110; 1988–1997)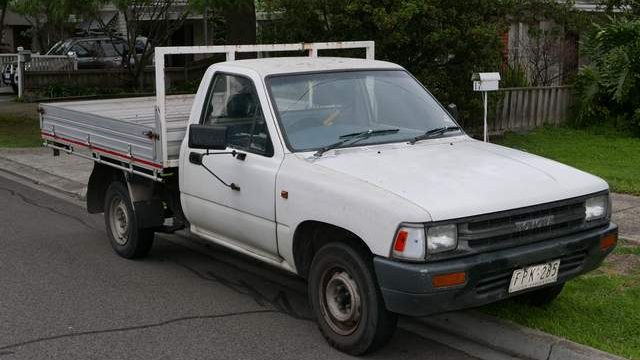 The redesign in this generation happened in 1988 and characteristically had a longer-wheelbase option. It was approximately 3,099 mm or 122 inches instead of being 2,616 mm or 103 inches. The one-piece cargo box walls excluded the seams that were part of older models. The seams were more inclined to rusting. In fact, the Motor Trend magazine awarded the V6 Xtracab SR5 the title of the Truck of the Year. The new version of Xtra Cabs included more space behind the front seats as compared to previous generations. This increased rear leg room created space for jump seats for the passengers in the back seat. This new feature was highly competitive at that time.
By 1991, American companies began producing the fifth generation at the then important NUMMI plant based in California (Fermont). Typically, the VIN for the cars started with "T4". At about that same time, 91-95 model years manufactured by Japan sold in the U.S. These cars had their VIN starting with "JT".
The Hilux got a facelift in 1991 as part of the plans for the 1992 model year. The facelift involved a grille alteration and the newly adopted Toyota emblem at that time. This new facelift was at about the time when Toyota decided to discontinue production of the Hilux in the U.S. It is also worth mentioning that between 1989 and 1997, Volkswagen built and sold the Hilux under the name of "Volkswagen Taro". This generation also marketed in Thailand by the name "Toyota Hilux Mighty-X".
Moreover, between 1994 and 1998 Colombia produced the Hilux and sold it in Columbia, Venezuela, and Ecuador. The company involved was SOFASA. Argentina, Uruguay, and Brazil also sold the Hilux, but Argentina was the produced between 1997 and 2005. Production took place at the Zárate Plant. Japan exported the Hilux for sale in Bolivia, Paraguay, Chile, and Peru between 1989 and 1997.
Sixth generation (N140, N150, N160, N170; 1997–2005)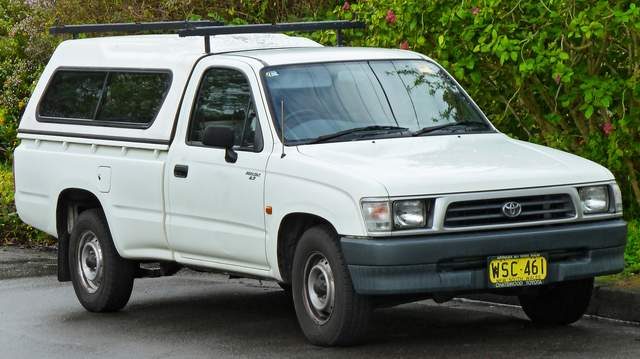 This vehicle was produced in Columbia between 1998 and 2005, but countries targeted for sales were Venezuela, Columbia itself, and Ecuador. It had only petrol engines 2.7L. However, in Venezuela and Ecuador, you will find the Hilux by the name Strout II (whereas you may know this as the single cab 2WD chassis or long bed). The introduction of this generation in Peru, Bolivia, Peru, and Paraguay happened in 1998, and the vehicle continued trickling in until 2004. They had two designs, the petrol engine 2.7L and the diesel engine 2.8L. The sixth generation Hilux model did not sell in Brazil nor Argentina because the upgrade of the fifth generation worked better for these countries. Regarding local context, IMC introduced Hilux as an imported variant in Pakistan.
Furthermore, In the 1990s, Toyota turned to producing the Hilux Mighty-X (fifth generation) and Hilux Tiger (sixth generation). Soon it became the global exporter of these two cars. However, by 2005, Toyota stopped producing the vehicle for the Japanese market.
Hilux Sport Rider – In 1998, Toyota created and introduced a new variation of Hilux, which was a mid-size SUV. The target market was very few, and the name of this vehicle was Hilux Sport Rider. People could only find this rare model in Nepal, Thailand, and other few Asian countries. It had a similar concept to Toyota 4Runner; however, it is not a decedent of the 4Runner. The frame of this new vehicle has independent front suspension accompanied with a leaf-sprung rear. When it arrived in 1998, it had the 5L engine Pre-runner (2WD) and 5L-E for 4WD. In the beginning, this model served as a four-door pickup truck. Later, with various modifications, it turned into a waggon. By the time it arrived in Thailand, a majority of Thai-owned companies were using this vehicle, and a major distributor was Toyota Tsusho.
Seventh generation (AN10, AN20, AN30; 2004–2015)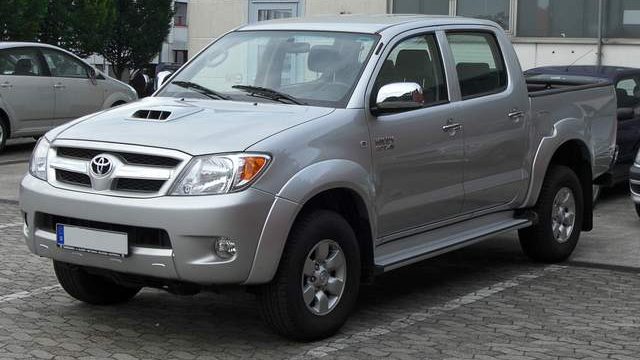 This generation was part of the popular IMV program, which began by 2014 in Thailand. There were three variations of the pickup truck.
A two-door single cab (IMV1)
A two-door Xtra Cab (IMV2)
A four-door Double Cab (IMV3)
2008 September came with the release of the new Smart Cab, which was a four-door vehicle with hidden rear suicide doors. Under the IMV program spawned the following:
Toyota Fortuner (AN50/AN60)
Toyota Innova (AN40)
Minivan (MPV)
SUV (IMV4)
Before we move on to schematics of development on the Hilux line-up, I believe that Pakistan' only pickup truck manufacturer is offering IMV 1, IMV 3 & IMV 4 in Pakistan, which considering the lack of demand and sales (up until the recent year) is a lot for the country less than favourable pick-up truck appetite.
Then came a Toyota Tacoma pickup for 2005, manufactured in February 2004. It resembled the 4Runner Chassis, whereas the ladder frame in revamped versions of Hilux AN10/AN20/AN30 had no similarities with previous models. Soon Hilux became larger and famous as the mid-size pickup. It sold well in Asia, Middle Eastern countries, Europe and the Oceania markets, including Thailand. It soon found its way to South Africa, South America, Argentina, Malaysia, Singapore, and Japan.
In Malaysia, the single cab or double cab was famous and familiar. In Singapore, the single cab was frequently seen, with the 2.5L engine. Some people also preferred the double cab 3.0L engine. The double cab came with the variant automatic transmission. It had the same engine as versions seen in Asian countries, bearing a 4-cylinder, in-line, 16-valve, DOHC Turbo Diesel engine, with the rail direct injection). It is important to mention that the Hilux in Malaysia differed by an engine with maximum output of 75kW (101 hp), at 3600 rpm, with max torque 260 N-m at 1600-2400 rpm.
Toyota later presented the four-door rear access Smart Cab, which eventually replaced Xtra Cab models E and G. Development of this vehicle happened in Thailand and had a great market.
In 2012, Toyota Hilux Vigo "Champ" made new waves, although it had minor changes. It came with a new front look and a luxuriously revamped interior.  It had the A pillar forwards in the front, and everything else was new except the tailgates, doors, and roofs. It had new bonnet, bumper, taillights, guards, model badge and other features. Soon the 2013 model appeared with upgrades like four-speed automatic transmission and better performance. Unlike the international counterparts, IMC phased out the old model and introduced Vigo Champ TRD with newer and more advanced gadgets in Pakistan.
Check Out: Hilux Vigo Champ for Sale in Pakistan
Eighth generation (AN120, AN130; 2015–present)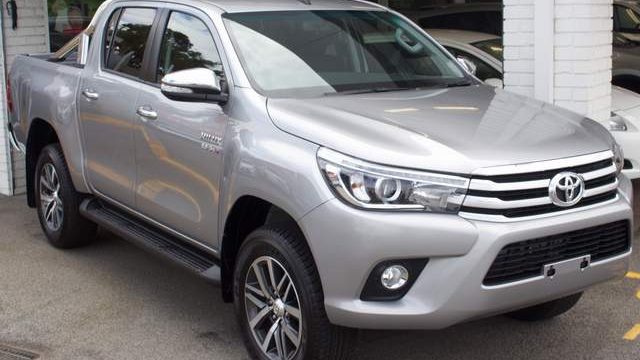 Simultaneously, the eight generation of Hilux stormed the market from May 2015. Countries where it first made an appearance were Thailand, Bangkok, and Sydney (Australia). Eventually, Toyota Hilux Revo became the new name adopted by the Thai and Lao market. Hilux is modelled on the "Keen Look" used in Toyota Corolla E170, adding the LED Day Running Lights and Slim projector headlights to the design. This new look continues with upgraded AC vent and interior designs. However, this generation brought the first Autonomous Emergency Braking (AEB) to the line of Toyota vehicles.
Among the new features in this generation were KD 2.5-liter and2.8-liter, ESTEC GD 2.4-liter, 3.0-liter diesel engines, as were in Fortuner and Innova. The design combined these features with the five or six-speed manual or automatic transmission with sequential shift.
At the 36th International Vienna Motor Symposium, which held in May 2015, the world saw the first 2.8-liter GD engine. Toyota said it would reuse the 2.0, 2.7, and 4.0 L petrol engines used in previous generations with a Dual VVT-i update. The introduction of GD series was primarily aimed at increasing torque and power at the cost of lower displacement and engine emissions. However, the vehicle did not hit the showrooms until after five months after the official release.
In Pakistan, The Hilux Revo is expected to be launched by early next year. The new Hilux Revo for Pakistan is going to be quite similar to the international one. Three variants of the model will be made available.
V variant
G variant
Single cabin
All variants will come with a 3.0 Litre 1KD engine.
Hilux Repute – Hilux has earned a remarkable reputation over the years, for its sturdiness, compatibility with heavy usage, and exceptional reliability. Several episodes of the BBC motoring show, "Top Gear" highlight these qualities of this vehicle.