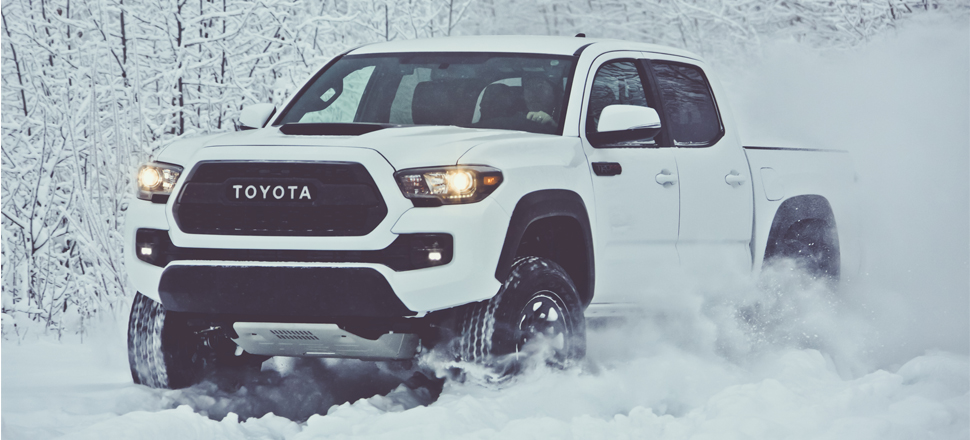 Toyota Reveals 2017 Toyota Tacoma TRD Pro At Chicago Auto Show
Toyota has launched a new model for their Tacoma pickup trucks line at the Chicago Auto Show called the Toyota Tacoma TRD Pro. It is based on the existing Tacoma TRD Off-Road 4×4 twin cabin pickup. The TRD Pro version has been updated both appearance and chassis-wise. Toyota skipped the 2016 model but is now back with the new truck.
The engine is same 3.5-liter V6 unit but now produces 278 HP and 359 Nm of torque. This makes the pickup faster than its 2015 predecessor. The TRD Tacoma will be available in both six-speed manual and automatic transmission. The truck comes with electronic limited slip differential as standard equipment along with the 4×4 system.
Also Read: Mercedes X-Class Is An Upcoming Competition For Toyota Vigo
The new suspension system consists of TRD springs and Fox 2.5 Internal Bypass shock absorbers and provides 1" lift. The truck comes with 16" alloys wrapped in Kevlar enforced Goodyear Wrangler rubber. The new alloys now present 1" offset. The truck's track is one inch wider than before. The truck comes loaded with driver aid such as parking sensors, rear cross-traffic alert, and blind spot monitoring along with usual standard equipment like airbags and ABS+BD.
As far cosmetic changes are concerned, you will find new LED fog and daytime running lights in the front. Also, the front grille has been blacked out, and there is a new aluminum skid plate under the front end. Interior-wise, there are new leather seats and leather trims along with minor cosmetic and material changes throughout the cabin.
Watch the launch video advert below.