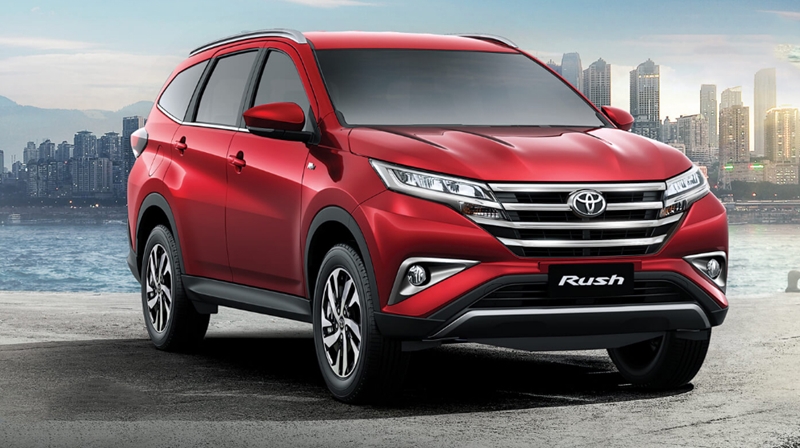 Toyota Rush 2018 – A brief look into all 3 variants
PakWheels has brought its readers almost all the comparison between the latest Toyota Rush and other similarly priced or segment alternatives. So that anyone looking for family MPV can make an effortless choice. But if some of you are planning to buy yourself a brand new Toyota Rush, then there are 3 variants to choose from and this is again a tough decision if you don't know the minor differences across the lineup. Today, we bring a brief comparison of all three variants so you don't have to struggle to decide which variant to buy. The all-new Rush 2018 comes in Rush G M/T, Rush G A/T, and Rush S A/T (Rush S is a special edition, and will only be available on demand).
Exterior:
In terms of exterior, there's not much difference. The noticeable changes are, no retractable side mirrors present in the base model (G M/T) and mid-spec model (G A/T), while the top of the line model  (S A/T)  has it. Also, the top tier model is the only model coming with a more attractive smoked front grill and bigger 17″ inch alloy wheels, while the other two variants have 16inch and non-smoked chrome front grill. Lastly, all variants come with advance LED headlights and taillights, but Rush S A/T also has auto headlight levelling.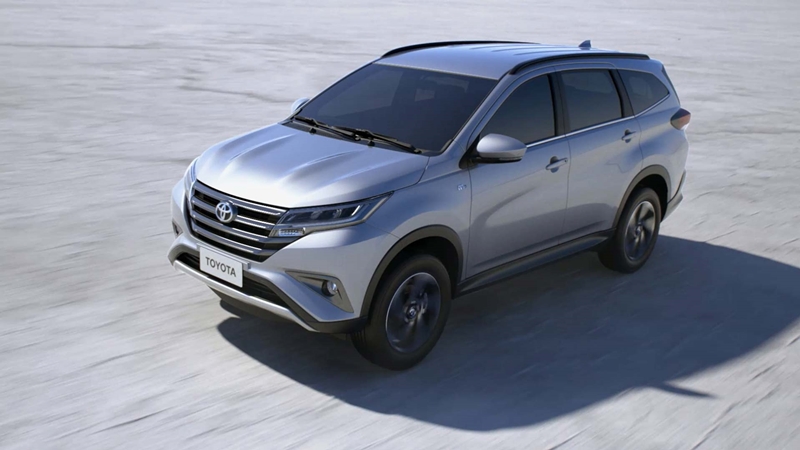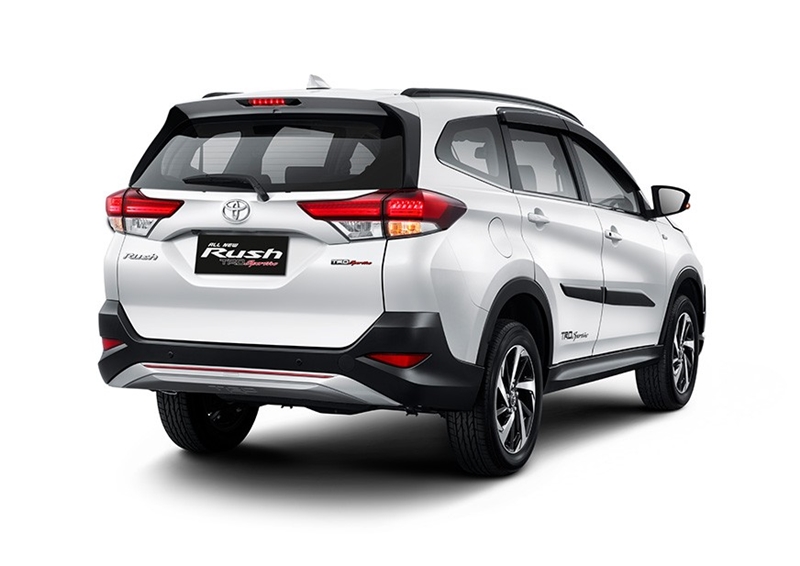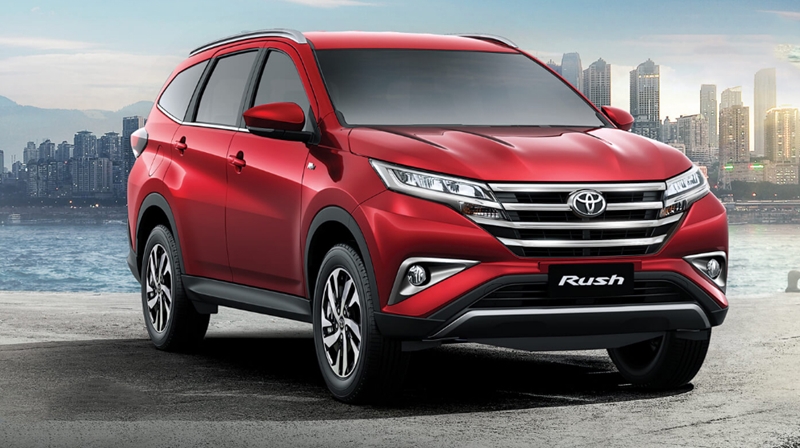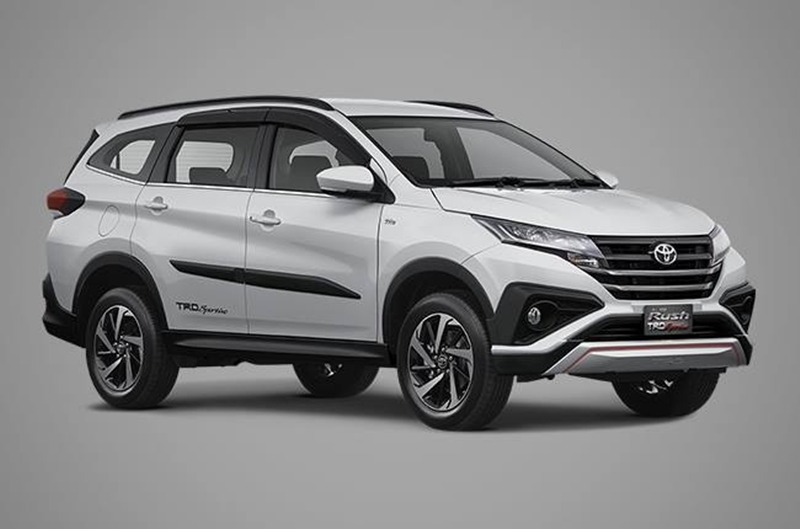 Interior:
Once again not a lot is different when we look at the interior of all three variants into consideration. The premium top of the line model offers few extras like steering mounted phone controls, driver seats with adjustments, and 8-speaker audio system. Whereas all variants come with 7 seats, 6 airbags, push start, climate control, rear A/C vents, rear view cam, and Apple CarPlay (AirPlay mirroring) and Android Auto as standard. The instrument cluster of the Rush also houses a MID display, which is good for displaying various information and if you do a little bit of off-roading or even travel a lot then the tyre pressure monitoring system equipped in the Rush G A/T and S A/T will help you keep track of the air in all four wheels. Sadly, the owners of G M/T will be left deprived of this luxury but Toyota had to make a few cost-cutting here and there. The base model has a urethane steering wheel whereas the middle and top model comes with leather. Seat material of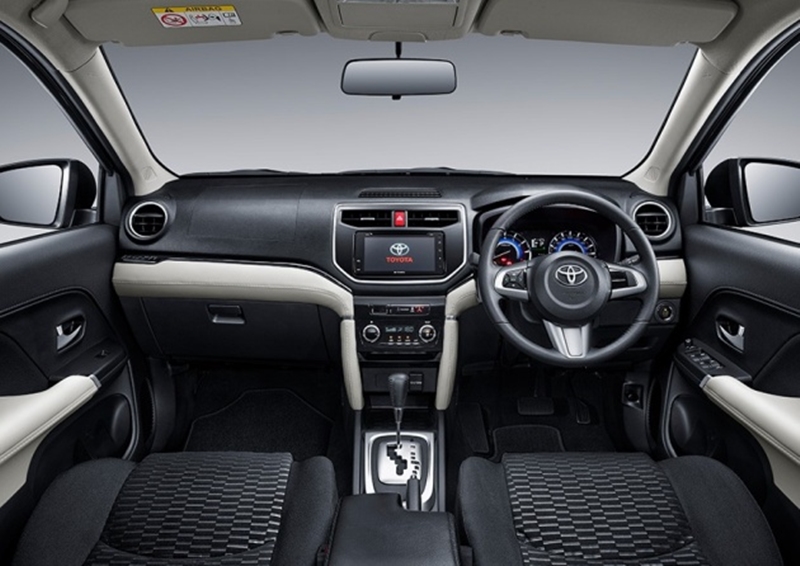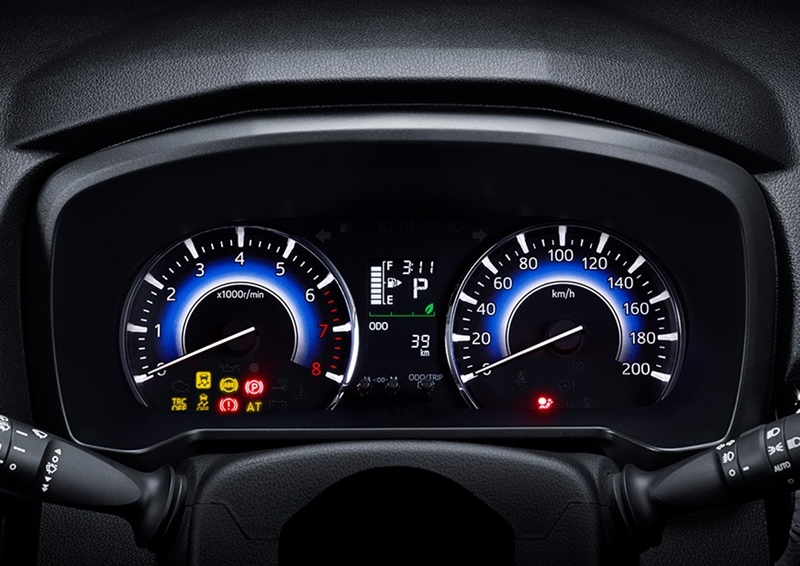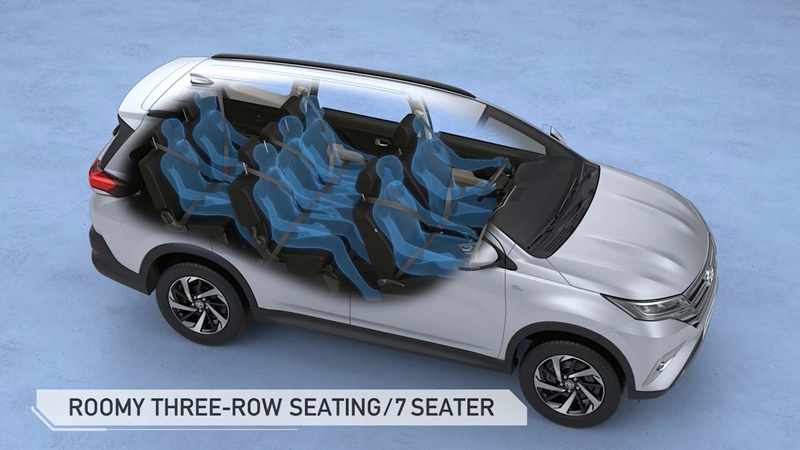 Engine & Performance:
While engine configuration and 4×2 drive system stay the same across all variants but the difference is in terms of the transmission. The engine is an inline-4 2NR-VE unit. The base model comes with a 5-speed manual and the mid-spec and top-spec model both have a 4-speed auto. I think it's such a shame that vehicles costing this much come with below par transmission. Owners complain about the automatic variant struggling a little to cross 100km/h and not returning good fuel average. Part of which is due to its large body, high drag coefficient and low power output of 103HP. The acceleration is also not good when compared to the Honda BRV, which also has a 1500cc engine but gives more power and accelerates quite faster than the Rush thus overtaking at highway speeds would not be that easy.
Final Verdict:
Rush is undoubtedly a very well-equipped car, available in Pakistan, but the price it's being offered at is ridiculous. Prices are as follows:
Toyota Rush G MT- PKR. 3,660,000/-
Toyota Rush G AT- PKR. 3,765,000/-

Toyota Rush S AT- PKR 4,150,000/-

The engine is underpowered and the transmissions are quite disappointing. However, if you manage to overlook this and want something unique and practical in Pakistan, then Rush is the way to go but as you have seen the base version misses out on some features, which are mostly present in the mid-tier model. I would suggest interested buyers opt for the G A/T variant, which not only has everything you need but also comes with extra goodies including tyre pressure monitoring and automatic transmission. Aside from that, I don't find the top-spec model to be good enough to justify its 4.1 million price tag. Just get the Kia Carnival instead for 4.3 million.