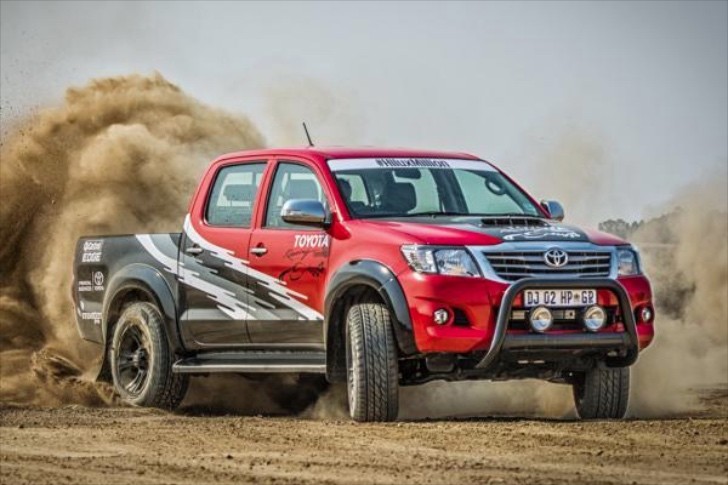 Toyota SA Celebrating One Millionth Delivery By Offering 455HP V8 Toyota Hilux
One cannot deny the fact that Toyota Hilux has been able to stand in front of the line with names like Nissan Navara, Mitsubishi L200 and other competitors and is almost unkillable. Although image of Hilux in our country especially in the province of Sindh is just restricted towards carrying armed guards for some VIP but in reality, the machine has much more to offer than just being a protocol vehicle.
I'm sure not all automobile lovers are aware of the Dakar Rally but it is kind of alarming if an off roader is unaware of this. Automakers find reasons to stand out and win the hearts of the people and Toyota South Africa found a good one. On the delivery of their one millionth Hilux, Toyota has decided to offer something new to their consumers.
What Toyota South Africa has to offer is no more just a pickup truck but in fact it is more of an off-roading machine. Engineers at Toyota have used a Lexus IS-F V8 engine which produces a 455 horsepower. The Hilux is fitted with a twin plate AP racing clutch with a standard transmission from D-4D.
Unlike the Dakar-spec vehicles this particular vehicle doesn't have an air-restrictor so the top speed is much higher than competition cars. To make sure people hear the arrival before it's seen, Toyota has installed a Dakar-spec intake manifold and a new exhaust system. The suspensions have been lowered by 50 mm for better grip, lowering the center of gravity.
"It's most likely the most powerful Hilux ever built," said Glyn Hall, Toyota SA boss.
If handed over to experienced and capable hands, this Toyota Hilux is surely going to be one hell of a machine. With so much to offer, it is expected that Hilux is going to be somewhere around $72,000 (around 7,510,000 Pakistani Rupee).