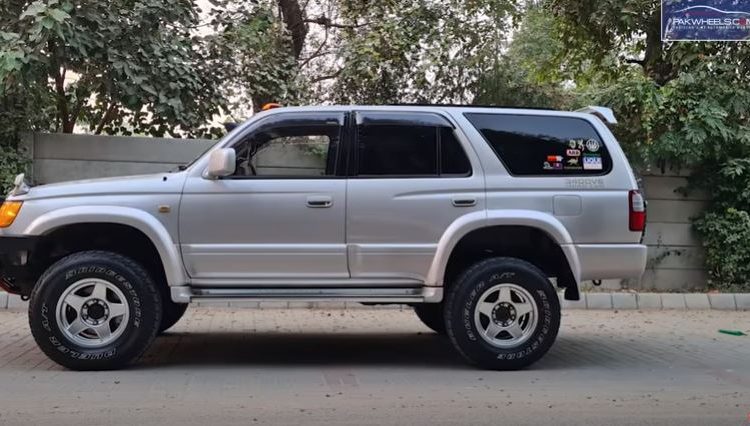 Toyota Surf 1996 – An Owner's Review
After repeated demands from PakWheelers, we are here with the owner's review of Toyota Surf 1996 model. This car remained in manufacturing from 1996 to 2001-02. The company introduced a facelift in this model in 2001.
The company launched this model with engines including 1KZ diesel, 2700cc 2TR and 5VZ 3400cc. Furthermore, this vehicle had two variants, i.e., SSRG and SSRX. The under-reviewed car is SSRG.
Difference between Surf SSRG and Surf SSRX: 
The main differences between these two variants are soft/rigid suspension, and SSRG's rear mirror operates like rest of the window mirrors in the car.
Price and Purchase Decision: 
The owner bought this car in 2018 at the price of Rs2.2 million. Sharing about his purchase decision, the owner said he always wanted to buy Surf, because he likes this car. "I couldn't find the car initially, so I also had 80-Series and Prado in mind, but after a year, I found this car," he said.
Engine: 
The car has 3400cc 5VZ petrol engine. "This engine is very rare in Pakistan because mostly this car comes with diesel engine," the owner told PakWheels.
Fuel Average:
The intra-city fuel average of the car is 6-7 kilometer/liter, while it gives around 8-kilometer/liter on the long route.
Drive Comfort: 
As per the owner, its drive comfort is very good. "Although I had to change its original shocks, but still it is quite a comfortable vehicle," he said. Furthermore, the car is excellent for an off-road experience. 
Moreover, the owner said that vehicle's stability on stock suspension was earlier excellent; however, there is a slight unbalancing after the new shocks, which has increased its height.
Parts Availability: 
The owner said that both body and engine parts of this car are readily available at a reasonable price in the local market.
Safety Features: 
The car has dual airbags and ABS brakes, making it quite a safe vehicle.
Known Faults: 
This vehicle has small faults, i.e,  motors of rear mirror and antenna wear out rather quickly, and you have to get them changed.
AC performance: 
The owner is completely satisfied with the AC performance of this car.
Dashboard: 
The car has a wooden teak dashboard, giving it a very exclusive look. Furthermore, its central console has buttons for shocks, ECT power and rear mirror.
Size Issue:
The owner said that he hasn't faced any major issue due to its size. "I have driven this car even in narrow spaces, especially as compared to Prado," he said.
Annual Token: 
The annual token of Toyota Surf is around Rs33,000.
Oil Change Cost: 
The owner changes its oil after every 6-7,000 and it costs him around Rs7-8,000.
Seating and Trunk Capacity: 
Five people can easily travel n this car both within the city and longer routes. Furthermore, it has ample space for luggage.
 Verdict: 
As per the owner, he will surely buy this car, if given a choice again. "If you spend Rs2-3 lacs on these cars, they are even better than the zero meter vehicles," he said.
Watch Video: