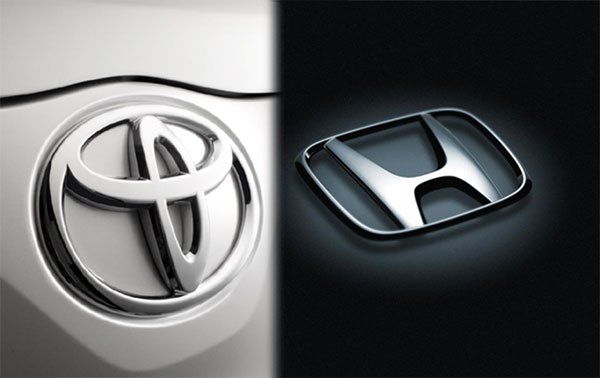 If you happen to be contemplating your next vehicle purchase decision between a Toyota Vitz, a Toyota Aqua and a Honda City, then stick around because this article might be just what your looking for. In this piece were going to take all three models and compare them in five separate categories to find out which one best suits your needs within these respective categories, and once armed with that information, it should make your decision a whole heck of a lot easier.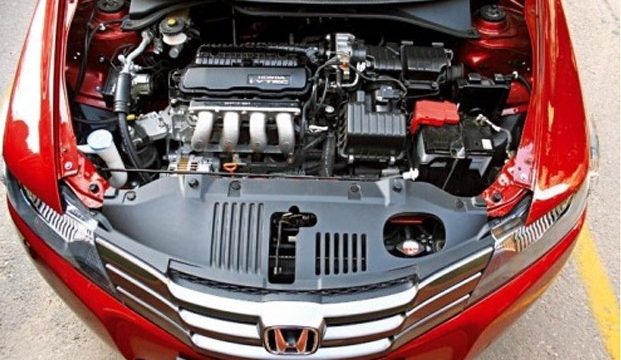 Engine and Specifications
Honda City
The 5th Honda City is available with two different engine options, a 1.3 liter or a 1.5 liter Inline-4 i-VTEC engine. The 1.3 Liter variant produces a total of 100bhp, while the 1.5 produces 120bhp. Both come mated to a 5-speed manual transmission as standard and are available with a optional CVT automatic transmission. Both the manual variants of the 1.3 and the 1.5 are able to provide decent acceleration and power under normal driving conditions, though the 1.3 liter automatic can feel sluggish at times, however none of the variants will for the most part leave you wanting for more power.
Toyota Aqua
The Toyota Aqua features a 1.5 liter Inline-4 engine that works in tandem with an electric motor, the engine is able to produce nearly 100bhp and comes fitted with a CVT automatic transmission as the only option. The Toyota Aqua is able to provide some pretty decent acceleration due to the instant torque that comes coupled with the electric motor, and overall provides more than decent performance for day to day driving.
Toyota Vitz
The Toyota Vitz features a diverse range of engine options that includes 1.0 liter Inline-3, a 1.3 liter Inline-4 and a 1.5 liter Inline-4, producing 71bhp, 84bhp and 110bhp respectively. Each of these engines come equipped with a 5-speed manual transmission with an automatic variants being offered as well. The 3 cylinder base configuration may seem slow to a few people, but the relatively low weight and small exterior size of the car still allows it to have decent performance. While the four cylinder variants should offer plenty of power and performance to get the job done.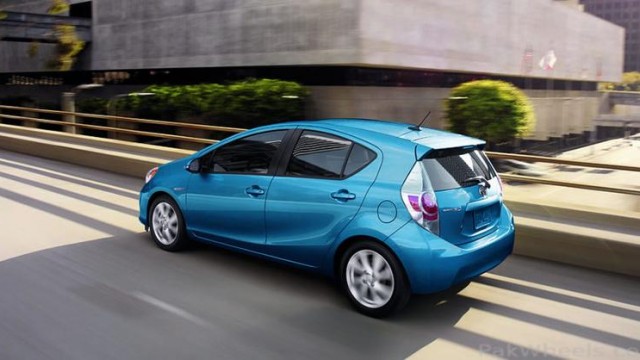 Ride & Handling
Honda City
The Honda City delivers on the handling aspect by offering fairly sharp and precise handling. You can  drive the city with confidence knowing that you are in control, this does come at the expense of a stiffer ride, so you will feel the effect of potholes and irregular road surfaces more than you would in other cars, and coupled with the city's fairly low ground clearance it is recommended to primarily drive it within cities and towns, avoiding the rough and tumble roads whenever possible.
Toyota Aqua
The Toyota Aqua is much the same as the City on the handling front. It provides a decent handling experience, offering direct but slightly vague steering. The suspension is also fairly average, the Aqua is able to do a decent job of ironing out the bumps but sometimes can fail to keep its composure at high speed driving on slightly irregular surfaces, an inherit disadvantage of the short wheelbase. Overall the handling is nothing to write home about and can be considered slightly disappointing for a car of its price tag, leading us to believe that most of that money probably went into the hybrid drive train.
Toyota Vitz
The Toyota Vitz offers a fairly decent handling experience as well, the steering is once again relatively direct if again a bit vague. The suspension does a fairly decent job of dealing with potholes and irregular road surfaces, but once again it isn't anything that can be classified as a leading or noticeable attribute of the car. The short wheelbase of the Vitz means that it does bounce about, something that is slightly exemplified at higher speeds. Overall the handling experience of the Vitz can be classified as "above average".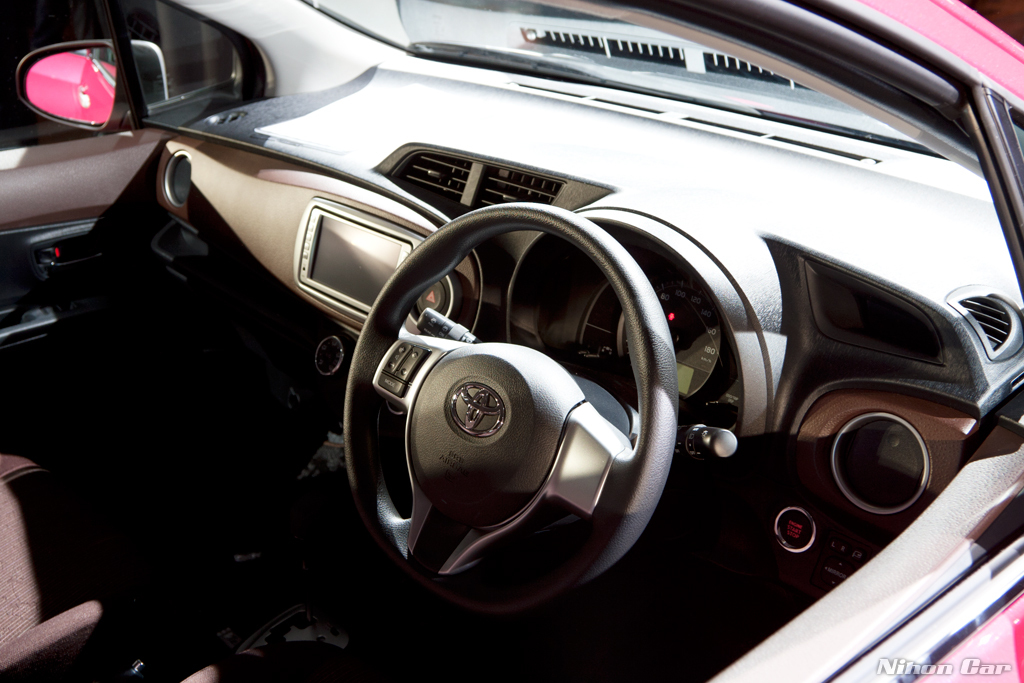 Interior Quality, Features & Practicality
Honda City
The Honda City is the only car from the line up here that is a sedan, so naturally that means a more practical car when compared to a hatchback. The Honda City features a fairly spacious interior for a compact car of its exterior size. The front and rear leg room is very spacious and even people who are 6 feet or above in height shouldn't have  much of a problem fitting into a City. The rear features a class leading trunk in terms of volume, making it very practical for transporting your goods. The interior features a two tone theme, it is fairly well designed and aesthetically pleasing to the eyes. The dashboard features three dials with a rev-meter, speedometer, as well as a fuel level gauge, it also features a small display showing  information such as current fuel economy and range but lacks a temperate gauge. It features standard manual air conditioning controls, power windows, power mirrors,  and a standard two speaker stereo system, however you can spec a touch screen infotainment system with navigation and a 4 speaker stereo system. The materials feel relatively decent with good quality plastics, fabric lining the doors as well as fabric covers on the seats as standard.
Toyota Aqua
The Toyota Aqua on the other hand features a fairly spacious front driver and passenger compartment, but the rear seats are slightly cramped with limited headroom and legroom. The Aqua is a hatchback so its unable to compete with sedans in terms of sheer volume, but features a decent sized boot for a car of its size, however the rear seats can be folded down to vastly increase storage space. The interior of the Aqua feels like a mixture of elements from both the standard Prius and the Vitz. Being an imported car it includes features such as a digital dashboard, climate control, an ECO mode button as well as an EV button that allows you to drive on electric power only, push start ignition, cruise control, power mirrors that are electronically retractable, 7 inch touch screen infotainment system with a 4 speaker stereo system and a reversing camera, multiple cup holders, power windows as well as ample interior storage space. The quality of the materials is also very nice as it features good quality plastics that feel well built and sturdy, fabric lining all four doors as well as the seats as standard.
Toyota Vitz
The Toyota Vitz on the other hand while being an imported vehicle like the Aqua carries a less feature rich interior. For the Vitzs exterior dimensions, it has a decently spacious interior with good headroom, as well as good legroom in the front passenger and driver areas, and decent legroom within the rear. Being a hatchback again it features a good sized boot and the rear seats can also be folded down to  increase storage space. The Vitz s instrument cluster houses a simple basic dials with a speedometer, trip computer with a small display and fuel gauge. It features manual air conditioning , traction control, power windows and mirrors that are electronically retractable, multiple cup holders as well as a touch screen infotainment system. On the higher end variants you can get features such as heated front seats, climate control and cruise control. The quality of the materials is also decent featuring good soft touch plastics, the interior is upholstered in fabric as standard and is fairly robust with a good quality feel.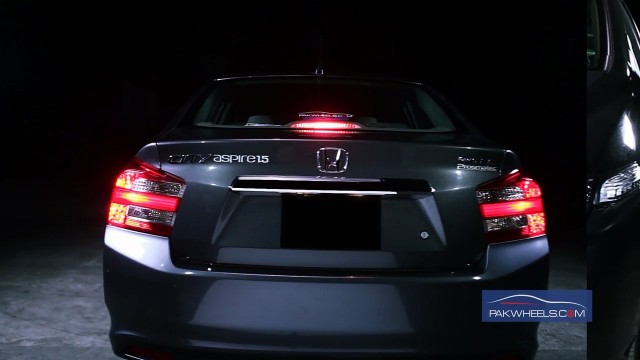 Safety
Honda City
Its on safety side of things where the Honda City begins to slightly fall apart, with the 5th generation Honda City you get no airbags, not even a driver airbag, there are no drive train management systems as well such as traction control or stability control. The City is manufactured in accordance to local safety standards so nothing good can probably be said about the structural rigidity of the body either. The only system within the city that can even be considered a safety feature is ABS disc brakes that do their job decently well.
Toyota Aqua
The Toyota Aqua is a engineered to meet Japanese safety requirements which are usually much higher than ours. and there cars get fitted with the latest in safety automotive technology. The Aqua features the basics such as seat belts on all seats of the car, ABS as well as twin air bags in the front. It also has features such as Traction Control , Brake Assist , Electronic Brake-force Distribution , Smart Stop Technology and Vehicle Stability Control. The Aqua also has crumble zones in both the front and rear of the vehicle.
Toyota Vitz
The Toyota Vitz is also a car that was engineered to meet Japanese safety requirements, thus the 3rd generation of the Toyota Vitz gets fitted with 8 airbags as standard, 9 if you count the drivers knee airbag. It features the usual host of Japanese safety features such as a front crumple zone, ABS, traction control, Brake Assist  as well as Electronic Brake-force Distribution.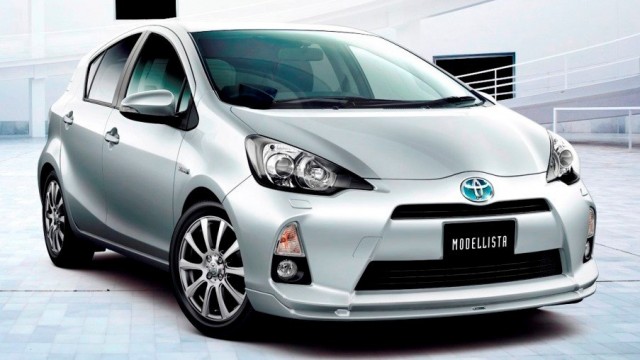 Fuel Economy
Honda City
The Honda City holds high ground in this category as it was voted in Pakwheels survey as the most fuel efficient car within Pakistan, the manual variants of the 1.3 and the 1.5 liter models give anywhere between 11-14km/l in ordinary driving scenarios, while the automatic variants give closer to 9-11 km/l. The fuel tank has a capacity of 42 liters giving a theoretical range of anywhere between 462-588km for the manual variants and 378-462 for the automatic variants.
Toyota Aqua
The Toyota Aqua being the only hybrid in the lineup wins out by achieving anywhere between 22-24 km/l, and even that can be improved if you use the ECO or EV mode in the Aqua often. The Aqua has a 36 liter tank making for a theoretical range of somewhere between 792-864km on a single tank.
Toyota Vitz
The Toyota Vitz also excels in this category as you can expect around 18 km/l for the 1.0 liter four cylinder variants and 14-16km/l for the 1.3 and the 1.5 liter four cylinder variants, expect a slight decrease with the automatic variants. The Vitz houses a 42 liter fuel tank making for a theoretical range of 756km for the three cylinder variant, and 588-672 km for the four cylinder variants.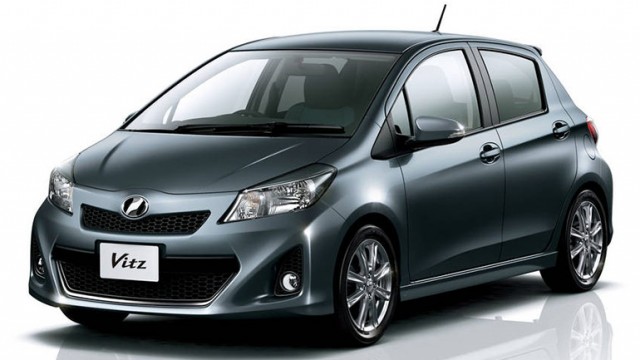 Value for Money
Honda City
The 5th generation Honda City can be bought for anywhere between PKR 15 lacs for a 1.3 liter manual variant all the way to PKR 18 lacs for the 1.5 liter automatic with various optional extras. The Honda City is one of the only sedans you can buy within this price range that is predominantly dominated by hatchbacks. Its offers a premium badge for a low price, ideal practicality, good fuel economy and great resale value on the used market.
Toyota Aqua
The 2010-2013 model year Toyota Aquas can be purchased for anywhere between PKR 15-18 lakh, while the newer 2015-2016 model years with low miles will run you upwards of PKR 21 lakh. The Toyota Aqua is defiantly on the more premium side in terms of price, but you get what you paid for as you get superior fuel economy, better interior features and finish as well as a more safer car in comparison to some other cars you can find around this price range.
Toyota Vitz
The Toyota Vitz can be purchased form within Pakistan from anywhere between PKR 15-18 lakh depending on which variant you go for. For this price the Toyota Vitz offers you a compact hatchback that is probably the most well rounded car within this lineup offering a good balance within all categories with decent interior space, good fuel economy, good resale value, great safety and is well worth the money despite it being a tad pricey for a car of its size.