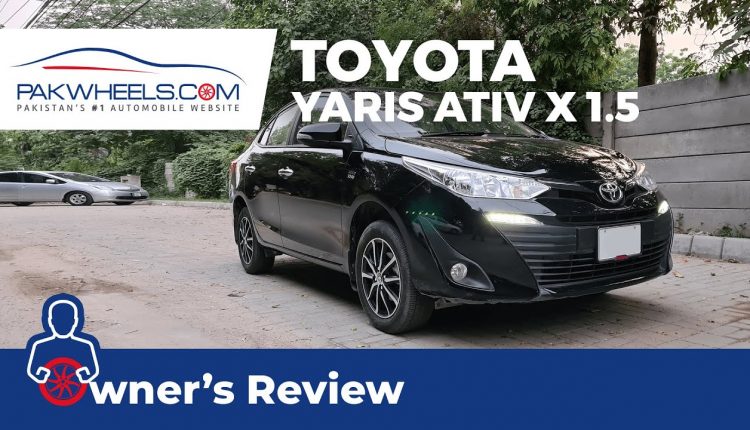 "Toyota Yaris Is A Comfortable Ride Compared To Honda Cars" – Owner's Review
Welcome to another episode of PakWheels Owner's Review series. Today, we have with us the owner of Pakistan's most controversial car, the Toyota Yaris. The owner has spent a lot of money on the latest and top of the line model of this car and the decision is bittersweet for him. Here's the full review.
Purchase and Price
The owner purchased the 2021 model of Toyota Yaris 1.5 ATIV X in January. The original invoice was of Rs. 30 lacs 50 thousand, with on money of 1.5 lac rupees, and registration fee, the total price came up to 32 lacs 78 thousand rupees.
Discussing the purchase process of his car, the owner told PakWheels that, within his budget, he was only considering local and imported cars of Toyota and Honda. Since Honda cars are more of a sporty and rugged ride, he got his options down to Toyota's budget car. His final two choices were the freshly imported 2018 Toyota Vitz and locally produced 2021 Toyota Yaris. He chose the top of the line variant of Yaris because of its features and powerful engine.
Fuel Average
The owner's Yaris has a powerful 1500cc engine with 7-speed CVT transmission. The car has a pretty good fuel average of 12 kilometers liter in the city and 16 to 17 kilometers on the highway.
Salient Features
This top of the line Yaris variant has a number of excellent features that make it a better choice then an entry level Corolla. Digital climate control system, push start, smart entry, traction control, three driving modes, two airbags, hill start assist, brake assist are a few to name. 
Missing Features
There are a number of things the owner misses in Yaris. Although he is happy with his decision to buy this car, he is very honest about its many cons. One reservation he has with Toyota is that the company gave Bridgestone tyres in the first batch of Yaris, and later changed them to BG TRAKO PLUS. Then there's no armrest for the backseats nor the 60/40 split, no cruise control, no retractable mirrors, and no projection headlamps. For a car worth 30 to 33 lacs, it does not have premium looks.
Ground Clearance
Soft and smooth suspension is the main reason for the owner to buy Toyota Yaris. The car is a comfortable ride for four passengers, but could do even better with bigger tyres. 
Parts Availability
All parts of Toyota Yaris are available in the local market at very reasonable prices. The owner is getting his car maintained from the dealership. An oil change service, after 5,000 kilometers, has cost him Rs. 4,000 – 4,500. 
Pros and Cons of Toyota Yaris
Pros
Powerful engine

Excellent fuel economy

Soft suspension

Impressive boot space 
Cons
Low quality interior

Small tyres

Lack of premium features (even in the top of the line variant)
Final Statement on Toyota Yaris
All in all, the owner is a member of the 'main tay Toyota hi lay saan' club of typical Pakistanis, but he is satisfied with his decision. Given the choice to go back and choose again, he would make the same choice.
Watch Video