The cutting-edge Land Cruiser is engineered and progressed to take on the most thrilling driving ventures by the Japanese car maker Toyota. The present day Toyota Land Cruiser is a heart throb of the town. It is Toyota's longest running series, which can take you from the core of the city to the wilds of the country with elegance and luxury. It's up-to-date in functionality, which is combined with heavy-duty 4 wheel-drive.
Also, Check Out Toyota Land Cruiser 2018
A Look At The History Of Toyota Land Cruiser
Just like a steel-clad crusader, the Land Cruiser was actually designed in the course of a war. It was in 1950 when North Korea swamped South Korea. At that time the U.N.O and U.S.A arrived to aid the South Korea. And, during that time Japan frolicked the protagonist of the stock base, it is a U.S- ruled nation.
The rest is history, as Japanese auto-makers were appointed to resource a compacted four-wheel drive for the U.S army. Toyota, being experienced was able to catch, cash, and design the land cruiser, and thus you have an improved and well-designed piece every year. Gosh, history changes course of mankind!
The Prestige Of A Legend
Well, exactly how do you sum up in a single word, for a car that has succeeded the status of legend all around the world? The Land Cruiser is a hard-wearing, resilient, reliable, and unbreakable car. However, you will agree that all of these fail to express how, for longer than 60 years, it has set the standard for impassable superiority. Just so you know in detail, it's a car manufactured to endure the most challenging expeditions.
Interior & Exterior Accompanied With Performance
One word for the interior – Extensive. The individual sense of power that saturates the large cockpit of the Land Cruiser has a unique design to effortlessly blend in high-quality and user-friendly proportions. The exterior is gracefully projected with technological color combinations.
An all-terrain, novel, superior, and competent performance is what you could expect of this massive beauty.
Care With Safety!
Yes, indeed you did read that right. When it comes to safety for its passengers, the manufacturer company Toyota has never been the one to play around. Best-in-class collision fortification for cabin occupiers is Toyota's brand insignia. Here, you can say cheers to the Supplemental Restraint System for all.
You get an awesome dual-stage driver airbag, along with front passenger airbag. The brand also includes knee airbags for the driver and front-seat passengers. The car is designed with side and curtain-shield airbags for 1st- and 2nd-row external-seat lodgers. Other than these you also get:
Anti-Lock Braking System
Parking Sensors (Front & Rear)
Central Locking
Rear Seat Belts
Smart Access Card Entry
Seat Belt Warning
Brake Assist
Door Ajar Warning
Crash Sensor
Anti-Theft Alarm
Power Door Locks
Child Safety Locks
Side Impact Beams
Front Impact Beams
Day & Night Rear View Mirror
Passenger Side Rear View Mirror
For all those who are too spot-on for security check, you can sit and relax as the Toyota land cruiser emerges with engine immobilizer. The car has a centrally dedicated fuel tank. You also get comfy height adjustable front seatbelts.
Major Specification
The main highlighted variants include model code:
Land Cruiser GX-R (Diesel)                    VDJ200R-GNMAZ
Land Cruiser VX (Diesel)                         VDJ200R-GNTEZ
Land Cruiser VX (Gasoline)                      URJ202R-GNTEKQ
On-hand Colors
The Toyota Land Cruiser is not only modern with its functionality but is also hugely versatile. Lo and behold, as it is unrivaled, the Land Cruiser stays to push the limitations in each of its models. Whereas, when it comes to adding color to your drive, the company doesn't disappoint you at all. The models available give you a long series of colors to choose from. You get:
Pure White
Ultra-Silver
Copper Brown
Royal blue
Attitude Black
Gold Dust
Ash Grey
Astral Black
Pearl White
Regency Red
Land Cruiser Price
The minute it comes to pricing, again you get a huge surprise. With these many specs and mods available the international and local prices slightly differ from each other. Nevertheless, when you have got a passion for the car and four-wheel drive, the sky is not the limit.
All those land cruiser enthusiasts would actually agree with us based on the thrill and comfort factor. So, we won't hold you for long to dive into the pricing section, you get Toyota Land Cruiser priced as per its model.
AVAILABLE VARIANT                                                EX- MANUFACTURING PRICE
LAND CRUISER GX-R (DIESEL) M/T                                  PKR. 20,699,000/-
LAND CRUISER VX (DIESEL) A/T                                       PKR. 23,999,000/-
LAND CRUISER VX (GASOLINE) A/T                                 PKR. 24,100,000/-
Please note the prices are subject to variation as per country and available models.  Price can be changed/altered according to the manufacturer's instructions.
Dimensions
Specifications are nothing without including dimensions in this super car. However, we know generally a lot of the crowd only looks for the major countable items. We did our part and our experts got you the high-tide details for the Toyota Land Cruiser.
So let's see what the manufacturers planned out for your road lady-love:
No of Doors                                               5
Length                                                     4950mm
Width                                                      1980mm
Height                                                     1910mm
Ground Clearance                                 225mm
Gross Weight                                         3350kg
Wheel Base                                             2850mm
Front Tread                                             1640mm
Rear Tread                                              1635mm
Fuel Tank Capacity (Liters)                  93
Cargo Volume                                          258-litres
Tyre Size                                                   285/60 R18
Tyre Type                                                Tubeless, Radial
Alloy Wheel Size                                     18 Inch
Imported Toyota Land Cruiser Variants
You can at the same time also get Toyota Land Cruiser imported versions. This is only if you are a huge fan of having something distinctive than the accessible market stock.
We would again like to quote that Toyota never ceases to impress us with its diversity. The other variants available as of now are:
Toyota Land Cruiser AX                                  4608cc, Automatic, Petrol
Toyota Land Cruiser AX G SELECTION         4608cc, Automatic, Petrol
Toyota Land Cruiser GX                                 4608cc, Automatic, Petrol
Toyota Land Cruiser ZX                                 4608cc, Automatic, Petrol
Toyota Land Cruiser GX R Overview
This artistically designed car comes in many color schemes, such as:
Ash Grey
Attitude Black
Copper Brown
Gold Dust
Pearl White
Pure White
Regency Red
Royal Blue
Ultra-Silver
For your interest we have in-detail covered the specifications and further fine points in- log.
Toyota Land Cruiser GX R Specifications
In dimensions and weights, the main highlight is the Overall Height, which is 1945 mm and length for 4950mm. The engine capacity and power particulars are based on customary rail direct injection. With diesel fuel, the type you score a drive ready to plunge into any land situation. Steering the car is quite handy and easy to operate and main features are Rack & Pinion with Electronic Motor.
Wheels and Tyres are designed for heavy-duty road command along with all- habitation functionality. Durability is what counts, and Toyota delivers it! You also get Steel Rims with Wheel caps, with tire size 285/65/R17.
Toyota Land Cruiser GX R Fuel Consumption
Toyota had an economy in mind while it was on board designing the fuel capacity and systematic transfusion. In a city, the mileage is around 8 KM/LITER. Whereas, you get 9 KM/LITER mileage on the highway. The fuel tank capacity of this particular variant is of  93 L. And the seating capacity is for minimum 8 persons. Again, the family car status grabbed by Toyota!
Toyota Land Cruiser GX R Features
This is a fully equipped variant with the latest enhancement done by the manufacturer. Toyota considered all aspects to get its customers on the wheel-with-comfort pace. You obtain the following features in tow, Air Bags, Anti-Lock Braking System, and CoolBox. The other attractions included are:
Foldaway Rear-Seat
Immobilizer
Power Door Locks
Power Steering
Power Windows
Rear Wash Wiper
AM/FM Radio
CD player
Defogger (Back)
DVD Player
Front Fog Lights
Remote Boot
Steering Modification
Tachometer
Cruise Control
Keyless Entry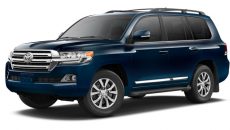 Toyota Land Cruiser VX 4.6 Overview and Specifications
The next state-of-the-art automobile online is Toyota Land Cruiser VX 4.6. It is more compact than the Toyota Land Cruiser GX R. A petrol-driven version what we'll call in general terminology.  Let's just not hold you here and pique your interest only with pictures, the specs have been comprehensively charted by our experts for the overview. Beautiful and available color combinations of this variant are similar to that of GX R.
Dimensions and weights play a very important role in the road grip and stability of a car for speed thrill. Toyota has ensured to cover compacted features for Land Cruiser VX 4.6. An extraordinarily equipped cruise at your disposal is what we'll quote!
The most important feature for the transportation gear is its engine and how durable it can be. Not to worry, as Toyota ensures you get the value for your money, and that too AWE-INSPIRINGLY! With fuel type being petrol, the variant is a bit changed. The steering type is similar to that of GX R.
Fuel Consumption
In a compact favoritism of an automobile fuel consumption per liter is striking, only if it falls in the economy. Again Toyota doesn't disappoint us!
The mileage in city is 8 KM per LITER. If you plan long routes, then you get around 9 KM per LITER. The record topmost speed is as of 195 KM/H. the fuel tank capacity is of 93litres.
Although, if you want to know the wheel and tire proportions read our handpicked chart.
The Toyota Land Cruiser VX 4.6 is famous for the jam-packed transmission and well-supplied suspensions for a smooth drive. You get Double Wishbone for front and Four Link with Coil Spring for the back.
Toyota Land Cruiser VX 4.6 Features
Like we expressed above, you get all the significance of money under one roof. Features are up-to-date with the latest technology applied thoroughly. The major highlights for you are similar to the GX R variant, with the inclusion of sun and moon roof. You also get the package included with Alloy Wheels.
Toyota Land Cruiser VX 4.5D Overview
This man-made beauty originates with a diesel fuel supply. The specifications match a lot with the Toyota Land Cruiser VX 4.6, but again it's a lot different too. Let's us just see how Toyota made us marvel this awesomely engineered piece! With this variant, dimensions and weights are quite sundry. Available Colors for this model are as same as the GX R and VX 4.6.
Other important specs are famously well-built around the quality ground lines for all-heavy fancy vehicle fans, and again Toyota ensures to deliver its BEST! The inclusion of boot space is only for this variant, which is of 700L.
Toyota Land Cruiser VX 4.5D Main Highlights
An amazing drive with a strong engine type. Toyota hasn't changed standards for this variant either. In general, you get fuel system with customary rail direct injection. As always the dimensions for an overall road grip interchange, the wheels have been designed carefully. The fuel consumption smartly presented with a mileage around 8KM/Liter for within the city. However, on long routes, you get 9KM/Liter. The fuel tank can hold up to 93litrers. The top speed noted is around 210KM/H, with seating capacity around 8 persons. Impressive!
Transmission
Toyota looks in detail for the transmission smoothness in this variant too. The transmission contains universal gear sets which are in charge of running diverse gear fractions to ensure even transport needs are at all levels finely tuned. No matter where you drive, you get the same sensation of power, that's our TOYOTA! The suspension is similar to the other quoted models and front /back brakes are accompanied with ventilated discs.
Toyota Land Cruiser VX 4.5D Features
The only regret that we have is not having leather seats augmented with power. Toyota, if you are listening, then trust us, we want them to be included in your upcoming vehicle wonders. However, in this awesomely built variant, you again get the value-added hi-tech sophistication for your travel partner, the VX 4.5D. The major features are similar to that of VX 4.6.
Conclusion
We understand the elevations of the demand in the market for this all-legendary car so we won't take much for the review, but this is an amazing and multi-purpose car which shouldn't be missed if you have got the means. Toyota has done some marvelous piece of work to have you and your thrill be catered under one crown. Do write to us and tell us more in detail about your experience with this man-made sensation.