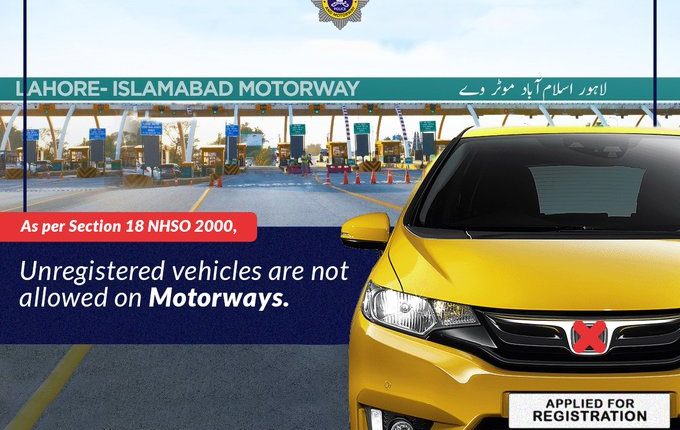 Unregistered Vehicles Not Allowed on Motorway
In a new announcement, IG National Highways and Motorway Inam Ghani has said that unregistered vehicles will not be allowed on motorways from now on. In a tweet, the officer quoted the Section 18 NHSO 2000, stating: "Motor vehicles not to be driven without registration.  A person shall not drive a motor vehicle and the owner shall not cause a vehicle to be driven unless the vehicle is registered."
— Inam Ghani QPM & Bar, PSP (@InamGhani) December 8, 2021
He further said that under this chapter and the license number plates should displayed on the motor vehicle in the prescribed manner. "And if the license number plates have not been issued, the registration mark is displayed on the motor vehicle in the prescribed manner." he further wrote.
(2)  Nothing in this section shall apply to a motor vehicle while being driven within the limits of jurisdiction of a registering authority to or from the appropriate place of registration for the purpose of being registered under section 24, 26, 40 or 41

— Inam Ghani QPM & Bar, PSP (@InamGhani) December 8, 2021
The announcement come days after NHMP announced that no vehicle will be allowed on motorways without M-Tag from December 7th, 2021. The police took the step under an order of Lahore High Court (LHC). According to the authority, the decision has been taken to reduce the long lines of cars on toll plazas. It will also help reduce air pollution due to these traffic blockades.
How to Get an M-Tag?
The process of getting an M-Tag for your car is quite easy. You just have to visit the Toll Plaza booth on any motorway and visit the M-Tag issuance booth. 
However, you must have your CNIC, Token and Vaccination Card Without these documents, police will not issue M-Tag for your vehicle. The good news is that there are no charges for getting a new M-Tag sticker for your car. 
How to Recharge the Sticker? 
There are multiple ways to recharge your Sticker, including:
Scratch Card 

Easy Paisa

Jazz Cash 

U-Paisa

M-2 Customer Care Centre
You can get the scratch card of Rs200 and Rs500 from the entry and exit points of the motorways. The cards are also available at the resting areas on the motorways. 
Checking the Balance 
You can check the balance by sending SMS to "Balance <Space> MTAG ID to 9909.