There are a lot of things that come together to make your car fuel efficient. Auto companies spent millions of dollar on the research and development of a new engine or body design to make them as efficient as possible and as aerodynamic as possible. The new Toyota Prius is a prime example of this. The new hybrid is 10% more fuel economical than the previous model.
Vehicle components like engine and transmission affect the efficiency more than anything else. But there are other smaller things that come together and make the car affordable. And energy-saving tires are one of those necessary parts. Not many might know, but tires play a significant role in maintaining fuel average of your car. And often this side of the story gets neglected when choosing tires for your vehicle. According to the United States Environmental Protection Agency, tires affect the fuel consumption of a vehicle by as much as 17%.
Also Read: Wider Tires Look Great But Those Good Looks Come With A Price – Read To Find Out More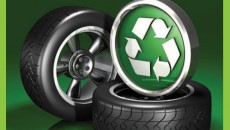 And what affects the most when it comes to tires and fuel economy is the rolling resistance of that tire. Higher the rolling resistance, more power it is required from the engine to rotate that wheel. And of course, when the rolling resistance is less, it's easier for the engine to spin the tires. Hence, fewer revs and less required fuel. The rising cost of fuel in last three or so decade internationally forced the automakers to come up with ways to make their cars more fuel efficient. The tire makers also came up with tires that would grip nearly as good as regular tires but with less rolling resistance.
Tire manufacturers reduce the rolling resistance through a couple of methods, one of them is by reducing the internal friction. Internal friction is caused by contact of the road and footprint of the rubber. Other things the count are the compound of the rubber used in the tire and the tread pattern as well.
Also Read: Decrypting The Tyre Sidewall
These are of course tires for your general use and are not recommended for high-speed driving or racing. Read the side marking of the tire for the exact safe speed limit. The automakers around the world are moving towards these fuel efficient tires. All new hybrids are being sold with such tires. These tires are also considered relatively more environmentally friendly.
If you have any experience with such tires, please do share with the rest of the readers in the comment section below.
Watch the video for the better understanding of rolling resistance.