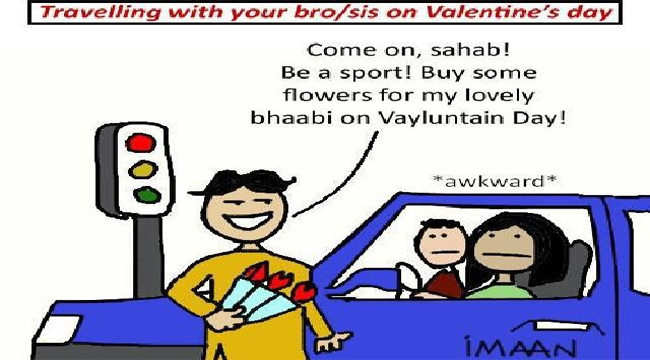 Valentine's Day In Pakistan: NO! He Is My Brother You Idiot!
This February, guys and girls had two excitements back-to-back days. Valentine's Day followed with Pakistan vs India cricket match, and due to the later, many love birds must've called it quits early on Saturday for the Pakistan-India match or, some may have moved the valentine celebrations after the match. However, during the match, there was pretty much no traffic on the road.
But today, I'm here to talk about the experiences which many of us girls and I'm sure boys face(d) on Valentine's Day, even if we are out with our brothers, sisters, cousins or friends.
First of all every year the political religious parties and student bodies form committees to stop the celebration of Valentine's Day, so they have their eyes on every person even if a boy and  girl is not in some relation.
The roads and traffic signals are full with "Phool Walas" and "Dil-Shaped Balloons Walas" on this day. Yeah they look cute, but come on something's are known as expressions, right so it's not necessary that the guy sitting next to me is my boyfriend, he can be my brother or brother-in-law too. If a boy and girl are sitting in a car that doesn't mean that they are a couple.
Well the reason I'm saying this is because of an incident I came across of a close friend, her brother and she are of the same age, for some reason she had to go out to the market on Valentine's Day.
She narrated me her story that as they reached the Five Star Chorangi in North Nazimabad, Karachi, they were welcomed with stares from every car and motorbike. Guys looking and giggling like girls, the cute kiddos selling roses hanging on their windows babbling "Bhaiya, baji k liye phool le lo….bla bla", (Brother, buy flowers for her..blah blah..) her brother is an easy going guy and doesn't loses his temper unless somebody really provokes him badly.
Next in line were the eunuchs, who followed up the phool-wala and begin giving blessing for better future and a perfect husband "Chand Sa Dulha" but reality hits hard after marriage, just kidding. So these eunuchs particularly on Valentine's Day start giving you blessings when they see a guy and girl sitting next to each other. The same thing happened to my friend, she said that the one eunuch came to us and said "Allah jori salamat rakhay, bhaiya itni khoobsurat baji ka saadqa de do", (May Allah keep the couple together forever, and brother, please give charity in the name of the beautiful sister.) and she said that her brother (or bhai as she calls him) smiled and took out a 50 rupees note and gave it to him-her while saying, "Baji meri behn hai." (Sis, is actually my sister)
With things like boys peeking in and giggling, flower sellers and beggars sticking with the car to get some earning through their flattering comments made around Valentine's Day. One is forced to put up shades in the car, but even then you become more prominent as people think that there is definitely a couple in that car.
I didn't celebrate Valentine's Day so didn't experience anything unusual, or may be because I wasn't even out with a male from my family but if any of you had a weird or hilarious experience do share it with us in the comments. We'll make a comic of the best story from the comment sections.
Illustration: Imaan Sheikh/ET